Protein-Spiked Popcorn Exists & It's Insanely Delicious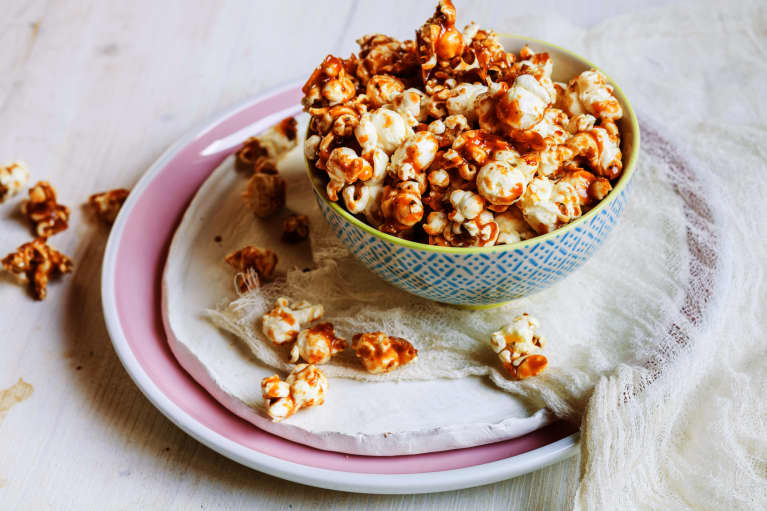 Our editors have independently chosen the products listed on this page. If you purchase something mentioned in this article, we may
earn a small commission
.
I don't know much about astrology (Age of Aquari-what?), but we've officially entered the Age of Protein. Protein drinks, protein powders, protein...popcorn?
Square Organics makes some of the wellness world's favorite clean-ingredient high-protein bars, and their new snack, which appeared on my desk just this week, is the unique contribution to the healthy food world I've seen in a while: protein-spiked popcorn. As a person who is wary of most protein powders because of the strange additives and emulsifiers, I eyed the package with a fair bit of skepticism—until I read the ingredient list. Organic popcorn, organic coconut oil, organic whole-grain brown rice protein, sea salt. That was it. The different flavors have a few extra spices here and there, but overall, it was one of the simplest, most identifiable ingredient lists I've seen on a prepackaged product, and it was certainly wow-worthy enough for me to try it.
The kernels look like kettle corn, with visible bits of seasoning stuck to every nook and cranny. After seeking out the most flavor-loaded one (yes, I'm that person), I took a bite. The first one I tried was dubbed "lightly sweet" by the brand, and it uses coconut sugar for a caramel-toned sweetness (with a total of 5g of sugar per fairly generously sized 55g bag). It tastes like the kettle corn of county fair days, minus the sticky fingers and sugar hangover. It was also filling, thanks to a balance of protein, fiber, and fat (the popcorn is air-popped but coated in anti-inflammatory coconut oil) that superstar nutritionists like Kelly LeVeque recommend including in every meal and snack.
The spicy flavor isn't as much spicy as it is piquant, with a pleasant savory flavor coming from paprika, garlic, and a hint of cayenne. The sea salt flavor looks just like the other two, studded with what looks like brown spices or seasonings, which is disconcerting since there's only sea salt and brown rice protein. Its flavor was my least favorite of the three: It was the only one in which the slightly grainy brown rice protein was truly noticeable.
While I don't think protein-spiked popcorn is truly necessary (despite the protein craze, most of us don't actually need enough protein to justify supplementing), the popcorns are simply delicious, and the protein helps a high-fiber, filling snack become even more blood-sugar stabilizing. At just over $2 a bag, it's a great way to satisfy a sweet or savory tooth. I, for one, have found my new midafternoon snack.
Want more blood-sugar-balancing snacks? Here are the best ones on the market today.