These High-Vibe Essentials Can Make Any Flight Downright Magical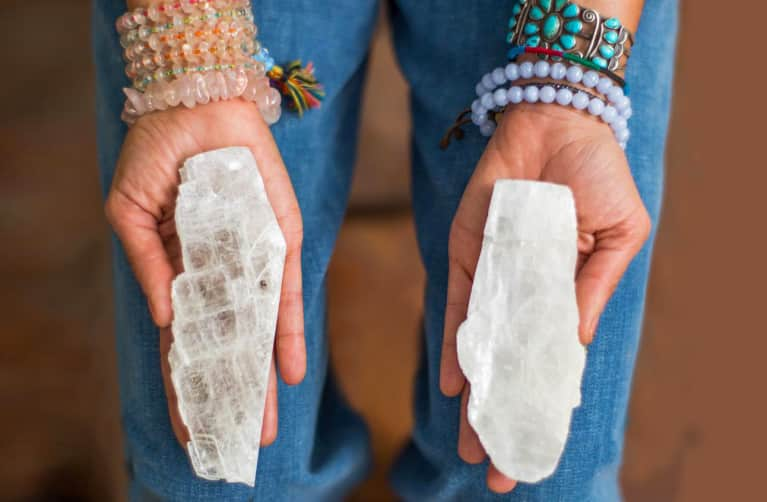 As a gal who's obsessed with all things spirituality and adventure, I've given pretty much every conscious travel essential you could imagine a trial run. From "Will the security gates beep if I have a crystal in my underwear?" to "What sort of essential oil routine is kind to my plane neighbor?" I've asked the hard questions in search of a top-notch conscious travel routine.
Here are some of my top tips for travel-friendly lotions, potions, and remedies to ensure you keep your energy and emotions in check on your next journey:
When packing your holistic handbag, make sure you remember to keep all liquids to under 100 mL. Purchase travel-friendly containers and prepare your essential oil blends, hydration serums, or crystal-infused lotions before you head out. Lots of businesses these days offer handy 60-mL options.
2. Go for DIY travel balms and mists.
Now, the fun stuff: I like to make my own travel balms, and it really isn't too complicated. Add together coconut oil, a few drops of your favorite essential oils, and some small tumbled crystals (make sure they're clean first!). The oils and crystals are great for jet lag, grounding, and staying cool, calm, and collected. The balm can easily be rubbed into your neck or wrists, and it isn't overpowering, so it won't disturb someone sitting next to you—but it's always worth asking before you apply! Love thy conscious neighbor and all that. If I'm not mixing my own brew, I'll use the Lemon Canary Chakra Mists, which are infused with crystals and essential oils and come in a travel-friendly 60-mL size.
3. Bring a hydrating elixir.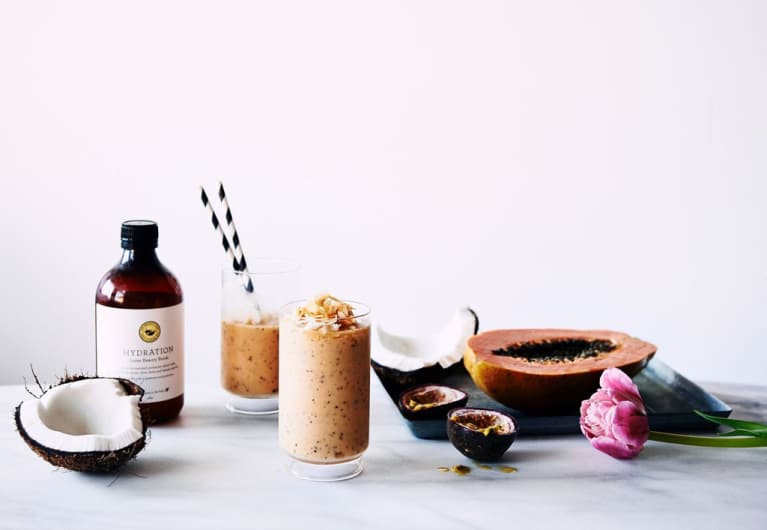 Hydrating tonics are great for long trips, as you can just add them to water once you get through customs or onto the plane. Try mixing some aloe vera, coconut water, and probiotics, or buy pre-made options like Hydration from The Beauty Chef.
4. Don't forget the crystals!
The subtle frequency of crystals can offer added protection and grounding while you're traveling or settling into your destination. Some of my favorite crystals for travel include tiger's eye for grounding, obsidian and onyx for protection, malachite for fear or anxiety, and amethyst for squashing negative energies.
If you struggle to keep your energy and emotions in check when you travel, crystals can also help you out. I like to wear Wicken Jewelry created to help protect my inner traveling goddess and help me rest easy. And crystals like emerald help to balance and harmonize energy around you while blue kyanite aligns your chakras and energy, and turquoise is calming, soothing, and protective. Great spots to shop for crystals online that offer credible and good-quality stones include The Hoodwitch and Energy Muse. Carry them in your pockets, wear them as jewelry, or even pop a few small, tumbled stones into your bra so they are always close.
5. Deal with jet lag holistically.
In order to ensure your body doesn't think it needs fight-or-flight mode after enduring a long, disorienting journey, pack some essential oils. Go for lavender, which acts as a gentle sedative for the body; eucalyptus, which helps to kill germs in the air; and peppermint, which helps ease the mind and create a clear head. Simply smell them or combine with water to make a spritz, and you'll be calm and clear from jet lag—not to mention any plane nasties along the way!
Now that you do know what to pack, check out this list of items you're better off leaving home.