The 4 Spices This Expert Recommends For Spring Flavor
mindbodygreen Editorial Assistant
By Sarah Regan
mindbodygreen Editorial Assistant
Sarah Regan is a writer, registered yoga instructor, and Editorial Assistant at mindbodygreen. She received her bachelor's in broadcasting and mass communication from SUNY Oswego, and lives in Brooklyn, New York.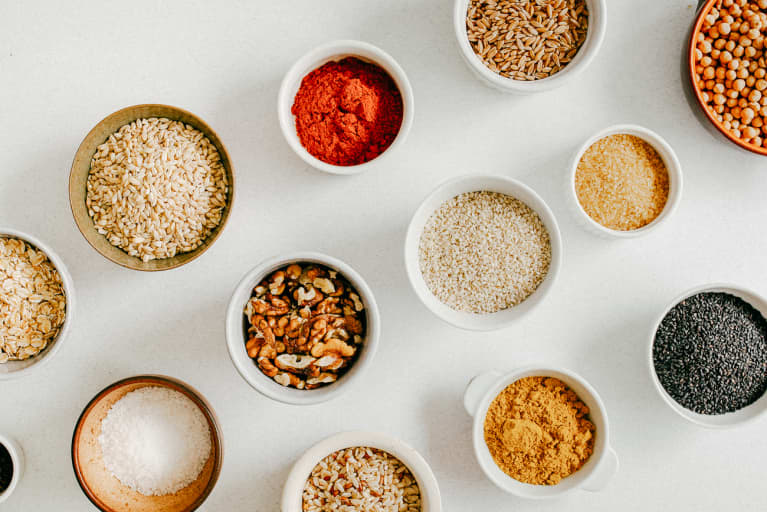 As hard as it is to believe spring is already upon us, it begins for the northern hemisphere on March 19. And this year, there's a chance we may all be doing much more home cooking than usual.
Thankfully, there are lots of ways to bring the essence of the season into our homes and our cooking. To find out how, we got in touch with author and spice expert Kanchan Koya, Ph.D., for her favorite spring picks.
Koya is big on sumac for its antioxidant and anti-inflammatory properties, on top of its fresh flavor. If you aren't familiar, it's made by grinding up dried berries from the sumac bushes of East Asia. And, according to Koya, "It's lemony but earthy," perfect for adding a tang to "salads, hummus, or even eggs."
Not sure where to start? This red lentil soup with sumac is lemony and fresh while still serving up warmth—ideal for a rainy spring day. And when you're in the mood for something lighter, we love this Moroccan-spiced cauliflower and carrot salad.
For a bright but slightly spicy combo, Koya recommends sweet paprika and cayenne. It adds "a fresh, citrusy bite," to dishes, she says, "and cayenne will also give some heat, which is nice in spring when it can still feel cold and rainy."
And as far as versatility, these are two must-haves in the kitchen. Cayenne has shown promise in boosting both metabolic and vascular health, and sweet paprika (while lower in capsaicin) is a wonderful addition to savory recipes for a little contrast. Add it to hummus, meat rubs, or try this sheet-pan Moroccan chicken or these super-easy black bean burgers!
And lastly, Koya recommends coriander seed for spring flavor. Not to be confused with cilantro, the herb, which comes from the same plant, "coriander" in the U.S. refers to the dried seed of the plant, while cilantro is the plant's stems and leaves. (Outside the U.S., the leaves and stems are called coriander, and the dried seeds are called coriander seeds.)
Regardless of what you call it, Koya says it's "lemony and peppery, perfect for a little pick me up, and great with chicken, fish, and curries, or gently crushed in salad dressings." And if you're looking for a little dietary "spring-cleaning," coriander seed is used in traditional kitchari cleanses, or there's always these cultured macro bowls!
Another recommendation Koya has given in the past is this seven-spice blend for gut health, which actually uses all three of these spice superstars, making it an easy and versatile way to incorporate them into our dishes. Because even though we may be social distancing, that doesn't mean we can't enjoy the start of a new season with some good eats.