The Esoteric Wellness Practice Coming To A Music Festival Near You
February 16, 2018 — 10:00 AM
Between acts such as Foster the People, Arcade Fire, and Local Natives, attendees at the upcoming Okeechobee Music Festival in Florida will be transported by a different kind of musical performance.
This year, the festival will join forces will NYC-based group meditation movement The Big Quiet to attempt the largest mass meditation at a music festival in the United States. Singers and violinists from different bands will join together with the shared mission of helping the crowd turn their focus inward.
As mbg reported last year, more and more wellness devotees are now looking to sound to find quiet. Music has been used as a healing tool for centuries, but sound baths have resurfaced as the ultimate antidote to tech addictions of today. Much like a yoga class or Reiki session, sound baths are an opportunity to leave your phone at the door and connect to the energy of your surroundings and yourself without distraction.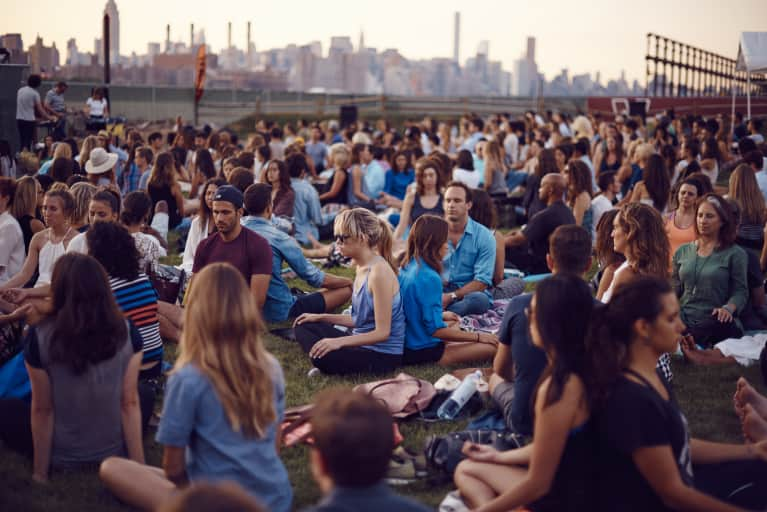 The Big Quiet continues to prove that this kind of connection is possible anywhere, and they've invited meditators to gather at busy NYC landmarks like Central Park, the Statue of Liberty, and the Palace Theater. Their mass meditations present a beautiful respite from the bustle of city streets, often incorporating slow, melodic tones to elevate the experience and help people "drop in" quicker.
"One of the reasons I think sound is a powerful tool for meditation is because it offers a point of focus. It's especially helpful for people who are new to meditation," Sara Auster, a sound healing practitioner, explained to mbg. "The act of listening deeply is a meditation in itself."
The Okeechobee Festival, taking place March 1-4, is yet another example of more esoteric wellness practices entering the mainstream. And for good reason: They work!
Here's a primer on how to start your own sound healing practice at home.