12 Easy Ways To Discover Something New About Yourself
mbg Contributor
By Courtney Carver
mbg Contributor
Courtney is the author of "Project 333" and the blogger behind Be More With Less. Her work has been featured on BBC, CNN, Real Simple magazine, and O, The Oprah magazine.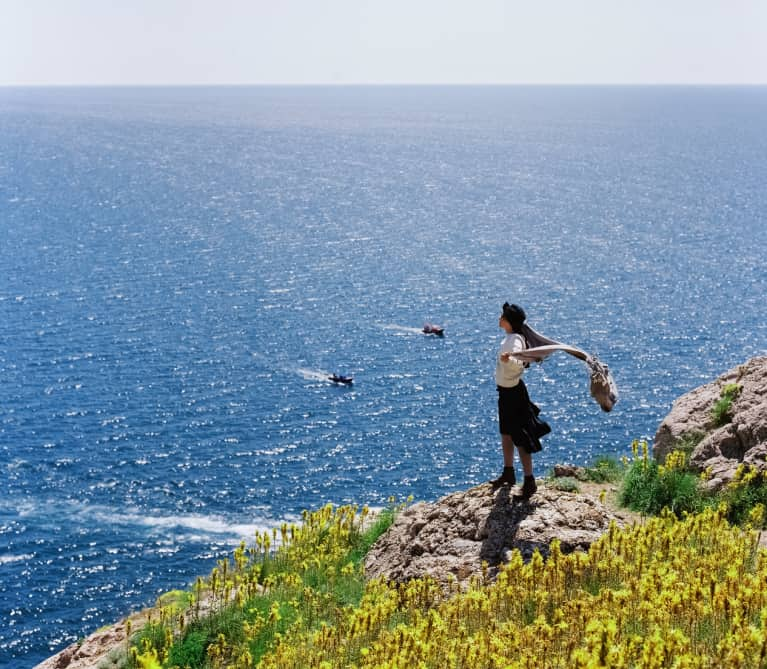 Our editors have independently chosen the products listed on this page. If you purchase something mentioned in this article, we may
earn a small commission
.
Soulful Simplicity focuses on actionable ways we can have more by living with less. Here, author Courtney Carver shares tips from her new book to help you discover how to simplify your life.
Real change is usually an inside job. In my new book, Soulful Simplicity, I deconstruct the process of simplification through the lens of mind, body, and soul. Starting on the inside will help you avoid dramatic outer change (read: breakup, move, career change) that might stunt the process and ultimately may not be in alignment with who you want to become. This list is a primer of ways to get closer to yourself and uncover things you never knew—things that might not be so obvious. Work through it in any order, trying one thing at a time. This isn't a to-do list or a competition. Consider each action as an invitation to learn more about yourself and to begin making you:
1. Figure out what you believe.
Until someone asked me, "What do you believe?" I forgot how much that mattered. Take some time to explore what you believe, not what you were taught to believe, or what you are supposed to believe, but what you believe when you are alone with your hands on your heart.
2. Identify your wake-up calls.
Look back without regret at your breakups and breakdowns, and recognize the quieter calls too. How did you react? What is your pattern of dealing with your wake-up calls? Do you take action? Ignore them completely? Try to change but fall back into old habits? Notice the calls and how you respond. No judgment, only noticing.
3. Write down your why. What's pulling on your heart?
A soulful simplicity is not an overnight transformation. These changes may take years, so your heart has to be in it. Why do you want to make changes? Why do you want things to be simpler? Write down all your whys and keep them front and center as a constant reminder and reinforcement.
Visit a local yoga studio and take a class. This goes for beginners and more advanced yoga students as well. Pay attention to the lessons you can take into your day-to-day life. What happens on the mat is only a tiny part of yoga.
SIGH—sit in God's hands. You can do this anytime, wherever you are. Do it when you wake up, in traffic, when you are frustrated, or even when you are feeling especially grateful. Take a deep breath in through your nose, and let it all out through your mouth. Make it big, deep, noisy, and meaningful. Repeat.
5. Find a little steadiness.
Back off or go a little deeper to find that magical place between ease and strain. Things flow more freely here.
6. Notice when you compare.
Here's why comparing doesn't work. We are usually comparing our beginnings with their endings or our insides with their outsides. This isn't fair comparing. If you measure yourself, your life, or your work based on comparison, consider who you are and what you have to offer without measuring against others. Ask your heart how comparing has served you. If it hasn't, let it go.
7. Let the monkey off the chain.
Uncurl your toes. Unclench your jaw. Loosen your grip. Stop trying to control anything and everything. If you don't think you can let go, sigh and try again later.
Add something green to your plate at every meal. Steam spinach, toss a salad, or make a green smoothie. At first, it might feel weird to eat greens for breakfast, but once you begin to notice how they fuel you and ground you, you'll look forward to your morning greens.
Redesign your bedroom and schedule to support seven to nine hours of sleep. Keep your sleeping space cool and dark and free of TV, digital devices, and work distractions.
Move every day, preferably outdoors.
Do something you don't want to do so you can do the things you want to do. These things are usually things you've considered before but have either procrastinated or written off completely. Go back. Try them.
Reframe your approach to making ends meet. Even though that's what you thought you were supposed to do, now you know there is a better way: fewer ends.
12. Listen to your heart.
Take three minutes, five minutes, 10 minutes, or as many minutes as you can devote each day and put your hands on your heart. This may be your first step toward finally putting yourself first. Putting your hands on your heart isn't a mystical practice. It's your right and responsibility to remember who you are. If you will listen, your heart will help.
Based on excerpts from Soulful Simplicity: How Living With Less Can Lead to So Much More by Courtney Carver with the permission of TarcherPerigee, an imprint of Penguin Random House LLC. Copyright© 2017 by Courtney Carver.