Why I Don't Do New Year's Resolutions & What To Do Instead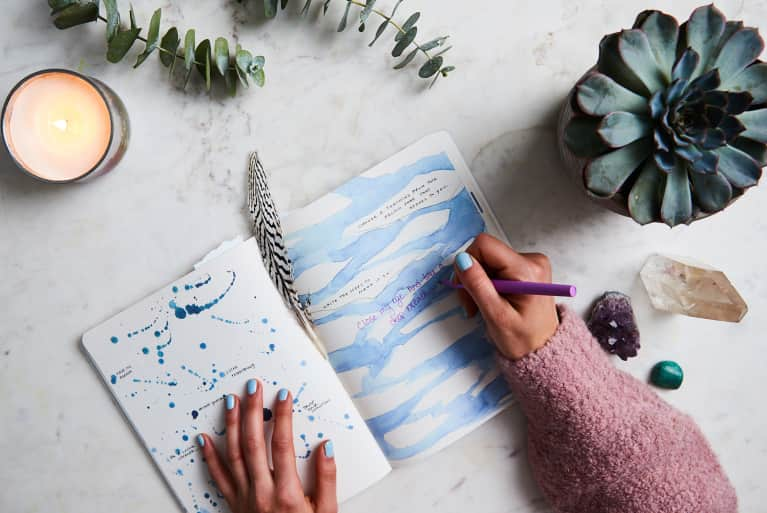 Our editors have independently chosen the products listed on this page. If you purchase something mentioned in this article, we may
earn a small commission
.
I am on my tiptoes every New Year's Eve, caught up in the magic of something new this way coming. "Auld Lang Syne" is in my ears reminding me to honor the past that brought me here as I ask everyone around me what their favorite part of the year was and why. The clock winds down, and I close my eyes for my kiss, confident my new life is beginning the very next day. It is pure magic and wishful bliss.
Then January arrives, followed by February, followed by life. The life that has to be lived in all its glory and complication. The checklist of resolutions begins to feel more like suggestions, reminders, and aspirations that I'll get to after I run to the grocery store and pick up my daughter from school. Inevitably, I meet December 31st again, disappointed.
For something like 10 years, I repeated a variation of the same resolutions as I held up another glass of champagne and swore that this was the year I was going to finally (enter goal here). I had all the reasons I failed at the ready: I changed jobs, I got married, I had a baby, I got divorced, my metabolism is slowing with age, back off!
Most New Year's resolutions fail because they are not tied to a goal or are lofty from the start. They're also, many times, surface answers to deeper issues to be solved. They have to be poked at and understood to be effective. Somewhere in the list of things you want to change about yourself is a list of things you need to heal about yourself.
I went back to the basics: 'What would a beautiful life feel like?'
After my divorce, I realized that not only was I unhappy with my body, but I had also attracted unhealthy and toxic relationships. I had built a life that looked good on the outside but had no foundation. I pulled out of my driveway one day, and looked up at what had been my "dream house." I thought it was the house my daughter would grow up in, yet my husband had just moved out, and I was putting it on the market. Everything I thought I wanted was no longer shiny, incandescent. I suddenly saw through all the sunshine-yellow paint, white trim, rose bushes, and the rabbit family that lived in the hedges and saw that it housed a broken family. It was a symbol for the way I'd created in the past. It was all security, vanity, and vacancy.
I began to review my resolutions, choices, and the way my life had felt in previous years. I was chasing things that felt good on the surface. While fitness is good for your health, I wasn't thinking of avoidance of disease, self-care, or strength. I was on my tiptoes every year with my glass of champagne wanting to look hot in a bikini so my husband would love me. That goal and my soul no longer matched. After upending my family, I was desperate to create a life that felt good, not just one that looked good in a pair of yoga pants.
I went back to the basics: "What would a beautiful life feel like?" Words started to make their way into my consciousness. Words like compassion, grace, embodiment, authenticity, kindness, strength, power, trust, and love.
My intention for 2017 was honor. I wanted to honor the people in my life and the way they showed up, my own intuition in all things, and my desires.
My intention for 2018 was truth. I wanted to operate from a place of truth at all times. That meant abandoning old stories, recognizing when I'm triggered or acting from old wounds, and shining a light on them so that I continue to move more deeply into this gorgeous intentional life that has brought me continued blessings year after year.
My intention for 2019 is power. It was the advice I gave my younger self in a love letter I wrote for my recently released book: "You are so powerful. You just don't know it yet." I want to honor the power I have within me to create, build, expand, and accomplish any goal I set. I want to use my personal power to uplift those I love and influence. I want to harness it as if it is the sun itself so that I can die to those beliefs that held me back once upon a time.
I encourage you to spend the balance of the year reflecting on the life you want to live—the characteristics and values that feel genuine and soulful. Let the words bubble up until one feels good on your tongue, to your ears, and in your heart. When the countdown begins, wish your intention to the stars, and may your year be filled with intention, purpose, love, and power.