Does Skin Care Micro-Dosing Actually Work? We Got The Details From Derms

mbg Beauty & Wellness Editor
By Jamie Schneider
mbg Beauty & Wellness Editor
Jamie Schneider is the Beauty & Wellness Editor at mindbodygreen, covering beauty and wellness. She has a B.A. in Organizational Studies and English from the University of Michigan, and her work has appeared in Coveteur, The Chill Times, and Wyld Skincare.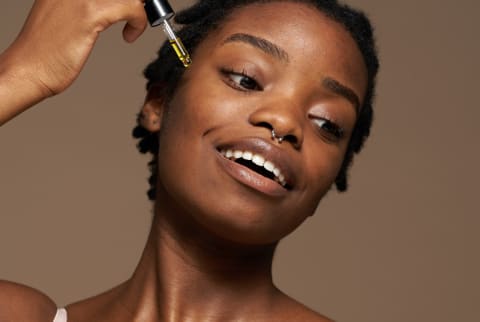 Image by JAVIER DÍEZ / Stocksy
Our editors have independently chosen the products listed on this page. If you purchase something mentioned in this article, we may
earn a small commission
.
October 5, 2021
In the past few weeks, skin care micro-dosing has cannonballed into the beauty zeitgeist. While we're long past the "more is more" mentality—slapping on skin care formulas with abandon and stripping your skin raw in the process—it seems beauty fans are sprinting in the complete other direction, using formulas with teeny-tiny concentrations (or "micro-doses") to gently train their skin without breaking ties with barrier health. A gentle nudge rather than a full-on bulldoze.
The "low and slow" attitude is certainly in vogue, but when it comes to straight-up dermatology—it's not as simple as downsizing your skin care. So does micro-dosing live up to its (small but mighty) hype? Below, derms weigh in on the recent craze.
Advertisement
This ad is displayed using third party content and we do not control its accessibility features.
What is skin care micro-dosing?
It's the same idea as micro-dosing other substances: Rather than going full throttle once or twice a week, you use low, low concentrations (like 1/10 of a typical application) of active ingredients daily. It's meant to be a gentler, more gradual process to reap the benefits of powerful (and potentially irritating) skin care ingredients—like retinoids, AHAs, and BHAs.
Rather than using smaller concentrations, board-certified dermatologist Ife J. Rodney, M.D., FAAD, founding director of Eternal Dermatology + Aesthetics, says you could also opt for a smaller dollop of product. "For instance, you can apply just a few dots of a serum every day instead of liberally applying a half-filled dropper of product," she says.
Both routes are considered micro-dosing—the point is to keep your skin barrier intact and gradually train your skin every day rather than "shocking" it every once in a while with, for example, a potent exfoliator.
Advertisement
This ad is displayed using third party content and we do not control its accessibility features.
Who is it good for? 
Those with sensitive skin or a weakened barrier can especially benefit from micro-dosing, as their skin is more prone to irritation and dryness. With micro-dosing, they can dabble in some of these potent skin care actives without stripping their skin.
But, theoretically, any skin type can benefit from micro-dosing—at least for a time. "Think of it like a warm-up exercise before the main race," notes board-certified dermatologist Joshua Zeichner, M.D. For example, let's say you've just hopped aboard the retinoid train: It can be helpful to start with a micro-dose and work your way up to higher concentrations, as tolerated. "Just as you need to train for a marathon, you need to do the same in your skin care routine," Zeichner adds.
How does micro-dosing work?
The million-dollar question: Can you really reap the benefits at such low concentrations? According to board-certified dermatologist Cynthia Bailey, M.D., founder of Dr. Bailey Skin Care, it depends.
She explains a medical concept called the "dose-response curve," where you don't see any therapeutic benefits of a medicine until you reach above a certain dose; then once you reach the maximum effect, any increased doses can lead to side effects instead of benefits. (Imagine a bell curve, and everyone has their own sweet spot.) When you dive into the science, she says you can apply the same logic for some skin care ingredients:
Advertisement
This ad is displayed using third party content and we do not control its accessibility features.
Retinoids
Retinoids are beloved for promoting collagen production and easing signs of aging (like fine lines)—and a high-strength product is considered to have a concentration of 0.3 to 1%. One study actually wanted to discover how low they could go to maintain results, and they found that a 0.05% tretinoin cream could still improve the appearance of fine lines after 24 weeks—but 0.01% and 0.001% did not.
But, says Bailey, "Retinoids have many benefits to skin other than collagen synthesis that may be 'turned on' at lower doses. They brighten skin, help even out pigment irregularities, turn off the destruction of collagen, and stimulate the skin's own production of hyaluronic acid." So while a micro-dose of 0.01% might not be enough to upregulate collagen formation deep at the cellular level, you may still see improvements in skin texture and tone. For her sensitive-skin patients, Bailey typically recommends starting with 0.025% Tretinoin, working your way up to a goal of 0.1%.
Retinols that you can find OTC, however, are usually not as irritating or potent—so you might be able to get away with a higher concentration (check out our favorite serums here).
AHAs & BHAs
Many AHAs (glycolic acid, lactic acid, and the like) are formulated at concentrations of 10% or higher, which some may find way too irritating for their skin. Now, research shows that both glycolic and lactic acid can also be effective at 8% concentrations—if you're looking to micro-dose, you could start with a concentration lower than 8% and work your way up. (The Ordinary has a 5% lactic acid serum, and you could even micro-dose that by applying only a tiny amount of the product).
Keep in mind that AHAs have different molecular sizes, which means they penetrate your skin at various rates (i.e., glycolic acid is smaller in size than lactic or mandelic acid, which means it can sink into the pores quite quickly—which, in turn, can lead to irritation). All that to say: You might prefer a slightly smaller or larger micro-dose depending on the AHA you're dealing with.
As for BHAs, like salicylic acid, products typically have a 0.5 to 2% concentration. For a leave-on product, "I would consider 0.5% a 'micro-dose,' says Bailey. "It works at the lower concentration, though higher concentrations are known to work better."
Advertisement
This ad is displayed using third party content and we do not control its accessibility features.
Vitamin C
Sensitivities to vitamin C are relatively rare, but L-ascorbic acid (the most active form of vitamin C) can cause irritation for those with hypersensitive skin. In that case, you can always opt for a serum that uses a more stable form of vitamin C, or if you prefer to micro-dose, just know that a concentration of at least 8% (but no higher than 20%) of vitamin C has been considered most effective for stimulating collagen synthesis.
With a micro-dose lower than that, you may still get antioxidant benefit, but according to Bailey, you might be better off using a full dose of other antioxidant-laden ingredients, anyway. "[Rather than] trying to use micro-dose levels of potentially irritating vitamin C for the antioxidant benefit, instead focus on green tea polyphenol antioxidants that are also known to soothe inflamed skin," she poses.
Any risks or concerns? 
Even with a teeny dose, there is still a chance your skin could react to a certain active, be it from the potency or an allergy to the ingredient itself. That said, you should still patch test a product before slathering it on—even if it does contain 1/10 its usual power. "There's also the risk of micro-dosing multiple products with the same active ingredient, which can bring you right back to square one," warns Rodney. Translation: Micro concentrations do not give you permission to layer on serum after serum.
And for those without sensitive-skin concerns, "I look at micro-dosing as a gateway to your full skin care routine," Zeichner says. "The goal is to eventually transition yourself to a full concentration." Of course, "full concentration" has a different definition for everyone; the point is, you might want to use micro-dosing as a way to investigate how much your skin can truly handle, increasing or decreasing the dosage until you find a happy medium. Because just as you don't want to overwhelm your skin with too-potent formulas, you also want to make sure your regimen, well, actually works.
Lastly (and this probably goes without saying), both Rodney and Zeichner emphasize: Don't micro-dose your sunscreen. You still need about a nickel-size dollop for your entire face, reapplying every two hours for optimal protection.
Advertisement
This ad is displayed using third party content and we do not control its accessibility features.
The takeaway. 
Micro-dosing your skin care can help you reap the benefits of potent active ingredients without irritating your skin. It's still important to use clinically effective doses (so don't sleep on the science above!), but that doesn't mean you have to overwhelm your skin in the process. If anything, look at skin care micro-dosing as an overall approach rather than a specific concentration to opt for—a slow and steady pace is on-trend, always.