6 Ayurvedic Practices For A Stress-Free Holiday Season
Registered Yoga Teacher
By Sejal Shah
Registered Yoga Teacher
Sejal Shah is E-RYT® 500, YACEP® through Sri Sri School of Yoga and Yoga Alliance and is recognized as an expert in all four educational categories of Yoga Alliance.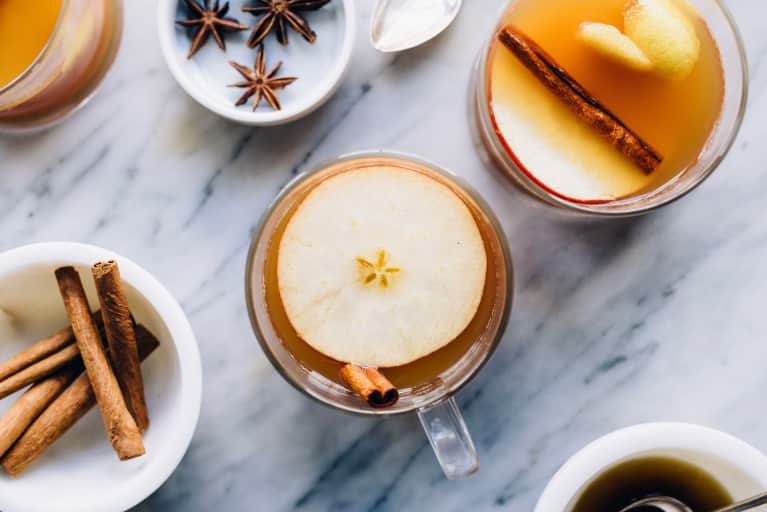 Ayurveda has taken off in the wellness world lately, but it's an ancient tradition that helps decode the archetypes of our bodies, thereby helping us understand the imbalances of it, and even provides us the knowledge to customize meal plans that go well with the intuitive intelligence and wisdom of the body.
The science (veda) of life (ayur), as translated from Sanskrit, is an ancient science of healing. Unlike classical Western medicine, it helps the practitioner achieve optimal wellness through balance and integration and works to treat the root cause of illness rather than the symptoms.
This holiday season, harness the secrets of this ancient science to stop counting the calories and begin counting your blessings. Here are a few simple ayurveda-inspired ideas you can adapt to make this holiday season healthier and vibrant and less stressful.
Agni, or fire is the foundation of your digestive health. Your digestive process gets dampened every time you pour cold water into your stomach. During the holidays, drink a cup of hot water or herbal tea. Ayurveda suggests not to drink water during meals, but drinking hot water about 30 to 60 minutes after your meals helps balance overeating, eating too much sugar or savory food, or even eating heavy or fried foods.
Mix plenty of warming spices.
This is the season for warm spiced cider, eggnog, and pumpkin pies with cinnamon and nutmeg. Ayurveda explains that cold weather increases the vata, or air element, in the body. Eating plenty of warming spices, like cloves, cinnamon, black pepper, nutmeg, cardamom, ginger, and turmeric helps balance the body during the winter holiday months. These spices help reduce the air element that alleviates seasonal mood disorders, joint pains, arthritis that gets aggravated by the cold, and even depression.
Count on your blessings and intuition more than counting calories.
From thousands of years, in all cultures, offering a prayer or any words of gratitude is a divine opportunity to bless and offer thanks to something that nourishes every cell in your body and for the abundance that we are bestowed with. Food is a great opportunity for us to reconnect with ourselves and nature; it is not a commodity to be counted in calorific numbers, nor one that can be simply bought and served. Instead, it is an offering, served up with love and grace! Ancient ayurvedic texts are filled with hymns that are recited to honor our food. The one that I chant before I start every single meal is Annadata sukhi bhava! It simply means "Let all the food providers be happy and prosperous!" Just three words, but these create such beautiful feelings for my meals.
Surrounded by the holiday cheer, we are sometimes overwhelmed by conversation and company and miss listening to our body's intuitive wisdom and forget to eat mindfully. When you are in perfect health, your body's natural instincts are wonderfully aligned with the cycles of the season. Ice cream in freezing weather is not something your body will naturally seek, but it asks for a steaming cup of hot chocolate in cold weather. If you listen to your body, you will never go wrong in your choices.
Keeping track of calories is the path to deprivation and denial of what can be an enjoyable and satisfying experience. Instead, enjoy all the foods on your table in moderation. Appreciate the fullness and abundance of the harvest of nature that we are meant to enjoy this season. Take in the flavors and the fragrances. During the holidays, soups, squashes, and pumpkin are choices that are high on the sattvic (healthy food) scale. Too much meat, processed foods, and sugars bring the prana, or energy level, of the body down. In the cold winters, it is appropriate to add a dollop of butter to your soup; nourishing good fats like ghee, olive oil, and coconut oil send happy signals to the brain, and chances are that this, in turn, reduces our cravings.
A full belly is the sign of happiness and contentment, whether depicted by the idols of big-bellied, cheerful Santa or the laughing Buddha or big-bellied, happy Ganesha! Make a conscious choice to be happy and grateful; these are the most nourishing nutrients of any meal beyond, proteins, carbs, or fats.
Build a routine of self-abhyanga, a special ayurvedic massage.
Three years ago, while at the ayurvedic retreat at Shankara Ayurveda Spa, I learned the ayurvedic practice of self-abhyanga, or warm-oil massage, a soothing 10-minute self-care treatment for imbalanced vata. It's traditionally done in the morning before bathing and is especially useful as a daily ritual in the winter months. "Vata by nature is dry and cold. With abhyanga, the warm oil penetrates the skin and lubricates the whole body, a quality that is the complete opposite of vata, and hence it is balancing. Abhyanga also opens the nadis for the prana to flow smoothly and even helps to direct ama (toxins) from the tissues to the organs of elimination" explains Vaidya Lokesh Raturi, my consulting ayurvedic expert from India.
Try golden milk at bedtime.
When you go to bed on time but can't sleep because of the excitement of the holiday season, try drinking a cup of warm milk with a pinch of turmeric and powered cardamom before bed, and see how deep and refreshing sleep can be.
Learn how yoga and ayurveda are complementary.
Ayurveda is the sister science to yoga. Though ayurveda and yoga are complete sciences by themselves, it is important to integrate both in order to bring out the full healing benefits and spiritual potential of each. When practiced together, they can provide a fulfilling way of living and a complete model of preventive health.
A holistic yoga practice balances all the three doshas. However, it definitely makes a difference to understand one's body type and how to plan an asana sequence that is nourishing rather than depleting for the body, especially during the busy holiday season. For all the vata imbalances, it is advised to practice in a quiet, grounded, systematic way, coordinating each movement with the breath and holding the poses for a longer time and being still in the poses.
Heating pranayamas like Suryabhedan and Agnisara could be a great addition to your practice. Vatas usually have more trouble grounding themselves than other doshas. Therefore, calming and centering meditation techniques like Sahaj Samadhi meditation will also be a great tool for you to include in your daily self-care routine. Use these secrets of ayurveda to make your winters more enjoyable and healthy.
Happy holidays!