These 5 Keto-Friendly Snacks Take Just Minutes To Make
Contributing Food Editor
By Liz Moody
Contributing Food Editor
Liz Moody is a food editor, recipe developer and green smoothie enthusiast. She received her creative writing and psychology degree from The University of California, Berkeley. Moody is the author of two cookbooks: Healthier Together and Glow Pops and the host of the Healthier Together podcast.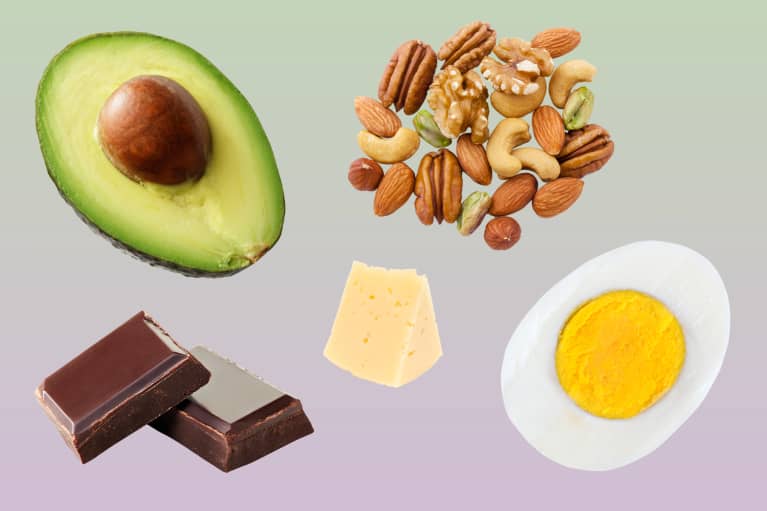 The ketogenic diet has taken the health world by storm, and while many people are on board with its benefits—which include weight loss, increased energy, and higher satiety levels—it can be hard to actually incorporate the diet into a busy lifestyle. While you may have your meals covered, eating on the go can be tricky when you're trying to keep your carbohydrate intake to 50 grams or less a day. Luckily, at mbg, we're all about great flavors and great health benefits, so we've designed a few simple snacks that are keto-approved—and completely crave-worthy.
1. Upgrade your hard-boiled eggs.
There's a reason keto dieters flock toward eggs—one large hard-boiled egg has just 0.6 grams of carbohydrates, making it a perfect keto-friendly choice. The only problem? Eggs can get blah, especially when eaten frequently. We love upgrading our eggs to turn a simple protein staple into an entirely new snack option daily. Sprinkle some harissa on top for a spicy Middle Eastern vibe. Use a savory furikake blend made from sesame seeds and seaweed for a Japanese flavor (bonus points if you add a drizzle of sriracha). You can even go a sweeter route, with a sprinkle of cinnamon and allspice (don't know till you've tried it!). Think of your egg as a blank canvas, and let the spices bring out the creative within.
2. Bake up some cheesy chips.
Yes, you can have chips on the keto diet—if they're made entirely of cheese. Making cheesy chips couldn't be easier, and the result is incredibly addictive, whether crumbled on salads as the best crouton substitute or simply munched on plain. To make them, simply preheat your oven to 425, then cover a baking pan with parchment paper. Arrange shredded hard cheese of choice (we love cheddar and Parmesan) into a 2-inch round, then sprinkle with any additional seasonings (cayenne and smoked paprika are great additions). Bake until the cheese bubbles and begins to brown at the edges, then remove from the oven and let cool completely. Welcome to your new favorite snack.
Fat bombs are essentially a mix of high-quality fats like coconut oil or butter or nut butter and various flavorings. They're poured into ice cube trays and frozen until solid so that, when a sweets craving strikes, you have fat-filled fudge at the ready. There are a number of ways to make fat bombs (and we encourage you to play around; no recipe needed!), but we especially love this almond peanut butter version and this chocolate orange one.
4. Make a quick avocado mousse.
Another snack option for the sweet-toothed folk among us, this avocado mousse is a staple in supermodel Gisele Bündchen's diet. To make it, just add an avocado to a food processor with raw cacao powder, cinnamon (this helps make it taste sweet with less sweetener), and seasonings (we love orange zest), vanilla extract, fine-grain sea salt, and a teensy bit of sweetener of your choice. Add a bit of avocado oil to get it going, then process until smooth and mousse-like.
While plain nuts can't be beat in terms of keto-approved nutritional profile, they can be a bit boring, and if you buy the pre-seasoned ones, they'll often come with a few unwanted guests, including inflammatory oils or artificial seasonings. Instead, buy your nuts raw and then gently toast them yourself. Just preheat your oven to 350 degrees and toss your nuts (of whatever kind—just make sure they're roughly the same size so they toast evenly!) with avocado oil and fine-grain sea salt until well-coated. Then, you can add your seasonings of choice—go in a pumpkin pie direction with nutmeg, cinnamon, and allspice, or veer into the South of France with some fragrant herbes de Provence. Bake until the nuts are just golden brown, then let cool and store in an airtight container in the fridge (to protect those fragile oils!) until ready to eat.