The World's Healthiest Mexican Food Brand Just Released A Metabolism-Boosting New Product — And It's So, So Good
Contributing Food Editor
By Liz Moody
Contributing Food Editor
Liz Moody is a food editor, recipe developer and green smoothie enthusiast. She received her creative writing and psychology degree from The University of California, Berkeley. Moody is the author of two cookbooks: Healthier Together and Glow Pops and the host of the Healthier Together podcast.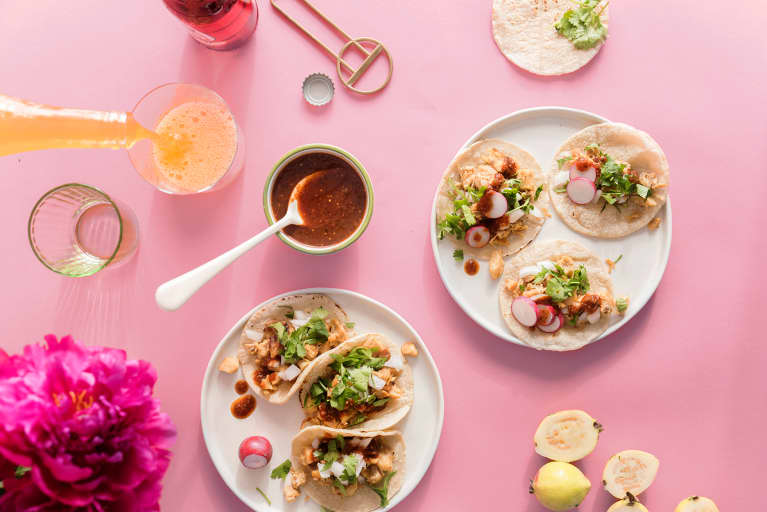 Siete chips and tortillas have taken over social media, with influencers from Shut the Kale Up to mbg Collective member Rachel Mansfield swooning over the grain-free Mexican-American food. The remade classics feature ingredients like almond flour, coconut, and cassava and are grain-free, gluten-free, dairy-free, soy-free, and vegan—yet they have the taste and pliability of traditional flour tortillas, which accounts for their rapid rise in the space.
Now, they've just debuted their newest product: a line of hot sauces that are positioned to continue the family-based brand's takeover of the healthy Mexican food category. "We grew up eating hot sauce and putting it on pizza, burgers, and tortilla chips," says Veronica Garza, co-founder and president of Siete Family Foods. "In our culture we eat hot sauce with everything. You can think of it like our ketchup. Sometimes hot sauce can be a novelty for people, but we wanted to make something that the whole family can enjoy together."
While these hot sauces are particularly good for you, free from the artificial colors and preservatives included in many brands and packed with superfoods like avocado oil, apple cider vinegar, flax seeds, chia seeds, and turmeric, hot sauce, in general, is a wellness-professional-approved dietary inclusion for anyone looking to manage their caloric intake. "While you won't experience a game-changing calorie burn, research has linked the capsaicin in chile peppers to an increased metabolic rate," Jessica Cording, a registered dietitian and health coach, notes. "Anecdotally, some people have also found that eating spicy foods helps decrease their appetite. If nothing else, enjoying a variety of spices and types of peppers in your diet can help you stay more satisfied in the long run, as you're having new food experiences rather than setting yourself up to feel deprived eating the same few things."
The traditional hot sauce is pleasantly piquant, with a flavor akin to classic red enchilada sauce. The chipotle version is a little sweet and a little smokey, with a kick at the end, while the light-green, pumpkin-seed-based jalapeño, the thickest, creamiest sauce of the bunch, is deceptively mild. The orange habañero is the spiciest, but the heat is balanced perfectly by the sweet, earthy inclusion of golden beets and carrots. They're some of the most complex, interesting, and delicious hot sauces on the market and would be a winning addition to any spice-loving meal, Mexican or otherwise (the Siete family recommends using them on dishes like burgers and pizza as well). The hot sauces retail for $4.99 a bottle and will be available at Whole Foods nationwide starting June 1 and on sietefoods.com beginning July 2.
Check out our annual top food trends that will shape the way you eat this year.