Looking For Healthier Mexican-American Food? Siete (Once Again) Has Your Back
mindbodygreen Editorial Assistant
By Sarah Regan
mindbodygreen Editorial Assistant
Sarah Regan is a writer, registered yoga instructor, and Editorial Assistant at mindbodygreen. She received her bachelor's in broadcasting and mass communication from SUNY Oswego, and lives in Brooklyn, New York.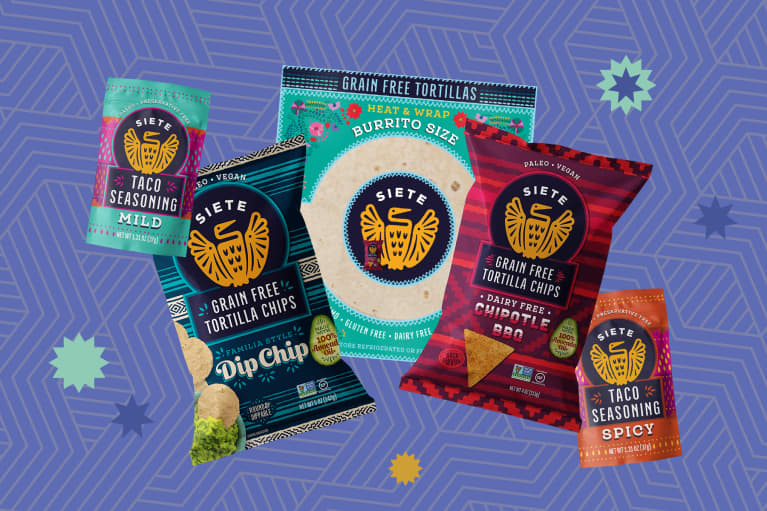 January 22, 2020 — 23:24 PM
If dietary restrictions have ever gotten in the way of Taco Tuesday—or tacos any day of the week for that matter—you're in luck.
Siete Family Foods, a favorite for healthy, non-GMO Mexican-American foods, just announced they're putting out some new products. And the best part? They're all soy- and gluten-free, vegan, paleo, and made with avocado oil, so they're a great choice if food sensitivities are making it harder to eat your favorite foods.
Among some of the new products, Siete has announced enchilada sauces, taco seasoning, new chip flavors, and grain-free tortillas. Here's what you can expect to see in stores around the U.S. soon.
New grain-free chips with an extra something-something.
Two of the other products Siete is releasing are their new Whole30-approved enchilada sauces, in red and green. According to the website, the red sauce is heartier, with tomatoes and chili spice, while the green is a little brighter, with roasted tomatillos and jalapeños. But whichever you choose, they'll both give dishes a nice pop of flavor. These are another that will only be in stores to start, so keep your eyes out.
And to kick your Mexican food up a notch, enter Siete's new taco seasonings in mild and spicy. Available in stores only, these seasonings both offer something special. The mild seasoning blends tomato, garlic, chili, and cumin, and while it is "mild," it still has plenty of flavor. The spicy variety packs in the heat with jalapeño, cumin, chili, and tomato.
Grain-free burrito-size tortillas
And last but not least, the final product Siete announced is their new grain-free, burrito-size tortillas. They're made with cassava flour, and most importantly, they're big enough to hold all your burrito essentials (like this probiotic guacamole recipe). They've got a bunch of other tortillas, too, including ones made with chickpea flour, almond flour, and even cashew flour. Tortillas can be purchased online, although the new burrito-size variety is available only online.
Veronica Garza, co-founder, president, and chief innovation officer of Siete Family Foods says, "It's always our goal to create solutions in the kitchen with meal options that use health-conscious and inclusive ingredients. These eight new products are all designed to make meal planning more simple without sacrificing flavor."
We can't argue with that. And if you need any more convincing to round up some friends for a taco night, here are six reasons to eat more Mexican food.