I Hated Running, Then I Decided To Run Every Day For 3 Months. Here's What Happened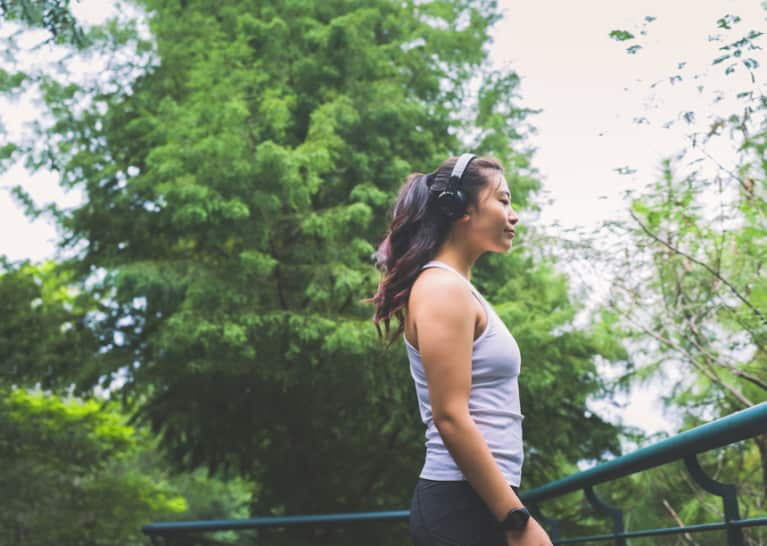 I have always been an active person. I walked before I talked, and I later became a competitive gymnast and a pretty good dancer (at least in my opinion, but ask my friends who have seen me tear it on up on the dance floor). But running? Running always felt boring and exhausting. I couldn't understand why people gravitated toward it.
Last spring, that changed. The three-month countdown to my wedding was in full swing, and my typical gym workouts were not relieving my anxiety. I had encountered situations that stressed me out before, but this spike was off the charts. I knew I had to switch up my routine and try something different to keep my anxiety at bay, so I decided to run.
I decided I would run every single day until my wedding.
Yes, you read that right—every single day! During my first run, something magical happened. I wore my old oversize Bose headphones, stepped outside, and let my legs take off.
As I was jogging toward a man and woman wearing matching mustard yellow jumpsuits, the man flashed me a huge smile and gave me two thumbs up. It was as if he knew it was my first time out there in a while and he wanted to send me positive vibes. I smiled back, and that gave me the push to keep going.
From that day forward, I ran 2 miles every morning. Me, the girl who hated running, was running every single day. Some days were challenging and I had to motivate myself to keep going while other days it felt like a breeze. I began to look forward to my morning runs and the amazing way they made me feel.
The mental benefits of my new daily runs were incredible, and they affected me more quickly than I thought they would. Running gave me life! I felt that "runner's high" that people so often spoke about. I was so impressed with the way my mind and body were able to work together.
My runs became my therapy. Sometimes I cried, sometimes I thought of new ideas, sometimes I just smiled and reflected on my life. Post-run, I felt free, like I had released the emotions that were contributing to my anxiety.
I felt calm, grateful, and energized for the day. My anxieties, worries, and fears started fading into the distance.
Although I started to run to reap the mental benefits, running also had a positive effect on my physique. Oh, hello flat tummy! My core had never felt or looked so good. Besides my toned tummy, my biceps looked stronger and my booty felt firm.
I was in superb shape, which made me feel empowered to take on the wedding obstacles that were holding me hostage. My appetite also increased, and I happily filled my body with healthy food and tons of water to refuel. When you look good, you feel good!
If you, too, are just getting started on a running journey, here's the advice I wish I'd had before I started.
Slow also doesn't lessen the mental and physical health benefits of running. Don't pay too much attention to your time! Focus on distance and consistency.
It's your run; you make up the rules.
That's the beauty of it. If you feel a surge of energy and want to sprint your last minute, go for it. If you feel out of breath, slow it down and walk for a minute or two.
A good playlist goes a long way.
Music helps put you in the zone and can even take your mind off the physical effort your body is going through. It can elevate your mindset and make your run that much more enjoyable.
Don't overwork your body.
You don't have to run every single day. Too much running can take a toll on your body and lead to annoying aches and pains, so mix it up with low-impact workouts. In hindsight, I should have taken rest days leading up to my wedding—and I definitely do now.
If the weather allows for it, run outside instead of on the treadmill.
Being in nature helps to shift your focus and allows you to Zen out a bit. This helps tremendously if you are experiencing anxiety. Now that I have survived the wedding and settled into married life, I don't feel the urge to run every single day. I admit that I was a little obsessed with running—I even ran my daily 2 miles the morning of my wedding! That's commitment, right?
I still incorporate running a few times per week into my workouts because I enjoy it and I'm proud to call myself a "runner." The mental and physical benefits of running are real and can help immensely if you are suffering from anxiety. I highly recommend you make yourself a playlist of upbeat dance songs and get going.
Need more running inspiration? Find out why these seven famous runners lace up their sneakers every day.