This Is How I Knew A Vegan Diet Was Right For Me
Registered Dietitian
By Lauren Panoff, R.D., MPH
Registered Dietitian
Lauren Panoff, R.D., MPH is a plant-based lifestyle strategist and founder of Chronic Planet, where she helps people raise vegan families. She received her bachelor's in dietetics from Colorado State University and a master's in public health from Michigan State University's College of Human Medicine.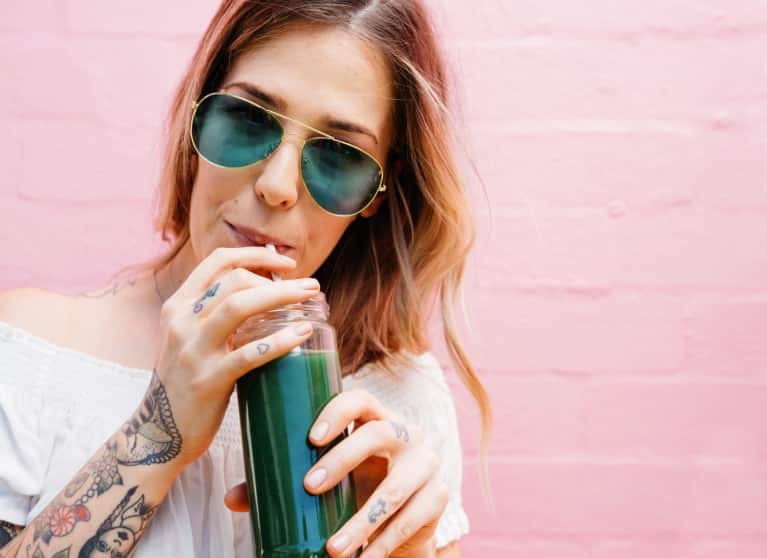 Six years ago, my husband and I were sitting on the couch watching television after dinner, as we often did. We had just finished a typical homemade meal showcasing a lean meat surrounded by whole grains, vegetables, and dairy, delightfully reflective of the food pyramid, something I prided myself on as a traditionally trained registered dietitian. Our plates were always on par with portion sizes, loaded with animal protein, and conducive to our "all foods fit" lifestyle.
Despite my best efforts toward healthy meal preparation, something was off. We sat there bloated, fatigued, and dissatisfied, which was unfortunately not an unfamiliar occurrence after eating.
I was finishing my public health education at the time, learning about things like chronic disease statistics, global water and food safety issues, and how the environment is affected by the food system, and had consequently started questioning the true quality of our diet. I kept reading that vegetarians often had better long-term health outcomes. And so, despite my misguided perception of the plant-based community being a bit strange, I suggested to my husband that we try going vegetarian for 30 days—simply to see if we could do it and how we felt about it.
Fast-forward and that 30 days never ended, our diet evolved from vegetarian to vegan, and our plates are now focused entirely around plants. Made up of things like quinoa, lentils, beans, fruits and vegetables, healthy fats, and plant-derived proteins, our meals have never been more nutrient-dense, satiating, or delicious.
Why did we stick with it? Here's how I knew going (and staying) vegan was right for me:
1. A vegan diet helped me understand and align with my values.
To be perfectly honest, I had never thought much about my food beyond its entrance into my mouth. When I began intentionally educating myself about our modern food system and how it affects so much more than our palates, I started realizing personal values I had never acknowledged before. Things like animal welfare, environmental stewardship, preventive health, leadership, advocacy, and equality help define my character. Veganism has taught me things that will be ingrained forever, and I am finally eating in a way that coincides with my ideals. That feels good.
2. A vegan diet connected me with the world.
Looking back, I admit that I lived in a privileged bubble where I was taught about global issues in school but failed to recognize their personal applications. It wasn't until I went vegan that I learned how industrial animal agriculture is a major cause of groundwater contamination and ocean dead zones and contributes more greenhouse gas emissions than all of transportation. I learned that farmed animal welfare is not only a silenced issue of compassion and ethics but also of feminism and speciesism. I learned that animal agriculture is responsible for up to 90 percent of Amazon rain forest destruction, resulting in climate change, loss of habitat for already endangered animals and plants, and displacement of native tribes. No longer do I look at my plate without seeing the global impact I can have through my food choices, and that makes me accountable.
3. A vegan diet reflected what my body was telling me it needed.
For nearly a decade in my younger years, I struggled with disordered eating, leaving me with residual physiological scars that will probably never fully disappear. I was left with a lingering discomfort in my own skin, anxiety when deciding what to eat, and an overall feeling of displeasure after meals. One of the first things I noticed after switching to a vegan diet was a significant improvement in my physical and mental state. My weight reached a healthy set point on its own, without me worrying about calories, the scale, or minutes of daily exercise. My sugar cravings decreased. My skin cleared up and was less oily, allowing me to feel confident without makeup. My digestion improved, thanks to regularity and no longer feeling bloated and fatigued after eating. It was as if I had finally found the way I was supposed to be eating all along, and my body was eternally grateful for the transformation.
4. A vegan diet made me prioritize not only my own health but the future for my children.
I don't have to tell the parents out there that a lot changes when you have kids. We had been vegan for a couple of years before starting a family, and our reasons for maintaining this lifestyle have also since expanded. It is still important to me to follow a diet that has a positive impact on the world, reflects my values, and makes me feel good, but now I also emphasize the importance of a vegan diet for my children. They will grow up in the garden and in the kitchen preparing meals at home, something that many kids don't get in 2018. They will understand basic nutrition and how to make healthy food choices at a young age. They will have a reduced risk of developing certain chronic diseases later in life. They will know how to make a difference in their community through food.
So whether veganism resonates with you or not, I challenge you to start thinking more closely about your dietary habits. What does your diet do for you, beyond filling your stomach? Are your eating habits reflective of your values as a human being? How will your children benefit from the way they're learning to eat? Whatever the right diet for you may be, go find it and let it help you start living your best life. And maybe even go change the world while you're at it!
Thinking about going vegan? Here are the biggest myths and facts about veganism.