Lip Retinol Is Here For Your Deflating Pout, But Only If You Use It Right

mbg Beauty & Wellness Editor
By Jamie Schneider
mbg Beauty & Wellness Editor
Jamie Schneider is the Beauty & Wellness Editor at mindbodygreen. She has a B.A. in Organizational Studies and English from the University of Michigan, and her work has appeared in Coveteur, The Chill Times, and Wyld Skincare.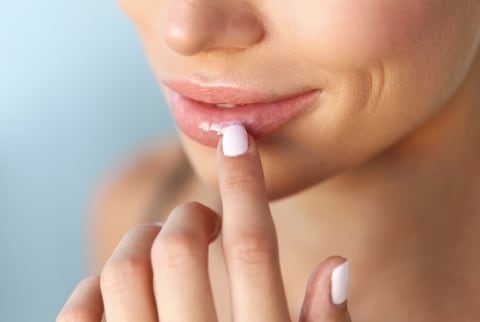 April 17, 2023
Our editors have independently chosen the products listed on this page. If you purchase something mentioned in this article, we may
earn a small commission
.
This may be a hard pill to swallow, but your lips literally deflate with age. Don't sound the alarm just yet! It's totally natural, and it's all thanks to a little thing called collagen decline. Collagen, you see, is one of the skin's structural proteins that keeps things looking firm and taut. Once your supply starts to diminish, the skin loses said structure and starts to sag—and the fat pads under your lips lose volume with time.
When this happens, experts recommend introducing collagen-stimulating topicals, like retinol, into your routine. The beloved vitamin A derivative has been shown many times over to increase collagen production in the skin1, so it's a worthy investment for skin longevity (and here are our favorite serums, should you find yourself in the market).
Advertisement
This ad is displayed using third party content and we do not control its accessibility features.
As for your lips? Well, you shouldn't dab just any ol' retinol serum on your pout, but the lip care space has responded with quite the interesting advancement. Recently, I've been hearing whispers of "lip retinol" among beauty folks—of course, I had to learn more.
Wait, should you be using a lip retinol?
Here's the thing: Some people already apply a gentle (emphasis on gentle) retinol around their lips. "If you can tolerate a retinoid in that area, this will help with very superficial fine lines and wrinkles by blending and thickening the skin," Rachel Westbay, M.D., board-certified dermatologist at Marmur Medical, tells mbg about lip lines.
But remember, the skin around the lips is one of the thinnest regions of your whole face (aside from the delicate under-eyes), which means it may be more sensitive to heavy-duty actives.
For many, retinol can easily cause irritation in the area, which people often mistake for the average winter chap. If that sounds like you, it's best to steer clear of the area altogether; you may even want to apply a layer of lip balm to buffer the sensitive skin from your retinoid.
However, a retinol product formulated just for the lips will likely be way gentler on that sensitive skin—so you can reap all the skin-resurfacing and softening benefits without the irritation. "A lip retinol is ideally formulated with plenty of nourishing emollients to help offset the potentially irritating effects of retinol," adds board-certified dermatologist Geeta Yadav, M.D., founder of FACET Dermatology. "The retinol should also be at a very low concentration, as the skin of the lips is incredibly thin."
She even recommends selecting a plant-based retinol alternative, like bakuchiol, over a traditional retinol for the lip area. This Ageless Phyto-Retinol Lip Treatment from bareMinerals, for example, features Bidens pilosa (aka Picão preto), a plant-based ingredient found to have retinol-like effects on the skin2.
"It will be less sensitizing but offer comparable benefits," she says regarding retinol alternatives, such as restoring collagen and expediting cellular turnover. "This cellular turnover also fights hyperpigmentation and discoloration, so if you're prone to freckling on the lips, a retinol lip product can help that too," she notes.
The bottom line? Yes, a lip retinol can help you secure a fuller, smoother pout for longer—just make sure to choose a formula with lots of hydrating buffers to stave off irritation.
How to use it correctly 
Your product choice is essential, but so is how you use it. "This is not a product you should apply liberally like you would a traditional lip balm or gloss," Yadav explains. It's similar to how you might start using a retinol serum on your face: You wouldn't go full throttle the very first night, would you?
No, you'd likely start with a very low concentration and cadence (like once or twice a week), working your way up as tolerated. The same goes for lip retinols: "I'd recommend applying it once weekly before bed to see how your lips respond to treatment," says Yadav. You may even want to layer on a hydrating lip balm beforehand to buffer the potentially irritating active, similar to how you might sandwich your facial skin with moisturizer pre- and post-retinol.
And if your lips consistently flare up and flake, don't force it. Lip retinols aren't for everyone, and there are plenty of other ways you can exfoliate your lips and spur collagen production—think scrubs, chemical peels, and the like. Just remember to always moisturize your lips after any sort of exfoliation (including retinol), as dryness only exacerbates texture concerns and loss of volume. Bonus points if your lip moisturizer features sodium hyaluronate, a smaller form of hyaluronic acid that attracts and holds water for a subtle plumping effect.
Finally, take extra care to protect your lips from UV exposure. Retinol can increase photosensitivity3, and sun damage accelerates collagen decline (which, again, gives them a thinner appearance). So if you do add a lip retinol to your routine, you'll want to go ahead and snag an SPF lip balm as well; here, you can find our favorite options.
Advertisement
This ad is displayed using third party content and we do not control its accessibility features.
The takeaway
Dermatologists have always told me to avoid the sensitive lip area when using retinol. So imagine my surprise when I came across a whole new retinoid category purely meant for the lips! Lip retinol can be a worthy addition to your skin longevity routine, assuming you find a gentle enough formula and proceed with caution. Essentially, when it comes to the lips, the same retinol rules apply: Start low and slow, prioritize moisture, and always protect that vulnerable skin from the sun.