Serena Williams' Statement-Making Outfit Is A Nod To New Moms Everywhere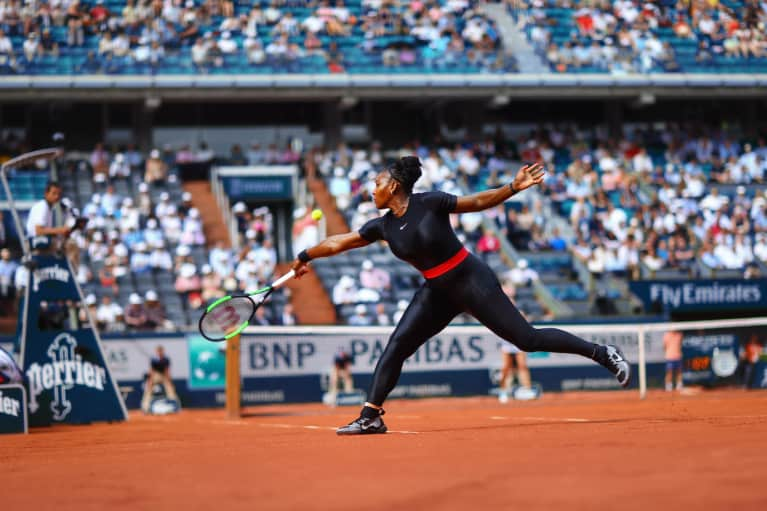 Tennis superstar Serena Williams is no stranger to embracing fashion on the court, but with her anticipated post-pregnancy comeback this week, she's using fashion as her platform to show support to new moms everywhere.
In her victorious Grand Slam return at the French Open on Tuesday, Williams sported a black form-fitting catsuit that soon became the talk of the tennis event and social media. Williams, who gave birth to her daughter Olympia back in September, wore the piece as a bold act to uplift new mothers struggling to bounce back after giving birth.
"All the moms that had a tough pregnancy that had to come back and try to be fierce—in the middle of everything. That's what this represents. It's exciting," explained Williams when asked what the catsuit represents. "I feel like a warrior in it. I've always wanted to be a superhero. I feel like a superhero when I wear it."
At the news conference following her win, Serena touched on her wardrobe choice further, sharing that the suit itself also served as a functional shield that protected her from possible circulation problems. "I've had a lot of problems with my blood clots. I don't know how many I've had in the past 12 months. There's a little bit of functionality to it. I have been wearing pants a lot lately to keep the blood circulation going properly. It's a fun suit, but it's also functional, so I can play without any problems."
The catsuit adds another moment to Serena's track record as an advocate for women's health and empowerment. Earlier this year, Williams made headlines with her Vogue profile, in which she disclosed a harrowing account of the birth of her daughter, which led to an emergency C-section and near-fatal blood clots. A terrifying moment to say the least, in which the tennis player had to advocate for her health, insisting that doctors and nurses on hand order her a CT scan promptly to save her life.
As the tennis virtuoso continues to grow into motherhood, here's to her speaking her truth as a model of body positivity and shattering expectations for mothers and women along the way.
Motherhood isn't one-dimensional—here, three women share their unique outlooks on the journey to becoming mothers.