Your Weekly Horoscope Is Here: What's In The Stars For You?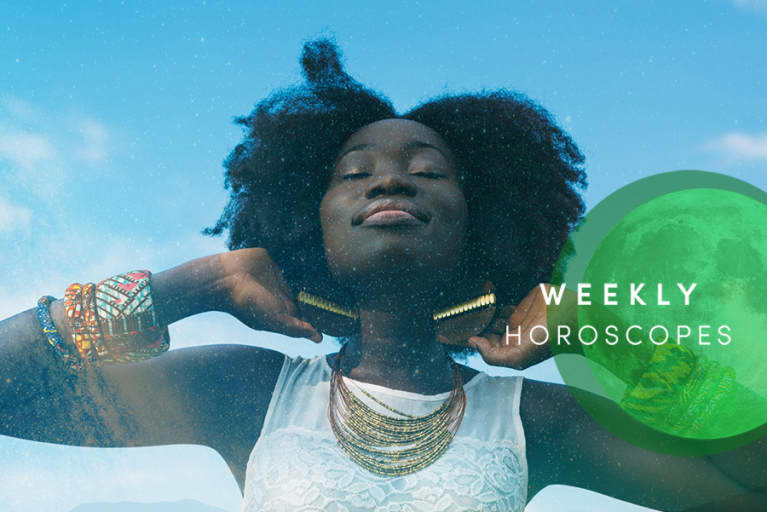 September 25, 2017 — 9:20 AM
Don't even bother pulling the emergency brake! A wild ride that began last Christmas will round out soon, but there's still one last leg of that chaotic race. And this one we need to see through to the culmination.
This Thursday, September 28, speed-demon Jupiter faces off (for the final of three times) with frenetic Uranus. Since this ultra-rare trilogy of oppositions began on December 25, 2016—and sequeled on March 3, 2017—the only thing that's been constant is change.
On a positive note, this dust-up has provoked us to expand beyond our comfort zones and take a giant leap of faith both in partnerships and toward our personal dreams. We might also finger this celestial series for all those "Huh, what?" global developments that couldn't possibly be…real…could they?!
Jupiter is in Libra, the sign of justice and harmony, while hotheaded Uranus in rumbling across the zodiac wheel in war-machine Aries.
Since last December, we've seen record-size protests in parallel play to military parades of gleaming missiles; social justice campaigns versus social media swagger (and slander). With two such dramatic planets in opposition, the division has been drastic and extreme…and that may be putting it mildly.
This Thursday marks the final installment of this combustible cosmic series. The dizzying developments—on the world stage and in your own personal life—could finally materialize into something that makes sense. But given the unpredictable nature of the planets involved, the outcome could be something quite unexpected.
Also on Thursday, enigmatic Pluto rouses from his annual retrograde that began on April 20. Like a cranky toddler waking up from a nap, this about-face (called a "station" in astrospeak) might leave us all feeling a little out of sorts all week. What's real and what's a ruse? And who is truly loyal to us? That might feel unclear near Thursday, so don't rush to judge anyone's motives.
Tap Pluto's sleuthing skills and do your detective work—which could take a little more digging than expected. With Pluto midway through his 2008 to 2024 tour of Capricorn, corporations and banks continue to be under the gun, evolving and fluctuating in their practices. The patriarchy is also Capricorn's domain, and with Pluto snapping back into action, some clandestine activity might be exposed in the days ahead.
On a personal note, Pluto's backspin may have left some of us stuck in darker thoughts. As the dwarf planet shifts into drive for the coming seven months, we'll feel more motivated to tackle those tough sticking points, addictive tendencies, and compulsive behaviors. Although a sexy cat-and-mouse game can be fun, some semblance of transparency will be necessary in order to start building trust.
On Friday, our relationship-building skills get a boost from messenger Mercury as he wings into Libra, the sign of partnership, until October 17.
Sweet harmony! And sweet relief! We've all been more anxious (or downright neurotic) since July 25 when Mercury embarked on an extended tour through Virgo—which included a signal-jamming retrograde from August 12 to September 5. While this phase sharpened our analytical powers, it made us prone to perfectionism. Perhaps we've also been a little too critical of other people? (Gulp.)
As Mercury moves on to luxe-loving Libra, we can stop clutching our pearls and start pricing out ethical diamonds. Fashion them into a statement necklace (this Mercury cycle is like Astrological Fashion Week) or a special ring since Libra is the sign that rules the wedding industrial complex. And how about a peace treaty? Petty squabbles could dissolve under this harmonious wave, paving the way for long-overdue compromises. But giving an inch doesn't mean letting people take a mile. Keep the scales balanced with an equal flow of give and take.
Want more astrological insight? Find out your moon sign here, then explore your love horoscope.