Your September 2017 Horoscope Is Here: What's In The Stars For You?
Astrologers & Best-Selling Authors
By The AstroTwins
Astrologers & Best-Selling Authors
Ophira and Tali Edut, known as the AstroTwins, are professional astrologers based out of New York and Seattle. Their work has been featured in The New York Times, Elle Magazine, Vogue and Good Morning America and they are the authors AstroStyle, Love Zodiac, Shoestrology, and Momstrology.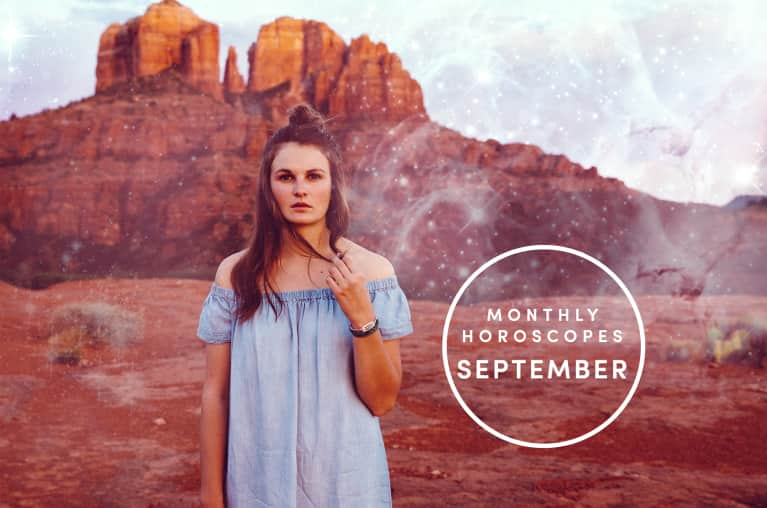 A little post-eclipse stability for you, anyone? We don't know about you, but for us, August was every bit as unpredictable as the stars portended. After weathering two reality-shifting eclipses and Mercury retrograde, we're ready to take off the sun-shielding glasses and leave terms like "path of totality" in the archives (at least until 2024).
Whether the eclipses gently tapped you or shook your world upside down, the search for order begins. The Sun is making its annual visit to Virgo, the sign of systems, efficiency, health, and fitness, until September 22. It aligns perfectly with back-to-school season, when we return to routines and schedules. Motivational Mars is also in Virgo from September 22 to October 5, spurring us to get life in order. We'll be fired up to take care of our bodies, our ecosystem, and our communities.
Earth-sign Virgo rules selfless service, and the world could certainly use the kindness of its citizens. Mercury's retrograde in Virgo from August 12 to 31 coincided with the floods that devastated parts of Texas, India, Bangladesh, and Nepal and left thousands in upheaval. As Mercury corrects course on September 5 and returns to Virgo on September 10, we'll be mobilized to find solutions and do our part to help.
A compassionate Pisces full moon on September 6 opens our hearts and inspires an outpouring of creativity and connection.
If you need a day off from intense, Virgo-style planning and producing, this is when you should take it. This full moon is the culmination of the February 26 Pisces new moon, which was also the final solar eclipse in a two-year series that fell on the Virgo/Pisces axis. Whatever comes together today will cap off big undertakings that have been developing since March 2015. On a global scale, this could be related to the environment, the wellness industry, the food supply, and health care (will Pisces Mitch McConnell resurface singing a different tune now?).
Pisces is a water sign that rules the oceans (it's governed by sea god Neptune), and this illuminating full moon may be the first time we can actually assess the damage done by this flooding. Here's hoping that the waters remain calm since the gravitational pull of the Sun and moon's alignment exert a stronger pull on the tides today.
The Virgo new moon on September 20 gives us a strong push to stabilize again. On a personal level, we'll be inspired to solidify our schedules, launch a fall fitness routine, and give our time to a worthwhile cause. This new moon will set off a six-month cycle, so set an agenda for what you'd like to accomplish by the March 1, 2018, Virgo full moon. Budgets, calendars, project plans—tend to all the administrative stuff that keeps life running smoothly. Virgo rules the digestive system, and you might try a seasonal detox, take a daily probiotic, or look into improving gut health.
But the saying "Man plans, God laughs" could ring true, as this new moon will form an exact quincunx—a 150-degree angle of adjustment—to disruptive Uranus in fiery Aries. Don't box yourself into anything too rigid that takes all the individuality and spontaneity out of things. Leave room for discovery and detours instead of mapping things out to the minute. Uranus is associated with science and technology. At this new moon, we may also get the scope of damage from polluted waters and chemical plant explosions in Houston.
This is further catalyzed on September 28, when Uranus makes its third of three oppositions with global Jupiter in Libra, the sign of peace and partnership. Jupiter and Uranus, two of the most hotheaded and freedom-seeking planets, oppose each other only every 14 years. Their last two face-offs were on December 26, 2016, and March 3, 2017. Under these rash aspects, people are spurred to make sudden and drastic changes. In the best cases, this revolutionary energy is necessary, as it helps us break free from a confining situation. Truths are exposed, suddenly and shockingly. Indeed, the saying "the truth shall set you free" could apply now.
Possible manifestations? Protests could get intense, and the Russia investigation could turn up something major. International tensions could peak, and with unpredictable leaders like Kim-Jong Un taunting the world with nuclear weapons (which fall under the domain of Uranus), this energy could be volatile. That same day, power monger Pluto stations direct in Capricorn, sign of the patriarchy, capitalism, and government, after a five-month retrograde. This could unleash some bottled-up hostilities—and also put the kibosh on corruption by exposing shady agendas.
Let us all lean in to the peace-brokering vibes of Jupiter in Libra as the month ends. Thankfully, the Sun will also be in harmonizer Libra from September 22 on, pushing the world toward compromise and collaboration.
It won't be easy. Tensions and frustrations are at an all-time high. Politics have polarized us, and the world grows more divided by the day. Jupiter and Uranus, both "power to the people" planets, remind us to be vocal about justice and equality now. It may seem, as September ends, that nothing short of a revolutionary spirit will do.
Want more astrological insight? Find out your moon sign here, then explore your love horoscope.