Self-Care & Success Go Hand-In-Hand. Here's How To Make It Work For You
mbg Contributor
By Leigh Weingus
mbg Contributor
Leigh Weingus is a New York City based freelance journalist writing about health, wellness, feminism, entertainment, personal finance, and more. She received her bachelor's in English and Communication from the University of California, Davis.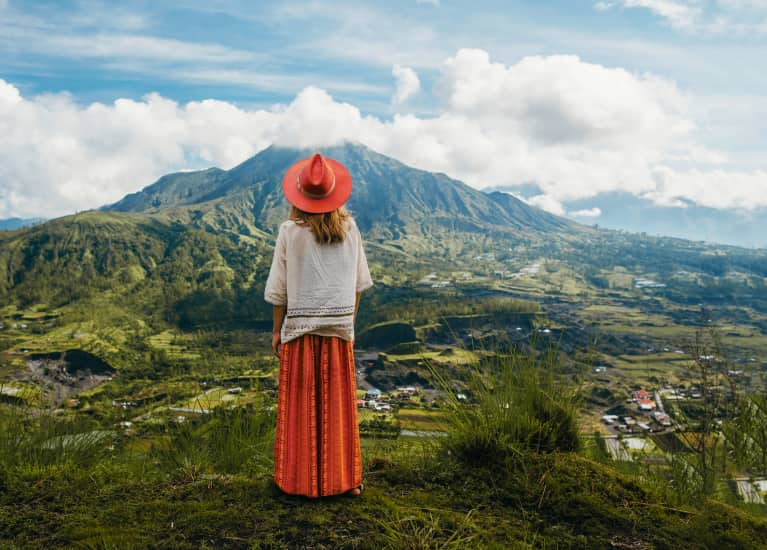 While most hardworking, ambitious people logically know that taking care of themselves is likely correlated with greater success, life gets busy. And when that happens, self-care practices can easily fall by the wayside, and suddenly habits like getting enough sleep, meditating, and eating nourishing meals just don't seem that important.
But a new study conducted by Porch points to exactly how important self-care is: The study found that highly successful people are more likely to go to sleep early, limit TV and internet time before bed, take vitamins, eat a healthy breakfast, and meal prep. So why aren't more people practicing self-care, and how can you squeeze it in when it feels like the last thing you have time for? Here's what the experts have to say.
When self-care becomes a challenge.
Whether you're working to build a career or you're busy with kids and other obligations, Alison Stone, LCSW explains that self-care often becomes challenging to maintain when you don't know which practices actually work for you. "What I see most of the time in my practice is not necessarily that people don't have time for self-care but that they aren't clued in to which practices work best for them," she explains. "There is a lot of advice out there about what you 'should' do, which makes us skip over the process of identifying the nitty-gritty details of which practices make us tick."
Neurologist Ilene Ruhoy adds that we all have enough time for self-care; we simply have to acknowledge it. "We can choose healthier foods to eat. We can drink water and stay hydrated even on the go," she explains. "We can wake half an hour earlier each morning to run, walk, hike, and clear our minds. We can schedule into our day an infrared sauna or an energy healing session. We can decide on rules of when to shut the work down—8 p.m.? 9 p.m.? Time is in your control."
Taking action on taking care of yourself.
Stone notes that most people intuitively know what they have to do; they just don't have a plan in place that can help them accomplish it. She uses sleep as an example, noting that most people know how important it is to get enough sleep, but they don't know how to go about it, especially when they're incredibly busy. "The idea is to focus less on 'getting enough sleep' and more on what nightly rituals work best for me that ensure I get the right amount of sleep for my body," she explains. "When you're doing the version of self-care that works best for you, you're more likely to maintain the behavior because it will feel natural and authentic."
The biggest self-care payoffs.
Of course, even when it comes to self-care, it's impossible to do it all. So if you're working to prioritize certain practices, which ones should you aim for? Stone suggests starting by finding a small action that can be transformed into a habit. "A lot of people get stuck in all-or-nothing thinking, believing that if they can't spend an hour doing something, then there's no point in doing it at all," she says. "In reality, you can do a lot in five minutes—you can do a guided meditation, a calming breathing sequence, a few restorative yoga poses. Find a few things that work for you and condense them into smaller nuggets. No matter how busy your schedule, the payoff is well worth it."
Ruhoy adds that finding small pockets of time for restorative morning and evening rituals can yield big results when it comes to happiness and success. "I believe the morning and evening ritual together have the largest cumulative benefits together," she says. "A morning ritual of exercise and meditation and an evening ritual of meditation and quiet are the two bookends to a highly productive and rewarding day when done consistently."
Want more ideas for self-care acts? Here are four simple ones that can upgrade your life.