It's Aries Season & Never Was There A Better Time To Try Craniosacral Therapy
mbg Contributors
By The AstroTwins
mbg Contributors
Ophira and Tali Edut, known as the AstroTwins, are professional astrologers based out of New York and Seattle. Their work has been featured in The New York Times, Elle Magazine, Vogue and Good Morning America and they are the authors AstroStyle, Love Zodiac, Shoestrology, and Momstrology.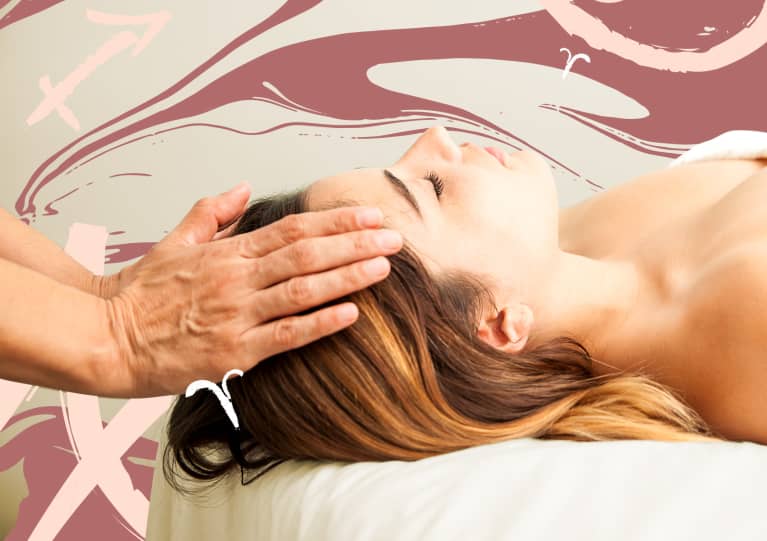 Here, the AstroTwins consult with astrologer and wellness alchemist Stephanie Gailing, M.S., to break down the top wellness practices to try during Aries season, which will last until April 20.
The Sun sizzles through fiery Aries (March 20–April 20) infusing more courage, energy, and pioneering spirit into your life. During this monthlong cycle, your life may feel more playful and free. Using the following self-care strategies, you can fine-tune your well-being, foster vitality, and reduce stress.
I have the strength to battle any challenge.
Nothing can stop me.
If it's interesting and beneficial, I won't hesitate to try it.
Aries stress-reducing allies:
Courage
Ability to take action
Movement and exercise
How to care for your body during Aries season.
In wellness astrology, aspects of your anatomy align with the zodiac signs. Aries associates with the head, face, brain, and the muscular and circulatory systems.
Aries rules the head and its symbol, the Ram, is known to be headstrong and use its horns to butt up against others. Pay attention to your head from March 20 to April 20—and take extra care to avoid allowing stress to settle there. Be sure to drink enough water, too, since dehydration can cause headaches. Now more than ever, you should try to carve out time for relaxing with a guided meditation.
3. Always eat breakfast—and keep it cool.
During "go-go-go" Aries season, it's easy to rush into your morning and skip breakfast. But the first meal of the day gets your engines revved and gives you physical and mental energy. If your time is limited, try a small meal, like a hard-boiled egg, yogurt and fruit, or muesli mixed with raisins and nuts. Say yes to proteins but no to carbs—your blood sugar will give you a steady burn instead of a spike-and-crash.
During fiery Aries season, you may crave hot and spicy flavors. But easy does it! According to ayurvedic traditions, too much heat can cause irritability, rashes, and other challenges for some people. The key is moderation. Try balancing hot foods with "cool" choices like basmati rice, sweet fruits, sprouts, and watery vegetables such as lettuce and cucumbers.
Aries season self-care ideas.
Flower Essences: Impatiens and Tiger Lily
Impatiens can help relieve—you guessed it—impatience, one of the signature traps of Aries season. Consider it an elixir if you find your fuse running short or if you're feeling restless. It contains a more yin-like rhythm that can sync us to the natural cycles of life, helping us to go with the flow instead of racing against the clock. Since Aries season can draw out our independent streaks, try tiger lily if you're having trouble shifting from a go-it-alone groove into a more collaborative approach.
Spa Treatments: Shirodhara and Craniosacral Therapy
Shirodhara is a luxuriously relaxing and therapeutic ayurvedic healing modality that focuses on the head. During a treatment, slow-flowing warmed oil cascades onto your forehead, scalp, and neck, and it's followed by an invigorating massage of those areas. The treatment is said to foster mental clarity by synchronizing the brain's alpha waves while also alleviating headaches, sinusitis, and allergies. If no spa in your area offers this treatment, try DIY: Place an oil-soaked cloth over your forehead, lie down, and rest for 15 minutes. Oils are said to work well no matter what your ayurvedic constitution, or dosha.
Craniosacral therapy is another treatment that focuses on the head. This very gentle form of bodywork is good for reducing headaches and mental stress and relieving neck and back pain. In a session, the practitioner cradles and rocks your head (and may also touch your lower back) while lightly adjusting the bones to inspire the flow of the cerebrospinal fluid. This technique is practiced by osteopaths, chiropractors, and physical and massage therapists.
Relaxation Practices: Walking Meditation and Fiery Crafts
Too restless to stay on your mat during Aries season? Try a walking meditation instead. Choose a quiet path, then take a stroll, focusing your attention on your breath or silently repeating a mantra as you go. Or how about channeling the heat of Aries season into a fiery craft? Try glassblowing, metalworking, or blacksmithing, which may be offered at local art schools and community colleges. This could be the perfect way to unwind while also stimulating the creative impulses that the zodiac's first sign evokes.