A Secular Guide To A Spiritual Christmas
It's that time of year again: Twinkling colored lights and decorations, fragrant evergreen boughs, jovial music, decadent treats, and festive gatherings. Many of the traditions commonly associated with Christmas bear a tenuous (if any) connection to the birth of Jesus, but even for non-Christians, there is a growing instinct that this season is about more than tinsel and gluttony. So how do we unwrap the meaning beneath the shiny paper and give some purpose to our actions if they are not connected to a particular religion? Is it possible to celebrate Christmas in a way that is secular but also spiritual?
A rapidly growing number of North Americans (27 percent in the United States and 39 percent in Canada) now self-identify as "spiritual but not religious." My husband is a long-lapsed Catholic, and I have never felt comfortable with organized religion—but we both consider ourselves "spiritual." Personally, I'm a deep seeker of meaning and connection; I believe in something bigger than myself, and kindness is my moral center.
Because we are religiously unaffiliated, our annual celebration of Christmas is completely secular and mostly habitual, continuing family traditions. But now that I'm a mom, and especially now that our son is 3 and full of questions about everything, I've started thinking more critically about some of these holiday practices. What exactly are we celebrating? Why do we exchange gifts? Why the lights, the tree, the Santa Claus story?
We might not be raising our son in a religion, but we definitely want him to be a seeker of meaning. We're not exactly modeling that mindset if our biggest family celebration has no deeper reason behind it than "just because."
A secular Christmas manifesto.
I've teased out some answers that will (hopefully) help my son see beyond the brightly wrapped presents and toy advertisements and internalize that this is, indeed, a special and spiritual time of year, even without a religious basis. Here's a glossary-meets-mythology I've come up with to create structure around our family's main traditions and the meanings behind them:
Spiritual meaning: sunlight
As always, nature is a good place to start seeking answers and meaning: Winter is literally (and often psychologically) the darkest time of the year, so we hang lights and decorate our homes with bright colors and shimmering tinsel to bring more light and joy into our lives during the start of this season. And, as those who acknowledge the winter solstice in various traditions know, this time of year is also the turning point at which we can look forward to longer days and the return of the sun, so the lights and colors are also a celebration of the brighter days to come.
Evergreen trees and boughs
Spiritual meaning: enduring life
The pagan celebration of Yule offers a satisfying explanation for why we drag conifers into our homes each December. To ancient Druids, the never-fading green symbolized enduring life—hope for renewal, even in the depths of winter's cold. Even though things can get difficult in life, we are still alive, and there is hope that things will get better.
Spiritual meaning: life's cycles
Our tree is like a memory box. Almost every ornament we hang has an anchoring nostalgia tied to it, transporting us back to a specific place or time, inspiring storytelling and reliving of happy moments. Our treasured ornaments—dusty, raggedy, and banged up as they are—remind us of times past and that time is passing.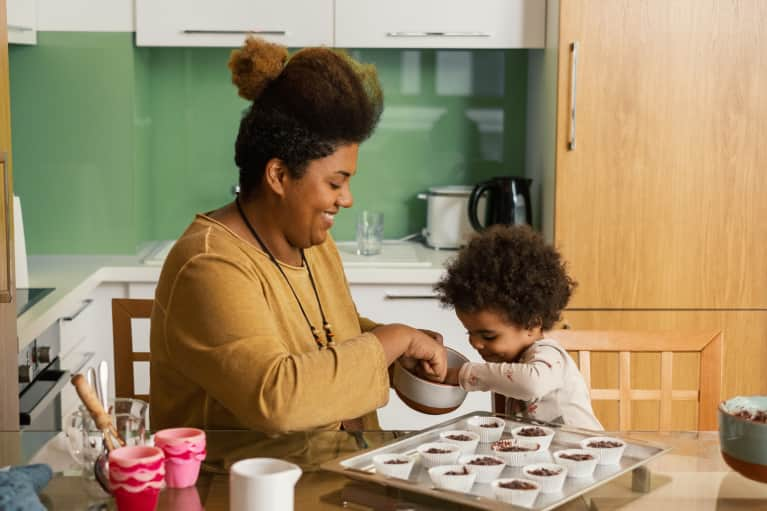 Spiritual meaning: immortality
Setting decorations in certain places, putting up the tree and carefully unbending the branches from storage, checking the lights, reading The Night Before Christmas on Christmas Eve, going to visit Santa, baking gingerbread cookies, deciding on a charity to give to, watching movies like The Grinch or Polar Express—these are all rituals we engage in as a family each Christmas. Like the ornaments on the tree, these rituals are cues for our memory and have a comforting effect because we know what to expect and can look forward to them each year. Introducing our son to our family rituals allows him to tap into his family history in a tangible way, and he can pass that history forward to future generations. In this way, family legacies are created and, with them, a way to transcend mortality.
Spiritual meaning: generosity and the unknown
We will never use Santa Claus as a threat or a carrot to encourage good behavior in our household. For us, he is the personification of the spirit of giving, a reminder that we can bring joy to others by giving of ourselves: presents, appreciation, time, and love. Not only does this make others happy, but it also warms our hearts (look how jolly Old St. Nick is!). Moreover, encouraging our son's belief in Santa allows him to experience the idea of magic. I believe it opens children's minds to possibilities and encourages a connection with something greater than themselves—something unexplainable and awe-inspiring.
Spiritual meaning: abundance
Such traditions are symbols and celebrations of abundance. Quite often at this time of year, the weather outside is indeed "frightful," so when we can enjoy comforts like warm blankets, crackling fires, fuzzy slippers, and hot chocolate, we remember just how much abundance we really have in our lives, and it inspires our gratitude. The family meal on Christmas is the pinnacle celebration of this thankfulness. It's even better if we can share our abundance with others by inviting them to participate in the feast or by giving gifts of special foods (like the cookies my son and I have started baking and delivering to the neighbors).
Spiritual meaning: common humanity
Celebrating what we have reminds us to acknowledge what others lack. As a family we look for ways to share our abundance, be it through donations of money and food, service, reaching out to those who need a lift, or simply sharing a warm smile with a stranger. Obviously we want to try to do these things year-round and not just because it's Christmas, but I think the holiday and general spirit of goodwill in the air are powerful reminders. Extending ourselves and opening our hearts in giving and service, whatever form that takes, helps us feel connected to others and celebrates our common humanity.
How to create your own spiritual traditions.
These are my family's particular justifications for celebrating the way we do, and each family is different. If your own holiday traditions are feeling a little plastic and you are seeking some deeper spiritual meaning, writing your own manifesto is a great place to start:
Make a list of all your Christmas traditions and then narrow it down to several key ones. Some might overlap.
For each tradition, spend some time reflecting on whether you think it is something you do for surface or for soul. Can you look at it in a different way or adapt the tradition in order to make it more meaningful?
Consider history. For example, if you put a wreath on your door each year but haven't ever thought about why, dig into why people in the past have done the same: In old Yule celebrations, the circular shape of the wreath was thought to represent the cycle of the seasons in a year, or the cycle of life/death/rebirth.
Consider personal experiences. If a particular tradition's history doesn't speak to you (or doesn't have a known history), you can craft your own meaning out of your own experiences with a particular object. For example, my mom and I made a wreath out of repurposed decorations from my grandmother, so every time we see it, we think of her. Perhaps a wreath can symbolize that a loved one's life and love do go on via our memory and thus never really end, just like the circular shape of a wreath.
Nature is another surefire place to find spiritual resonance, especially when you consider its power, rhythms, and cycles. Spend some time reading more about the properties and effects of natural objects and nature-based rituals that appear in your Christmas traditions, and see if something in particular resonates with you. If you don't already do so, you might even consider introducing some outdoor time into your usual holiday activities. We're fortunate to live near some walking trails, so a walk in the woods absorbing the beauty and interconnectedness of nature is definitely on the agenda.
You don't need to subscribe to all the tenets of a particular religion in order to feel moved by some of the traditions within it. If something speaks to you, maybe it's an activity you'd like to adopt, knowing that it already carries a rich spiritual history behind it. Even though I am not a Christian, I've occasionally gone to Christmas Eve services and soaked in the feelings of connection and contemplation offered by the ritual and the music. I've also attended winter solstice celebrations and felt equally moved.
The key is that you include traditions that move you on a deeper level, inspiring you to notice and reflect on the greater forces and mysteries that are so tangible during this season, which influence and enrich our lives throughout the year: love, interconnection, time, and yes, even a little bit of magic (aka "the unknown").
Since creating my own secular Christmas manifesto, I'm more excited than usual about this year's holiday season and definitely feel more confident in explaining our traditions to my son in a meaningful way. Things might get hairy once he starts questioning the logistics of Santa's Christmas Eve trek or demands facts like the airspeed velocity of a reindeer, but I figure I've got a couple of years to get ready for that.