7 Mental Shifts That Will Make Your Next Run Amazing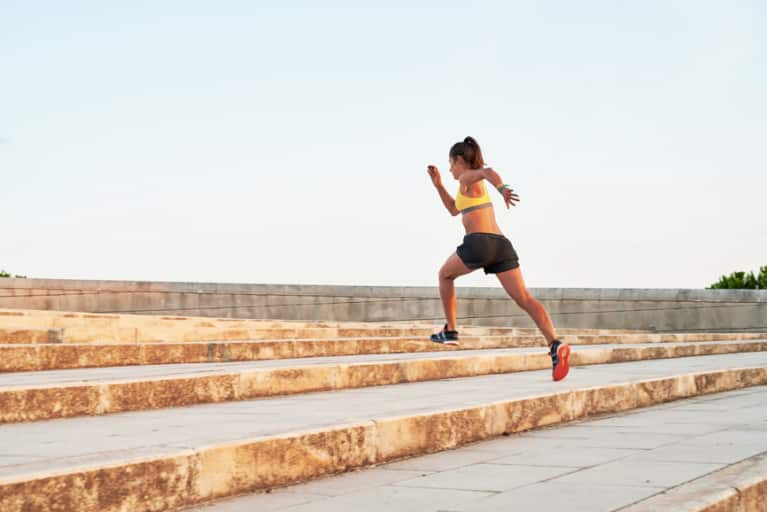 To someone who doesn't run, runners look like a healthy tribe. We move every day, we cover miles and miles, and we're fit human beings, right? Sort of. The reality is, runners get injured. Runners lose motivation. And runners often fuel on pizza and beer instead of kale salads and green smoothies.
On my own wellness journey as a runner, I've come to learn that running and running well can be two different things. I've also interviewed hundreds of women about their relationship to exercise and their well-being, and I've coached people who were motivated, bored, confused about running, and everything in between.
If there's one thing that remains true no matter what, it's this: Running well doesn't happen because of what you do occasionally. It's because of what you do consistently. Here are seven healthy habits everyone who runs well knows—and takes to heart:
As a runner, you probably know those times when your mind says "let's go" but your body says "no." In reality, you're thinking, "I should go run," instead of "I want to go run." The difference is huge, and if you're listening closely, you'll get important information about what you need to do at that moment. By listening to my body, I've learned more about how to recover, eat, strength train, work, and rest. Everyone is different, which is why tuning is more important than the miles on your training plan.
2. Make use of power thoughts.
Whether you think you can or you think you can't, you're right. A tremendous power and source of motivation begins in your mind. Thoughts become beliefs, and what you believe determines how you live, run, and train. If you're constantly telling yourself "I'm so slow" or "the hills are hard for me," you're creating that reality. Start to notice the conversation you're having with yourself. Then rewrite the story with something positive like, "I can do hard things."
3. Remember that food is fuel.
Does food stress you out? Are you constantly battling cravings and feeling guilty about what you eat? A breakthrough for healthy runners is that food is fuel for their body. Rather than food as an emotional hinge or a habitual enemy, they make peace with their plate through gratitude of what it has to offer.
4. Don't forget to love your body.
It's natural to want to look your best, but turning to a diet and waking up every day to measure yourself on the scale is a destructive way to feel good about yourself and comfortable in your own skin. Healthy runners don't focus on weight or constantly compare themselves to the runner bodies on Instagram. The happiest (and healthiest) runners don't measure happiness on a scale.
5. Make R & R nonnegotiable.
Rest and recovery are essential to healthy running. You can only go hard for so long before the body needs a break, and healthy runners prioritize rest and sleep. Optimal sleep hours are between 11 p.m. and 7 a.m. because your body releases certain hormones for restoring and repairing.
Don't miss the warning signs of overtraining or burnout (unmotivated to run, always getting injured, fatigue). Waiting until you're exhausted before you relax is a longer trail to take. Whether it's managing stress differently, booking a vacation, or taking short breaks during your workday—rest and recover, runner!
Have you ever come across a fallen tree across the trail and had to climb over or create a new way around? Apply the same lesson to those things in life that interfere with your training.
Be flexible and willing to change your plans. A mantra I live by: Have a plan but don't fall in love with the plan. This goes along with listening to your body and being willing to adjust your training (maybe cross-training one day, instead of running), but it also means adapting your training schedule so you don't have to miss a run or workout. If it's important to you, schedule it. Make it a priority, and if obstacles get in the way, see them as an opportunity to navigate a new circumstance and work your flexibility. Remember, it comes in handy on the trail, too.
7. Make use of support and community.
Surround yourself with people you most want to be like. Spend time with people who have been there and know a thing or two about the trail you want to go on. You may not always be able to choose who you spend time with, but be aware of the impact your relationships have on your well-being, motivation, and training.
If you're injured, overtrained, or struggling with issues when it comes to running at the moment, choose one habit that resonates with you and try practicing it every day for the next week!