This Cancer Drug May Be The Future Of Endometriosis Treatment
mbg Health Contributor
By Gretchen Lidicker, M.S.
mbg Health Contributor
Gretchen Lidicker earned her master's degree in physiology with a focus on alternative medicine from Georgetown University. She is the author of "CBD Oil Everyday Secrets" and "Magnesium Everyday Secrets."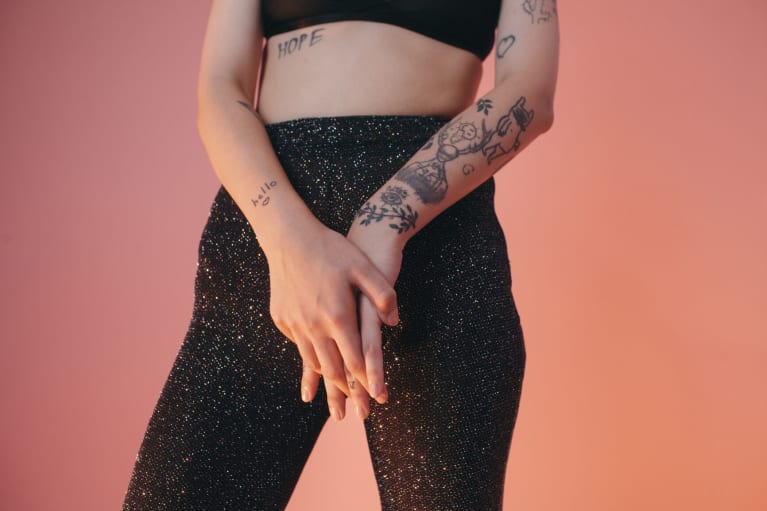 December 3, 2019 — 15:03 PM
Endometriosis is a condition in which the endometrium (the tissue that normally lines the uterus) grows in other parts of the body, such as the intestinal lining and the fallopian tubes. It's characterized by severe pain, due to the irritation it causes to local nerves plus the inflammation and scar tissue that comes with it.
Sadly, actual treatments for endo are still lacking, and many women experience severe pain every single month as their hormones shift. But a new study, that tested the compound dichloroacetate on women with endo, might provide some hope.
The research, published in the Proceedings of the National Academy of Sciences, found that women who have endometriosis have a slightly altered metabolism, which causes their pelvic mesothelial cells to secrete higher levels of lactate. According to the researchers, lactate is a "potentially harmful waste product" that can contribute to abnormal cell growth in women with endometriosis.
And here's where it gets really interesting: The study showed that exposing the woman's cells to 15mM of dichloroacetate for 48 hours reduced lactate secretion and cell proliferation. In other words, it stopped abnormal cell growth. And when the researchers went on to test this treatment in mouse models, they found that ingesting 100mg/kg of dichloroacetate once a day for seven days led to a reduction in peritoneal fluid lactate and a decrease in the size of endometriosis lesions.
So what is dichloroacetate?
It's an organic acid that's found naturally in seaweed that has previously been studied as a cancer treatment because of its anti-tumor properties.
According to the authors, having a new drug for endo on the market would be a game-changer for a ton of women. The current treatments for endometriosis are either hormone-based, which can cause side effects that many women want to avoid, or surgery, which results in lesions returning after five years in about 50% of cases.
As they wrote in a news release from the University of Edinburgh: "The researchers believe these new findings could help alleviate endometriosis in women who cannot—or do not wish to—take hormonal treatments or prevent recurrence after surgery."
The team is conducting an early phase clinical trial to confirm their findings, which means the treatment will hopefully work its way into the hands of the one in 10 women who are currently suffering with endo.
"Endometriosis can be a life-changing condition for so many women," Professor Andrew Horne, Ph.D., lead author on the study and professor at the University of Edinburgh, says. "Now that we understand better the metabolism of the cells in women that have endometriosis, we can work to develop a nonhormonal treatment. Through a clinical trial with dichloroacetate, we should be able to see if the conditions we observed in the lab are replicated in women."
Historically speaking, women suffering with endometriosis have been misdiagnosed, disregarded, or ignored entirely, mostly because of the lack of knowledge about and awareness of the condition. But in recent years, celebrities like Lena Dunham and Julianne Hough have brought endo into the spotlight, and we're hoping this is just the start of endo getting the attention it deserves.