15,364 Scientists From Around The World Agree: It's Time To Act On This One Thing
mbg Sustainability Editor
By Emma Loewe
mbg Sustainability Editor
Emma Loewe is the Sustainability Editor at mindbodygreen and the author of "The Spirit Almanac: A Modern Guide To Ancient Self Care."
November 21, 2017 — 10:30 AM
Back in 1992, 1,700 scientists gathered from across the globe to send a strong message to the public. They wrote that human beings were on a "collision course" with the natural world, and we needed to make major changes to get back on track. They predicted catastrophes like mass air and water pollution, large-scale deforestation, ozone layer degradation, and fishery collapse, calling on developed nations to quell them through policy change and increased individual action.
"Acting on this recognition is not altruism but enlightened self-interest: Whether industrialized or not, we all have but one lifeboat," they warned.
Looking back on this letter to humanity, what's most haunting is how little we listened and how most of it rang true. Though we've stepped up to the plate when it comes to protecting the ozone layer, the other climate emergencies they foresaw continue to worsen.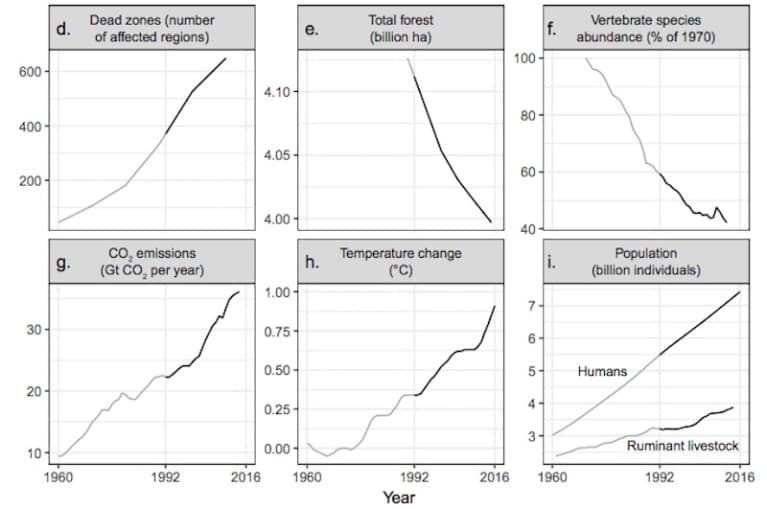 Last week, an incredible 15,364 scientists from 184 countries penned a follow-up piece, and it's equally bleak. The sheer number of scientists who signed on to this second warning is a sign of how much we should be paying attention. "As far as we know, this is the most scientists to ever co-sign and formally support a published journal article," the report in Bioscience says.
It reads like a last-ditch effort of sorts, telling us in no uncertain terms that our planet will continue to rebel against us unless something shifts. The three-page document has a simple ask, though: Get more involved. In order to be part of the solution, scientists are encouraging citizens to insist that their governments push for more environmental laws and to consider making sweeping changes like having fewer kids (the fastest way to ease your annual carbon emissions, according to one study) and simpler ones like easing meat consumption, tweaking consumption habits, reducing food waste, and encouraging the next generation to get outside.
Though harrowing, this letter includes a positive note: "The rapid global decline in ozone-depleting substances shows that we can make positive change when we act decisively." If we can all band together to change our habits and support sweeping laws like the one that phased out chlorofluorocarbons and helped restore the ozone layer, we can make a lot more progress over the next 25 years. Here are some resources to help you get started with the points scientists are laying out: