This Shopping Hack Makes Your Online Holiday Orders More Eco-Friendly (And It Could Save Ya Some Money, Too)
mbg Sustainability Editor
By Emma Loewe
mbg Sustainability Editor
Emma Loewe is the Sustainability Editor at mindbodygreen and the author of "The Spirit Almanac: A Modern Guide To Ancient Self Care."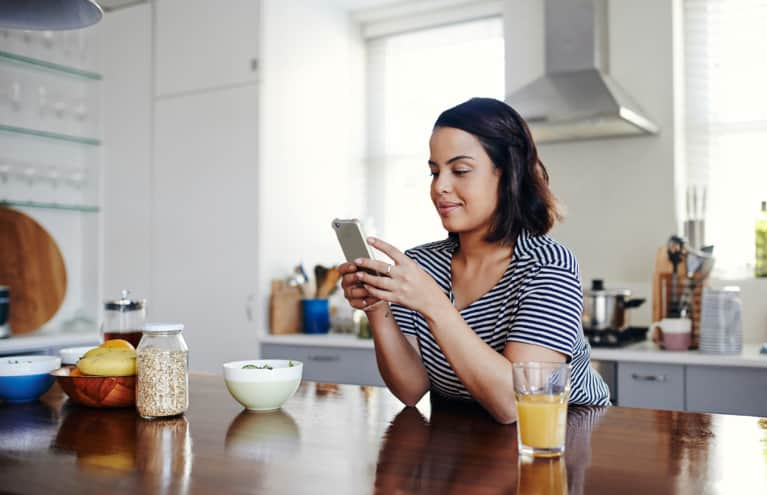 The U.N. warned us: We have 12 years before the damage we've done to the Earth becomes irreversible. Instead of letting reports like this paralyze us, let's use them to empower us. The experts are saying it's going to take a mix of large-scale change AND individual action to save our planet—and we want to help you do what you can. Consider our new series your no-excuses guide to cleaning up your act, one step at a time. Today, we're starting with a tip for cleaning up your holiday shopping cart.
Nothing screams *add to cart* like the twinkling start of holiday season. The online shopping market continues to skyrocket, and the months of November and December are when it reaches its staggering peak every year. This holiday season, U.S. consumers are poised to spend over $123 billion online over this 60-day period.
I'm not here to propose that everyone stops shopping online entirely (I'm not delusional!!). All I'm saying is that if you're going to order a family's worth of holiday gifts on the internet, there's one thing you can do to make your checkout a teensy bit easier on the planet.
The problem: Ordering online means so. much. packaging.
There's some debate over whether shopping in person is more eco-friendly than shopping online. Yes, delivering items directly to your door requires carbon emissions—but so does shipping them to a store (that people are then driving to). So it's a trade-off.
But one part of online shopping that is undoubtedly terrible for the planet—and annoying for you—is all that packaging. According to one estimate, USPS, FedEx, and UPS ships around 165 billion packages in the United States every year, which uses the cardboard equivalent of 1 billion trees. Not to mention what that cardboard is filled with! Enough cushioning material, packing peanuts, and plastic bags to fill a bouncy castle from packaging hell. These days, retail is responsible for about 30 percent of the packaging business, and companies that exist to essentially package air are worth billions of dollars.
It's kind of comical how much material is sometimes packed into even the simplest of orders, but when you consider that a lot of it can't be recycled curbside, it becomes a real issue.
The "one small thing" solution: When you're ordering online, never check out right away.
This year, spare yourself the headache of sorting through tons of unnecessary packaging and save some money in the process by pressing pause on that holiday shopping trigger finger.
Here's a little exercise I've been trying lately that works for me: No matter where I'm doing my online shopping, once I find something I want, I add it to my cart but do NOT check out. Instead, I set a reminder to go back to it in a few days. I've found that when I do this, about half the time I go back to something, I decide that I don't really need it in the first place. And if it's a gift for someone else, this cushion time gives me the space to question whether the other person will really get good use out of my present.
This is especially important when I'm shopping at big-box retailers like Amazon. Since they are notoriously heavy on the packaging, I try to hold off on checking out until I have at least three things in my cart. Then, I request that they are shipped together and packaged in recyclable material (more on how you can do this here!).
It's an easy solve that creates a little less waste and, on a more meta level, forces me to discern wants from needs and analyze my consumption habits. Instant gratification is cool and all, but so is knowing that what you just bought is aligned with your values.
It's like Sara Weinreb, a sustainable wellness entrepreneur, put it in her mindbodygreen piece on the importance of mindful shopping: "At the end of the day, where we shop matters for ourselves, our community, and the environment... Let how and what you purchase be as intentional as what you put in your body and your daily yoga practice."
Along those lines, you can take my "this one thing" idea up a notch by opting to shop with small, eco-minded companies when you are placing orders online, or buying used and supporting local businesses IRL whenever you can.
Small steps ladder up to bigger strides, so stay tuned for next week's eco-tweak that's so easy, there's really no reason not to add it to your routine.