Satya On Running Healing Retreats Tailored To Women Of Color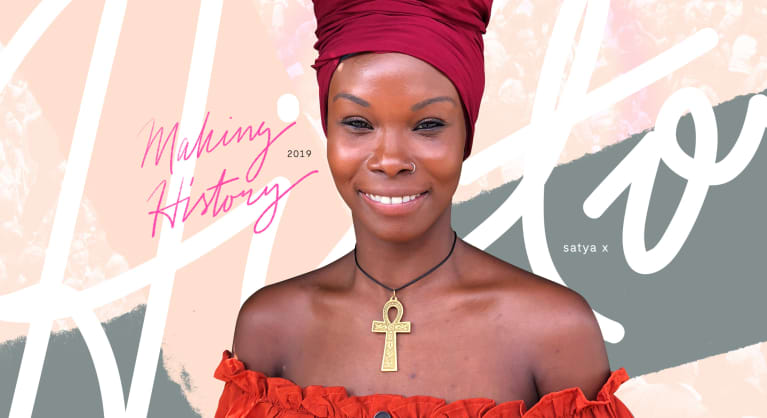 Our editors have independently chosen the products listed on this page. If you purchase something mentioned in this article, we may
earn a small commission
.
Wellness has a diversity problem. We know it, and it's a big part of the reasoning behind our mantra—
You. We. All.
, but there's a lot more work to be done. That's why in our series
Making History
we're talking to people who are leading the charge to bring much-needed diversity to wellness. They're sharing with us the work that they do, highlighting the voices that need to be heard, and telling us what we as a wellness community aren't talking about—but should be. This week we spoke with
Satya
,
the founder of Women of Color Healing Retreats in Costa Rica. Through her company, she hopes to help more black women experience holistic self-care and communion with nature.
What inspired you to start Women of Color Healing Retreats?
Almost five years ago, I left the United States because I wanted to see what it would be like in a different country. I had grown tired of African Americans being deprived of human rights in the United States, and I wanted to check out the rest of the world.
I started volunteering at a butterfly garden in Costa Rica, and it taught me peace and clarity. Working with the butterflies gave me a sense of freedom and a deeper connection with nature, and through this my meditation practice also grew stronger. I created the Women of Color Healing Retreats because I wanted black women to experience the same yoga and self-care in nature.
Yoga is a main component of all of our retreats, and my goal is to get black women and all of humanity on a yoga mat because of its healing abilities. In African American culture, women are taught to be strong and to take care of everyone, but we need to take care of ourselves before we can do that.
How are your retreats different? And how are they tailored to women of color?
We are 100 percent plant-based—animal by-products are not even allowed on the property. We also abstain from alcohol throughout the entire retreat. We intentionally focus on all aspects of yoga, from the physical to the spiritual. We allow black women a judgment-free sacred space to discuss their feelings about oppression. We teach them to empower themselves, and our ultimate message is love.
How have the retreats changed since you held the first one years ago?
Over the years, like any business, we have had huge losses and major wins. I've come to realize that every single thing happens for a good reason, so the journey has been beautiful. Women who have attended have said that the retreat changed their lives, and others have said that it gave them hope and inspired them to travel out of the U.S. more.
We are now solely focusing on our newest retreat, the Women of Color Self-Care Retreat. This is an intimate wellness and self-care retreat where I exclusively host three to five women in a beautiful jungle house in Costa Rica. The self-care retreat consists of gentle yin yoga practices, nourishing plant-based meals, and group sharing on the tropical beaches of Costa Rica. We just had one in March, and it was amazing!
What practices in nature have you found to be the most powerful? What is it about nature that you think is so healing in today's world?
I live across the street from the beach, so water is now part of my self-care. I go into the ocean to release everything I must let go of. I also enjoy walking barefoot, feeling the earth on my skin—something about it feels so familiar. It reminds me that we come from nature; therefore, we are nature. Nature is healing in today's world because everything in nature has energy and has a frequency that can heal if you tap into it.
How has the way you personally practice spirituality evolved since starting the retreats?
When I first started my company, I prioritized everyone else's self-care before my own. One day I recognized this about myself, and I decided to make a change. I decided to put my self-care before anyone else's. After all, that's why we call it "self-care." Doing so allows me to find a healthy balance between my work and my wellness.
My everyday self-care ritual consists of yoga in the morning, bike riding to the ocean, reading, meditating on the beach, and self-reflecting. My favorite part about yoga is yoga philosophy; the Yamas and Niyamas are part of my spiritual practices. Yoga can be a religion or spiritual practice depending on who you're talking to. I'm spiritual, not religious, but the best way to put it is that the Yoga Sutras of Patanjali is like one of my bibles.
How can mainstream wellness start to work through its diversity problem?
There needs to be representation of all kinds of beings. In order to diversify anything, you must mix it up. For example, if you have a yoga magazine, you wouldn't have one gender/nationality on the cover 10 months of the year. Each month would be someone of a different culture from a different background, etc.
Additionally, if you have a yoga studio, seek out women of color and prioritize hiring them since most yoga studios are owned by those of European descent. Any time you announce that you are hiring or having a class, you intentionally say, "All colors, genders, etc. are welcome." Be specific. Diversity is a very easy problem to fix, yet a lot of people are just turning their cheeks to it.
All in all, I also think people of color should create their own spaces so that they don't constantly have to feel as though they don't belong.
What does wellness mean to you?
Wellness means the journey and connection of the mind, body, and spirit. Wellness means taking care of the environment. It means living a sustainable life so that the entire Earth can experience freedom. It means embracing my culture and connecting with my ancestors so that I can get a better understanding of the world. Wellness means always striving for good health and being gentle with yourself.
Wellness is the most beautiful thing that's ever happened to me. It's taught me to love myself in a way I didn't even know was possible. I think everyone deserves to experience that connection to the mind, body, and spirit.
What isn't mainstream wellness talking about that it should be talking about?
I want to normalize veganism. Hatha yoga, which is the root of all yoga, teaches yoga practitioners and teachers that we should always be eating from nature, abstaining from all animal by-products and processed food. We can practice yoga and meditate as much as we want, but if we consume meat and dairy, I believe we are hindering our own wellness. Can you imagine if humans stopped killing animals or treating animals like a resource? In allowing oneness to really be a mantra, the world would be such a more peaceful place.
How can people support the work you do?
People can support my work by following me on Instagram, sponsoring my free wellness program for kids living in underserved communities, and partnering or collaborating with me and my company to bring wellness to women of color and humanity.
What's next for you and Women of Color Healing Retreats?
We are so excited about where we are right now. We have some major expansions and projects happening, some we can't talk about yet—but stay tuned. The Women of Color Healing Retreat is legendary, and we are bringing wellness to the world!
This interview has been edited and condensed.