Why We're Applauding Meghan & Harry's Wedding Flowers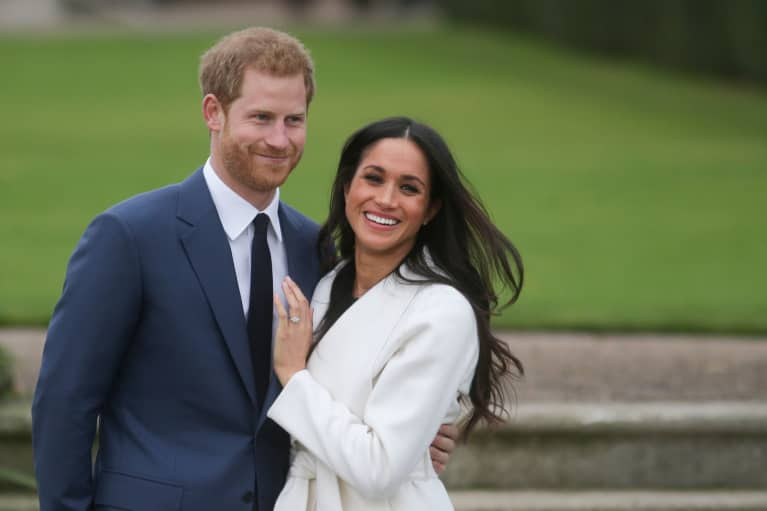 As the world eagerly counts down to the biggest wedding of the year, new clues and details about the royal ceremony emerge daily. One piece of information the public is privy to is the couple's choice of florist: Philippa Craddock, a sustainable designer who will work with locally sourced blooms plucked from nearby parks and gardens.
"Where possible, Philippa will use flowers and plants that are in season and blooming naturally in May, including branches of beech, birch and hornbeam, as well as white garden roses, peonies and foxgloves," according to a news release. By using locally sourced foliage that's in abundance in England this time of year, Craddock will be able to keep a closer eye on growing practices. This is important, because not all flowers are created equal.
As with food, there are many different ways to grow flowers—some of which are easier on the earth than others. Spraying chemical pesticides on flowers has been shown to pollute the land and harm growers, so it's best to go with locally, organically grown petals when possible. We applaud the royal couple for using their very public wedding to make a statement about sustainably grown bouquets and have some tips for anyone looking to do the same with their next special occasion:
How to take a cue from the royals and support sustainable flowers.
An NYC-based farmer, florist, and soil science teacher, Molly Culver of Molly Oliver Flowers says that the first steps in choosing sustainable flowers should be looking into who your local flower farmers are, asking about their soil and and labor practices, and embracing what's in season.
Here, Culver gives her top tips for identifying blooms that were grown in a way that protects soil health and is better for the people who plant, cultivate, and harvest the flowers.
1. Buy local and send dollars to farmers doing good work.
If possible or whenever convenient, buy flowers from a local farmer and ask them questions about their soil health practices as well as their labor practices. To Culver, a healthy farm is holistic in its approach toward both human and environmental health and sustainability. It's easy to feel good about "buying local," but we should advocate on behalf of people, too. There is much documented evidence of abuse—largely of women—in the flower industry.
A burgeoning community of flower growers is working hard to bring back local, seasonal flower farming around the world. Many of these young farmers care about growing in eco-friendly ways AND promoting fair working conditions. Granting them your dollars will help them compete in the industrial-tipped system and ensure the continued growth and accessibility of responsibly grown flowers.
Vocalizing your values can be really helpful! Ask growers if their farm uses synthetic pesticides or herbicides, or if workers are exposed to such chemicals. You can also try this in your local supermarket or floral shop. Asking the store manager or florist to buy local can help support the growth of a larger, more vibrant flower farming community with more to offer the consumer and hopefully the local economy as well.
2. Look out for seasonal flowers that don't create much waste.
If you're looking for floral design for a wedding or large event, embrace seasonality. There are gorgeous flowers available twelve months a year, even in northern climates. You should also let your florist know you'd like to see them reduce waste. At Molly Oliver Flowers we reuse and rent vessels and compost all floral waste to reduce our contribution to the waste stream. This is hugely important!
Around New York, I am a huge fan of Rock Steady Farm & Flowers, Treadlight Farm, Stems Brooklyn and Petal by Pedal. If you don't live in NYC, check out Slow Flowers or the Association of Specialty Cut Flower Growers for a directory of farmer-florists in your area! You can sift through both by ZIP code.
Scratching the surface of soil health, farming, local ecology, and food justice may leave you hungry for more information. Check out Amy Stewart's expose Flower Confidential, volunteer on an urban farm, join a community garden, take a Soil Science or Food Justice class at Farm School NYC—there are so many ways to learn more about these topics. And the more you know, the more you can advocate for farmers to make healthier choices, for both people and the environment.
Planning a wedding of your own? Here are a few ways to make the ceremony a little easier on Mama Earth.