The Wellness Hacks This Pro Surfer Swears By For Better Waves & Peace Of Mind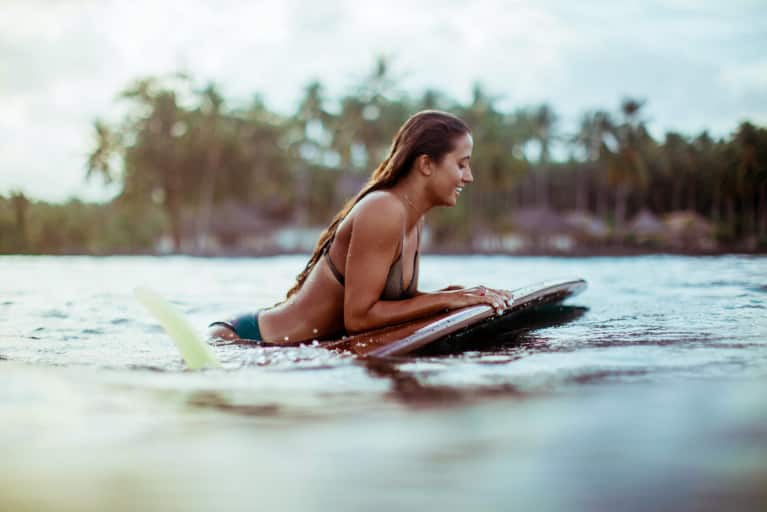 Surfing has long cemented itself as the sport of cool and ease—but part of the sport's easy-breezy allure might just connect back to its wellness-resonant ethos.
With an emphasis on time outdoors and connecting to nature coupled with the benefits of physical exercise, it's not much of a surprise that many surfers are labeled as "chill"—even science and medicine have turned to surfing as an effective form of treatment for depression and anxiety because of its physical and meditative qualities.
But how do surfers really use wellness as a blueprint in their daily lives? We wanted to get the scoop on how meditative and mindful movement in surfing influences a surfer's particular wellness mindset. So we reached out to ROXY surfer Mainei Kinimaka to learn more about her relationship with wellness, the things that inspire her, and how she incorporates mindful movement into her day-to-day life as a surfer.
Read below for her pre-ride rituals, wellness beliefs, and more.
Self-care allows her to navigate tricky waters.
As a surfer, Mainei says wellness is crucial in keeping the mind and body healthy and happy. "Surfing is a full mind and body experience. When you spend a lot of time in the unpredictable ocean, you want to make sure you've been taking care of your body so that you're ready for anything."
Avocado toast fuels her long workouts.
The diets of competitive athletes have garnered substantial media attention, but Mainei keeps things simple with a wellness-crowd favorite. "My go-to breakfast would be avocado toast with a fruit or green smoothie. I like to top my avocado with nutritional yeast and a bit of salt and pepper. It's super-satisfying and keeps me full throughout long surf sessions and workouts."
Restorative practices are key for optimal relief.
When it comes to recovering from intense workouts, Mainei considers more restorative practices for the optimal relief. "After every workout or activity, I always make sure to do a proper cool-down. I follow that with a session of stretching, and about two times a week I use a foam roller to work out tight muscles."
Relaxation is best when simplified.
Science says there's nothing quite like the therapeutic effects of some vitamin D and nature—and Mainei's preferred method of relaxation proves the same. "My favorite way to chill out is laying out on the beach and tanning. I like to just listen to the sound of the ocean and wind around me and soak up the sun. It's soothing for the mind and body."
New workouts keep her engaged and challenged.
Though the cross-training debate lives on, Mainei swears by switching up her exercise routines, for both mental and physical gains. "I actually love cross training! I recently started doing jiu-jitsu, and I've been really enjoying the challenge of trying something new. And naturally, she looks to the great outdoors for movement inspiration. "My favorite way to cross-train is by getting outdoors. When I'm home I like to stand-up paddleboard and hike. When I'm traveling I like to explore wherever I am by going on a run."
Breathwork is vital to her technique.
As the science and benefits behind breathwork continue to enter the mainstream conversation, "I've always used my breath to focus and create calmness throughout my entire body," says Mainei about the benefits of breathwork. "Once I do that, I have a good platform to think clearly and push through whatever challenge I'm facing at the moment."
Music hypes her up to tackle the waves.
Never underestimate the power of music, says Mainei. "Before a heat at a big contest, my 'secret' way to prep, hype myself up, and get loose is pretty simple—music! Jamming out and warming up to my favorite song at the moment is always a part of my preheat regimen."
Empowerment is her source of inspiration.
Mantras can be the driving force behind action-oriented decisions in our lives. For Mainei, the theme of empowerment serves as a major source of inspiration. "My go-to mantra at the moment is from the new Roxy campaign 'Make Waves and Move Mountains.' When I think of it, I'm inspired to make a positive change in my life and the lives of others by embracing my genuine self, pursuing my passion, and making my own trail."
Inspired by Mainei's wellness-centered approach to surfing? Learn how one surfer's near-death experience taught her about intuition.