Rosario Dawson Is On A Beautiful Road Trip & She Wants You To Come Along
Contributing Food Editor
By Liz Moody
Contributing Food Editor
Liz Moody is a food editor, recipe developer and green smoothie enthusiast. She received her creative writing and psychology degree from The University of California, Berkeley. Moody is the author of two cookbooks: Healthier Together and Glow Pops and the host of the Healthier Together podcast.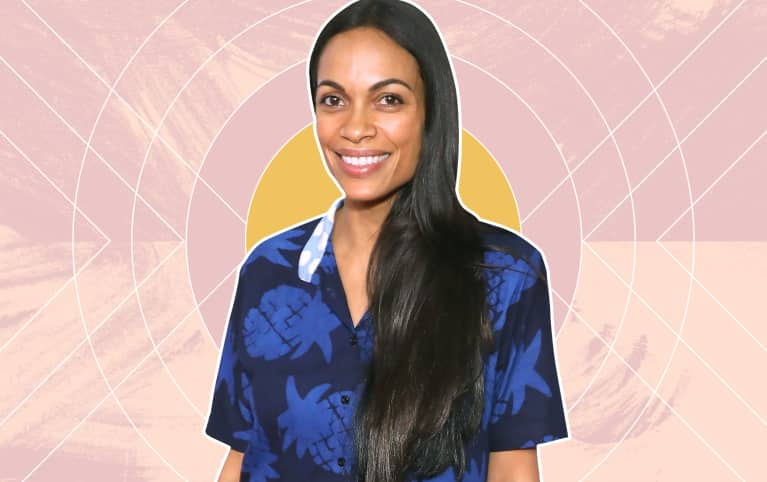 Rosario Dawson has been an activist for pretty much her entire life. The actress, famed for her roles in Sin City, Rent, Men in Black II, and many, many more (seriously, her filmography reads like an accounting of the greatest hits of the last 20 years) was 10 years old when she started making posters to save the trees. "My great-grandmother worked for the International Ladies' Garment Workers Union. My grandmother used to work with her there, then they used to go on marches to push better union rights," she told me when we met over sparkling water in Midtown Manhattan. In a dimly lit room, her energy was bright and fierce as she leaned into my questions, touching my knee regularly to make a particularly salient point. "Growing up here in New York, with a mom who was a teenager when she had me, I had family and friends who were either trans and/or had HIV or AIDS and/or had drug problems or housing issues or issues with access to education. I saw the whole maelstrom of privilege and access."
In the abandoned building in which she grew up, she was also privy to some of the nascent stages of the now-booming wellness world. "When I was younger, we used to order from a co-op and get a box of food that would show up every month or go to natural stores and get alternative toothpaste and oats and soy and almond milks," she said.
Contrary to popular belief (and many a heated opinion piece), she doesn't think that wellness is relegated to the domain of the privileged—in fact, she believes the opposite. "It was really, really low-income people that I watched making those efforts because they understood that what you ate—as much as it might be a little more challenging to get access to it or even more expensive to have—it was definitely a lot cheaper than getting ill and definitely a lot cheaper than not having energy to work," she explained. "It was just really understanding how things kind of relate to each other—the real cost of things."
She's taken the lessons of her childhood and applied them with vigor to her adult life, where, in addition to acting, she serves as co-founder of a sustainable fashion line, Studio One Eighty Nine. The brand, which just won a prestigious award and funding, hopes to do for fashion what Jessica Alba's Honest Company did for home supplies—that is, make eco-friendly, human-healthy choices accessible, beautiful, and preferable to conventional brands. "It's taking us back to what has always worked," Dawson explained. "It's really recognizing everyone from the farmer all the way to the consumer and trying to make that as accessible for people as possible so they understand the impact."
In between running the line, doing philanthropic work, and—oh yeah—raising a daughter, Dawson also stars as Claire Temple in five of the Netflix/Marvel series, including Daredevil and Jessica Jones. It's here that her unconventional background meets the modern world, as she stacks the deck in her favor with holistic elements that allow her to thrive despite a jam-packed, travel-filled schedule.
The first nonnegotiable? Meditation. Dawson was trained by mbg's own Light Watkins, and now she aims for 40 minutes daily. "It's such a beautiful recharge," she said. She's also taken the food-as-medicine lessons of her childhood to heart, starting every day with a smoothie. "I always have a protein shake," she said—although now that she's an action hero, she adds a surprising ingredient to it. "What I've noticed over the years, especially on all the different Marvel shows, when people are really working on their fitness and energy levels—they always add oatmeal," said the star, who has partnered with Quaker to create a three-part video series highlighting the myriad benefits of oats.
Essential oils play a key part in her wellness routine, as does self-care, which looks less like candlelit baths (although she loves those too) and more like tuning into—and obeying—her gut instincts and needs. "I want to make sure that the daughter who is emulating me... what does she see me doing? Am I just burning the candle at both ends and surviving and hustling and making things work—but she could see the bags under my eyes and sometimes the tone under my voice because I'm feeling gruff and just kinda getting through it? Or am I waking up in the morning well-rested and present and able to kind of notice something that is going on with her cause I'm not just driving through my day?" Her eyes, already wide, grew wider as she leaned forward. "It's a big difference."
It's a palpable passion, the passion of her marching grandmothers and her early community organizer role models; the passion that drives her to try to change the world through clothing, and food and powerful, women-led entertainment.
"Here's the thing," she said. "It doesn't matter which way you end up going, but can we honestly say we were enjoying the ride? Or are the miles going by and you're just trying not to fall asleep at the wheel? I really wanna take in the scenery, pull over once in a while. I wanna be on a beautiful road trip."
Her big brown eyes bored into mine, and her hand pressed into my leg, and I nodded. Who wouldn't want to be along for that ride?