The Houseplant Styling Guide For Every Room In Your Home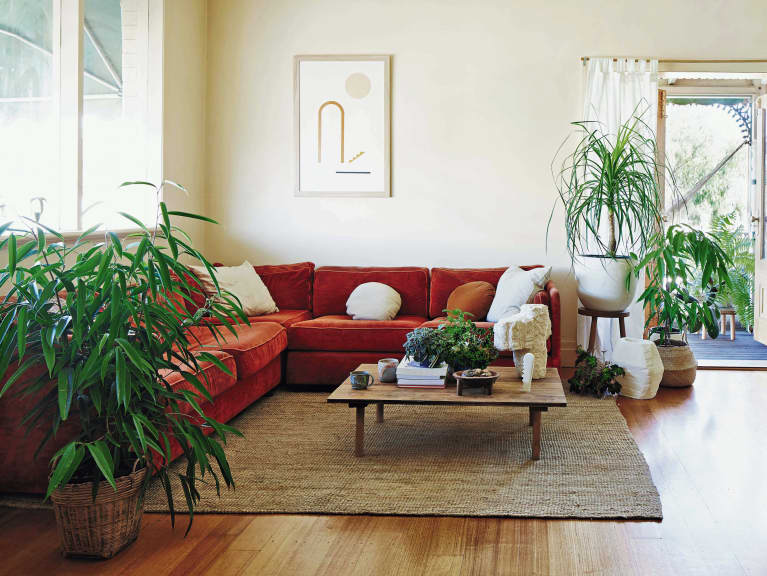 Our editors have independently chosen the products listed on this page. If you purchase something mentioned in this article, we may
earn a small commission
.
Plant Society by Melbourne-based designer Jason Chongue is one of the most beautiful new books we've seen this year—a visual feast full of creative ideas for green displays and easy-to-follow houseplant care advice. This excerpt discusses how to choose the perfect plant for every room in your home.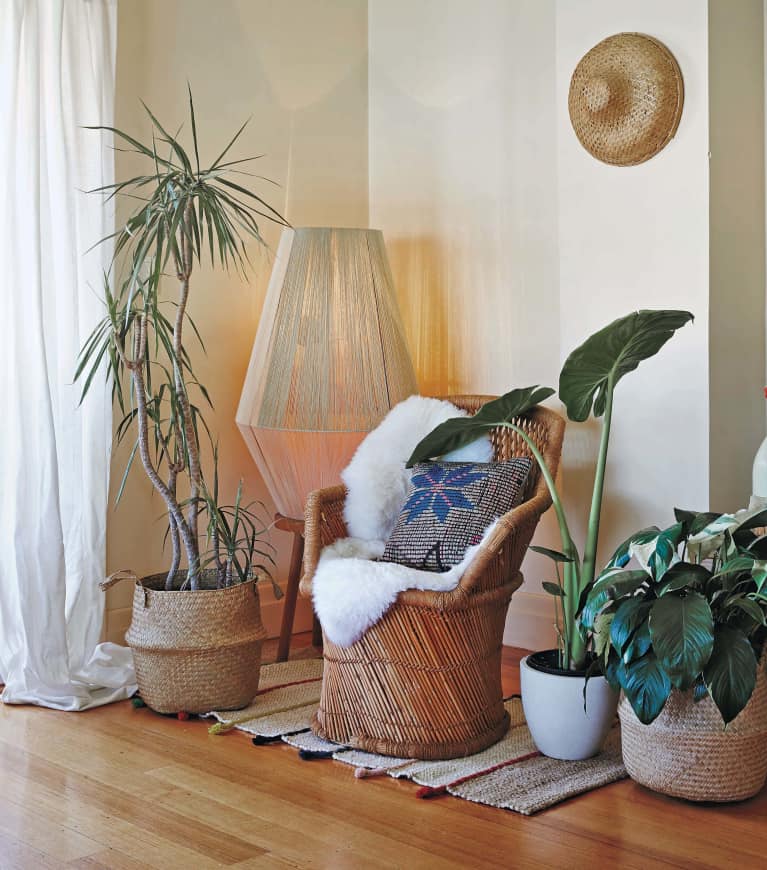 The living room is the perfect place to go wild and use multiple plant types when styling. Use plants both individually and in groupings to get different effects. Tall, treelike plants, like the rubber plant and dinner-plate ficus, are great specimen plants if you want to add drama to your room. You can also mix plain-leafed plants with more textured types.
Good plants for the living room:
Bird of paradise (Strelitzia nicolai), devil's ivy (Epipremnum aureum), dinner-plate ficus (Ficus dammaropsis), fiddle-leaf fig (Ficus lyrata), fruit salad plant (Monstera deliciosa), Medinilla magnifica, peace lily (Spathiphyllum), philodendron, queen of hearts (Homalomena), rubber plant (Ficus elastica), umbrella plant (Schefflera).
Play with a range of leaf textures to bring life into the dead corners of your living room. A mix of fine and broad leaves coupled with a seating arrangement can create a charming corner to read in.
If you don't want an indoor jungle but still want to incorporate greenery into your living room, try styling with a handful of plants. Smaller plants sit perfectly on your coffee table without blocking your view when seated on the sofa. Larger plants like ficus alii help to soften the harsh areas next to your sofa. When it comes to choosing pots, use similar textures and tones to those in your furniture to continue the style of your interior.
If you love a dark palette, use plants with strong forms. Darker-colored and more architectural leaves add depth to moody spaces. On the other hand, a lighter space will make your plants stand out more. Whether you are after a dark or light palette, let your plants spill out into your room. Use cascading plants on windowsills and mantelpieces, tall upright growing plants on the floor and smaller plants on coffee tables. When you build a bigger collection of plants, start experimenting by layering with color, texture, shape, and size.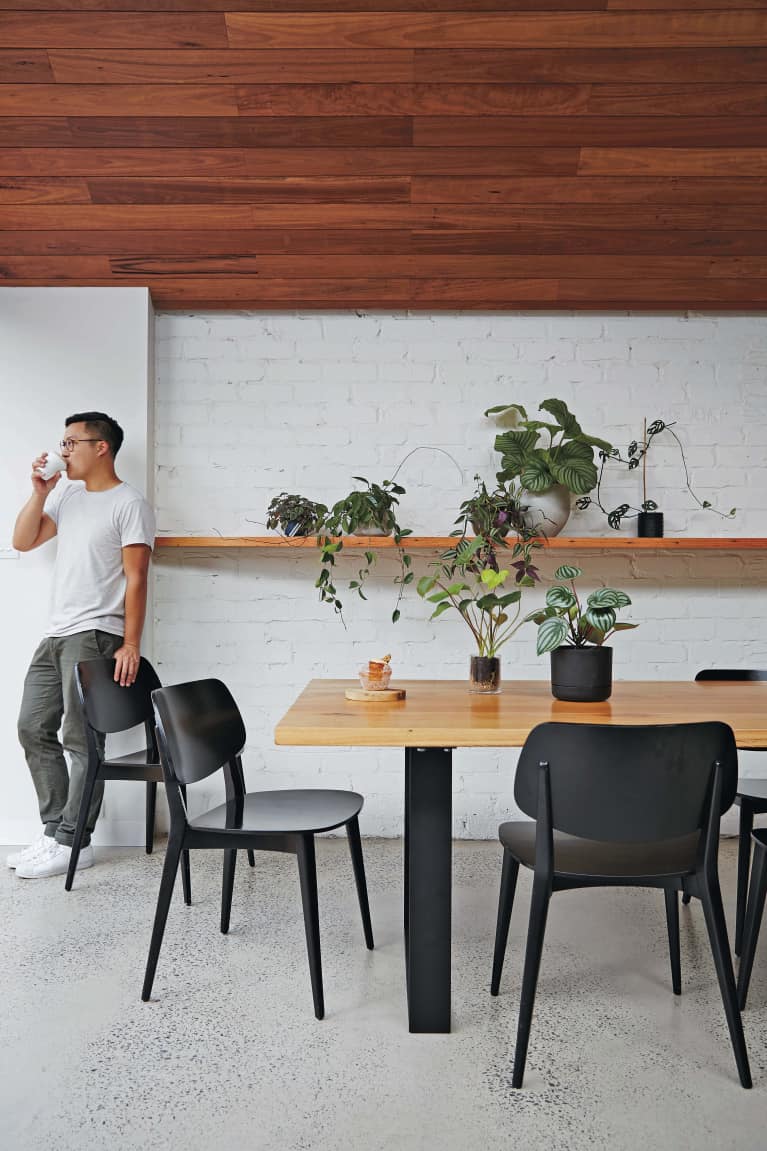 There is nothing more special than having guests sit around your dinner table when it's adorned with some delicate plants. The best plants for your dining room are plants that will remain small and compact. There are several well-suited species with a range of colors and forms.
Good plants for the dining room:
Begonia, Chinese money plant (Pilea peperomioides), peacock plant (Calathea), prayer plant (Maranta leuconeura), queen of hearts (Homalomena), radiator plant (Peperomia), wax plant (Hoya).
Think about opportunities to tie the greenery on your dining table in with furniture nearby. Place draping, cascading plants on shelves to provide a connection to the smaller plants on your table. When selecting pots, draw inspiration from your interior. If you are a minimalist, try neutral-colored pots.
When you are not hosting dinner parties, plants can be your friends instead. Group a series of upright growing plants with different leaf shapes to create an interesting focus on the table. New and vintage pots can be combined in these groupings to add your personal style.
The dining table is the perfect spot to place the more temperamental plant species in your collection. Since you are frequently using this space, you will be motivated to check on your plants regularly. Style with smaller plants in handmade pots, so you can appreciate them up close.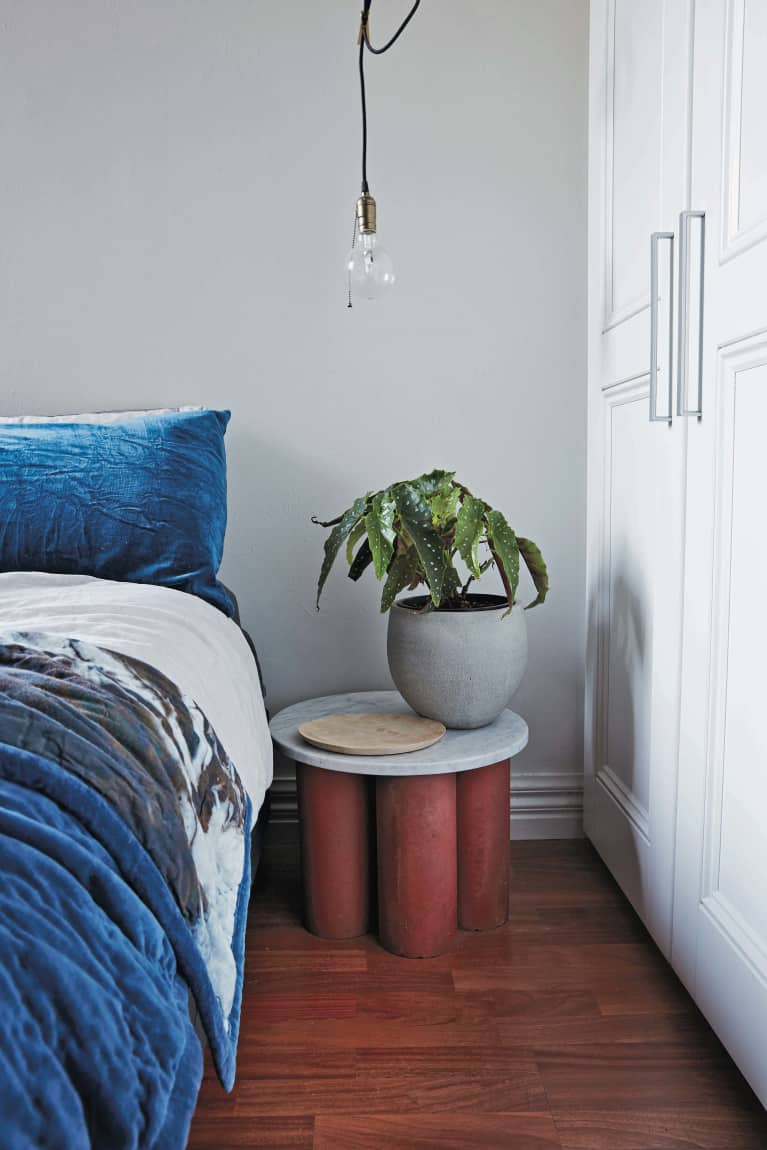 We spend a large portion of our lives in our bedroom, but it is often the last place we consider when introducing plants into our homes. Your bedside table is perfect for a compact plant that will help clean the air while you sleep. Textural plants like devil's ivy, Philodendron and Monstera make a nice addition to your bedroom and are a great thing to look at when you first wake up.
Good plants for the bedroom:
Arrowhead plant (Syngonium), begonia, devil's ivy (Epipremnum aureum), fruit salad plant (Monstera deliciosa), peace lily (Spathyphyllum), rubber plant (Ficus elastica), wax plant (Hoya).
Even a single bedside plant can enrich your bedroom. If you like keeping your space minimal, choose a specimen plant with interesting foliage, such as variegated or patterned leaves. Use a pot that is neutral in color so you don't detract from the plant.
Plants are great for styling in your bedroom. Use them alongside beautiful bed linen to create a softer space. Delicate leaves will create beautiful shadowing. Try incorporating interesting plant hangers to allow your plants to drape down over your bed. Graphic pots are great for relating back to your artwork.
Your spaces don't need to be white. Use plants to be playful and highlight color. When you have a bold color in your room, try complementing it with pots of a similar color palette. Use plants to soften mantelpieces, and place them on stands to add height to your space.
Plants can easily be integrated into your bedroom. Don't forget to look for spots where you might be able to hang plants.
If you have high ceilings, why not grow an indoor tree? Large foliage looks impressive when viewed from your bed, and smaller groupings of plants can add personality to your bedside table.
Use the colors in your room as inspiration for the plants you grow. With the vast range of plant types available, you will easily find a plant to highlight the style in your bedroom. Consider using plants to fill bare spaces on your wall, and use taller floor plants to create height.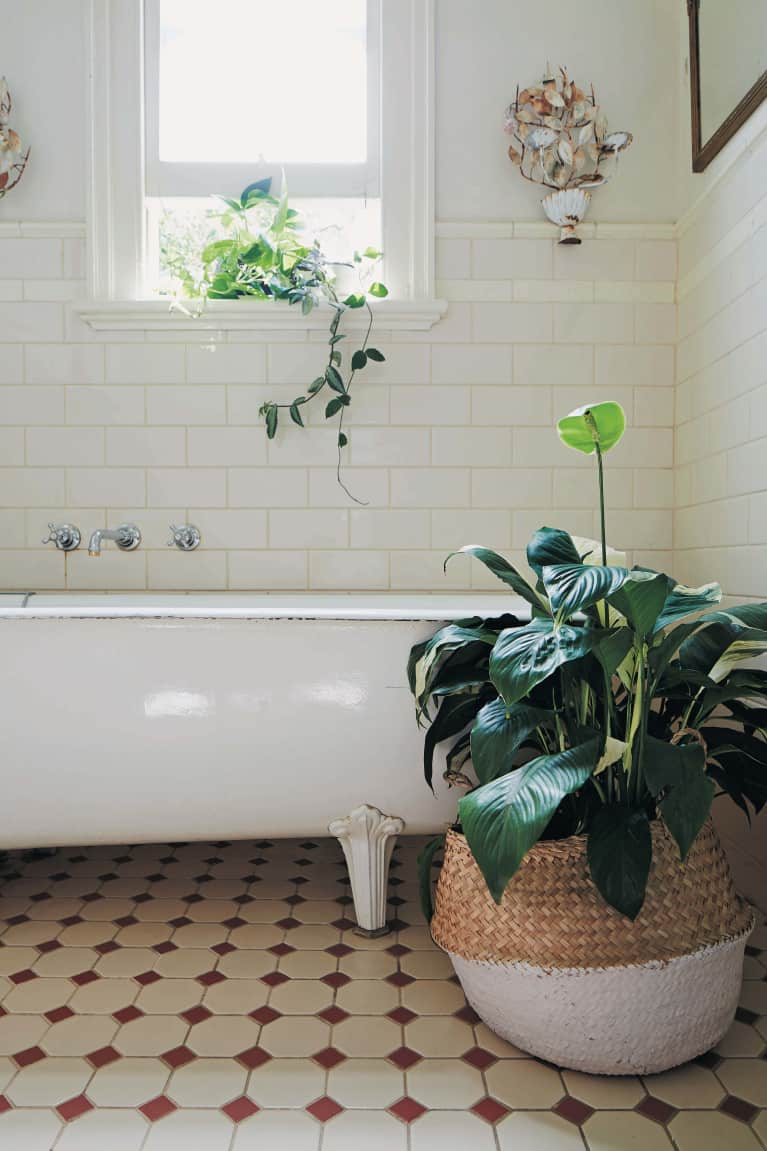 The bathroom is the perfect location for growing plants that love humidity. If you're short on space, try hanging devil's ivy or pitcher plants from shelves or the ceiling. Plants like peace lilies, queen of hearts, and arrowhead plant are great for creating small groupings of plants placed next to your shower or beside your vanity.
Good plants for the bathroom:
Arrowhead plant (Syngonium), devil's ivy (Epipremnum aureum), peace lily (Spathihyllum), pitcher plant (Nepenthes), queen of hearts (Homalomena), tassel fern (Huperzia), zebra plant (Aphelandra).
Tropical plants typically love humidity. Place them on windowsills to allow them to grow downward and soften the tiles. Additionally, you can place plants on the floor near your bathtub or shower. When styling harsh spaces, I like to use natural fibers such as a woven basket to sit plants into.
Try using plants in your bathroom to bring life into a typically cold space. Stools make perfect plant stands and help to elevate your houseplants.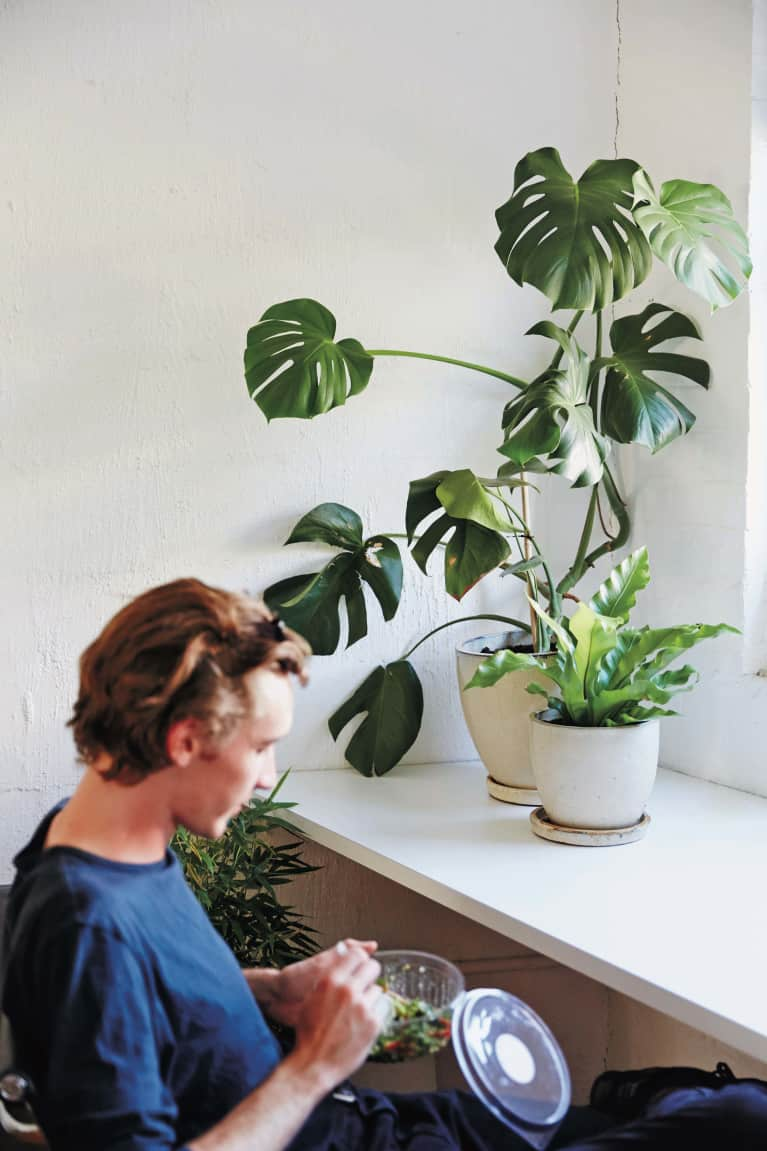 Compact plants are perfect for decorating your desk at home or at the office. There is often limited natural light at work, and air circulation is poor. Try using some hardier table plants such as the ZZ plant, cast-iron plant, or peace lily.
Good plants for office or desk:
Cast-iron plant (Aspidistra elatior), fruit salad plant (Monstera deliciosa), peace lily (Spathihyllum), Zanzibar gem (Zamioculcas).
Plants bring life to corners and dead spaces in the office. Training plants to grow up against the wall will help soften harsh lines.
Plants can enhance the workplace. Suspending plants from the ceiling or placing them on desks are great ways to break up your office space. Use neutral-colored pots to avoid making the office too chaotic.