The Best Outdoor Rituals To Welcome Spring With Open Arms
Written by
Julia Plevin
Julia Plevin is the founder of The Forest Bathing Club and author of The Healing Magic of Forest Bathing. She designs and guides transformational eco-spiritual experiences around the world. She has more than a decade of experience guiding individuals and groups of people into the forest, where the practice of shinrin-yoku helps calm the mind and create space for wellness and prosperity. Through studies with Shamanic Reiki masters, Shugendo Buddhist monks, Mayan elders, Bhakti yogis, and Renewal rabbis, she has developed a unique program that both respects and transcends tradition and brings us back into direct connection with Source. Julia is passionate about empowering people to tap into Nature as a way to heal themselves and the Earth. Her work has been covered widely in outlets such as CNN, Outside Magazine, Business Insider, The New Yorker, and Sierra Magazine, and the Forest Bathing Club has more than a thousand members from around the world.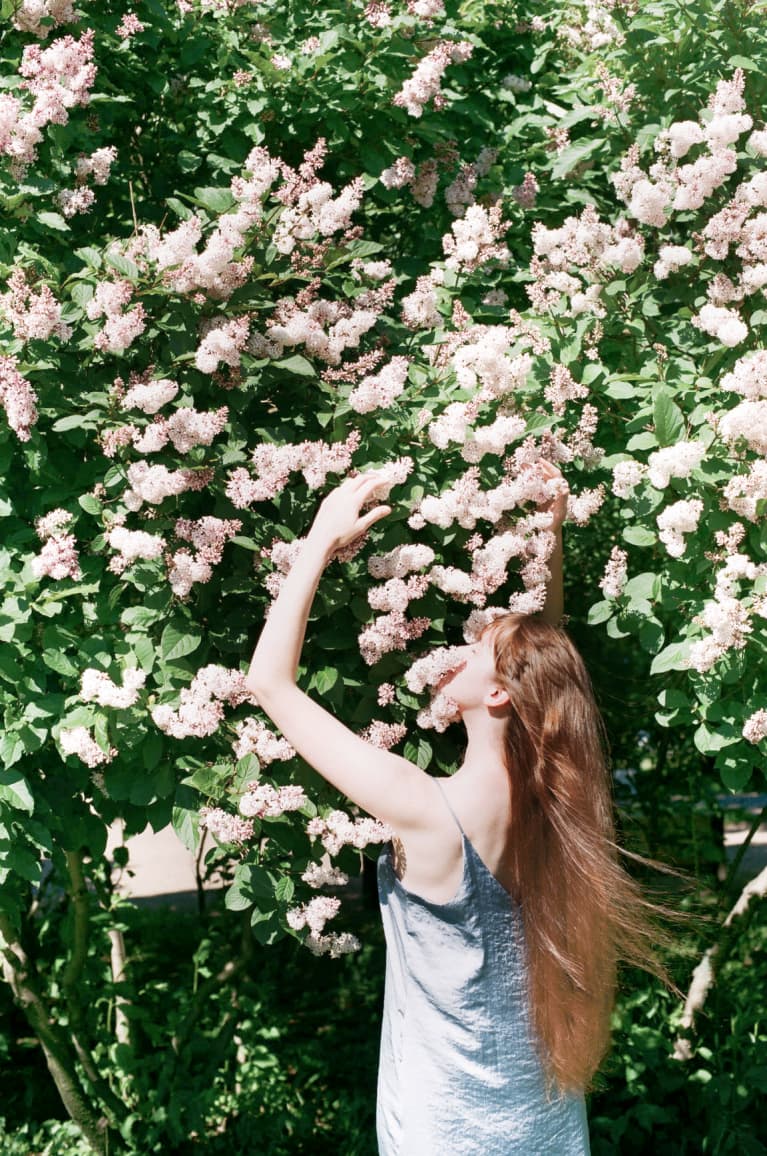 Have you ever felt that New Year's resolutions are unnatural, like you're forcing your body to work out or do a juice cleanse at a time when you just want to sleep all day and eat warm, hearty foods? It's because winter is a time to go inward, to sit and rest. We need that downtime, that time of nothingness, so that we can arrive at spring full of potential energy.
We are nature, so we can look to our environment for clues on how to act at any given point of the year. The more we tap into the wisdom of the Earth and our own bodies, the better able we are to create and live with ease, the more we can flow alongside the natural rhythms of life instead of fighting them.
Spring is a time of playfulness, birth, and new beginnings. It's a time to plant seeds in the Earth as well as plant seeds for what we want to create with our life. We experience this rebirth physically, mentally, and spiritually.
During this time of year, the Earth is waking up from her dream and so are we. The light creates new life and activates chemicals that promote love—this happens in animals that mate seasonally and also with humans as sunlight increases serotonin production. Many people find that springtime helps them feel more alert and openhearted.
Here are some ways to honor the freshness of this new season:
After hibernating and being relatively sedentary for the past few months, your body may feel energized and ready to move. Find a field or a forest where you can dance the dance of your wild soul—let your body just move however it wants. Shake off any cobwebs or stress. Listen to the music that emanates from the Earth or put in headphones and listen to some of your favorite songs. (I made this playlist with some of my favorite forest-bathing songs if you're looking for some new tunes!)
Make feel-good movement part of your morning routine. Don't worry if you're doing it right; let your intuition guide you.
The Earth gives us clues for what to eat at different times of the year. In early spring, leafy greens grow wildly. For example, here in the Bay Area, miner's lettuce and nettles grow wildly in early spring and are both nutritious spring tonics that cleanse and invigorate the body after winter hibernation.
Do some research or find a guide to help you discover what wild foods are growing in your area. Be sure you know what you are harvesting. Ask the plant before you take anything and you will get a knowing in your heart if it's a yes or no. Only take what you need and never clear out a whole area. Say thank you at the end!
If wild-foraging is not your thing, try going to a local farmers market and seeing what's in season. Talk to the farmers to learn more about the growth season of different types of produce.
Let your creativity flow.
Spring is a childhood time of innocence and play. Follow your inspirations and unlock your creativity. Allow yourself to totally suck at something, like drawing or dancing. The more you're failing and fumbling, the better you're doing.
Get those creative juices flowing by playing games, exploring, and trying new things. Stay with your beginner's mind. There's something that wants to move through you, some impulse that might seem silly and probably doesn't come with a clear business model but might lead to something unexpected.
Design your own springtime ritual.
Wake up with the sunrise and spend time outside at this liminal time of day, as darkness gives way to light. Feel the energy, the chi, of new beginnings. Find a spot to sit and observe your surroundings. Notice what's happening on the Earth and how that might relate to what's happening in your internal experience. Next, offer some seeds or flowers to the Earth and say a heartfelt prayer for the Earth and all her beings.
Take some time to consider what seeds you'd like to plant in your life this year. Ask the question, "What is it that wants to move through me this year?" You may want to journal or take a silent stroll as you hold this question. The key here is to not "try" and just to remain open to receiving whatever wants to come through. You may want to include different sensorial elements in your ritual, like lighting a candle, pulling a card, or drinking some tea. When you feel complete, thank the land with more offerings and some closing gesture or prayer of your choice before returning home.