The Best Healthy Travel Snack Ideas On The Internet
Contributing Food Editor
By Liz Moody
Contributing Food Editor
Liz Moody is a food editor, recipe developer and green smoothie enthusiast. She received her creative writing and psychology degree from The University of California, Berkeley. Moody is the author of two cookbooks: Healthier Together and Glow Pops and the host of the Healthier Together podcast.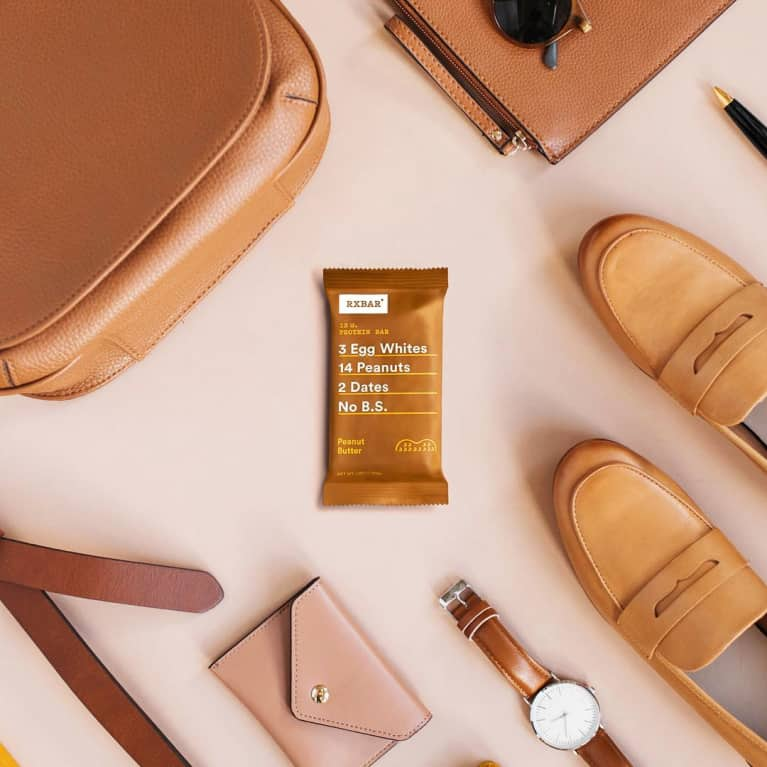 Our editors have independently chosen the products listed on this page. If you purchase something mentioned in this article, we may
earn a small commission
.
When you get a few hundred of the world's healthiest people together at an event like mbg's revitalize (coming up this weekend in the Arizona desert—you can find out more about it here), you're bound to get some great healthy travel wisdom. We asked some of our favorite foodies in attendance this year to share what they bring with them on the road, and their answers made us want to hit the road, stat.
Whole30 founder Melissa Hartwig packs a full suitcase of food.
During a trip, I'm known for leaving half my clothes at home and using the extra carry-on space for healthy snacks. Here are some of my favorites:
Healthy protein is the hardest thing to find when I travel, so I make sure I BYOM (Bring-Your-Own-Meat). I also like to carry a variety so I don't get bored of the taste or texture on longer trips. Some Whole30-approved favorites include Epic's Bites (Bison Bacon Chia is my favorite), Chomps Snack Sticks (all flavors are compliant), and Brooklyn Biltong. If I'm NOT on a Whole30, I like to kick my heels up with DNX Bars, The New Primal Chicken with Date & Rosemary Jerky, and Bricks Bars. I plan for two to three meat sticks per day; trust me when I say it's worth the extra weight in your bag.
I'm not a huge fan of dried-fruit-and-nut-bars unless I'm doing something active (like hiking), but the extra bump of protein from egg whites makes RxBars the perfect emergency travel companion (don't eat them like candy, please!). I especially like these when I'm doing tons of media and haven't had time for a proper meal; the hit of fat and sugar (from dates) helps me sound smarter. All but the peanut butter varieties are Whole30 compliant.
This is more a meal than a snack, but I always roll up to a longer plane ride with a full-on meal in my Pack-It Freezable Cooler. A mayo-based salad (salmon or chicken—skip the tuna or egg for airplanes) is easy to tote; super hearty when loaded with veggies, fruit, nuts, seeds, herbs, and spices; and breezes past the TSA in your carry-on. I pack mine in a plastic storage container and toss a few romaine leaves on top for crunch; don't forget a plastic fork.
Yes, those are for me. Having portable veggies and fruit on the go is priceless when traveling. It's easy enough to find a banana or apple at the airport, but kale, avocado, and blueberries? Not so much...unless you find some under-100 mL baby food packets at your local health food store and load up. Splurge for the bigger ones if you're checking a bag.
—Whole30 founder and best-selling author Melissa Hartwig
Philosophie Mama entrepreneur Sophie Jaffe keeps it simple.
My favorite snack is Philosophie coconut butter straight out of the jar with a spoon. The healthy fats keep me fulfilled and happy, and it doesn't hurt that it tastes like frosting.
—Philosophie Mama founder Sophie Jaffe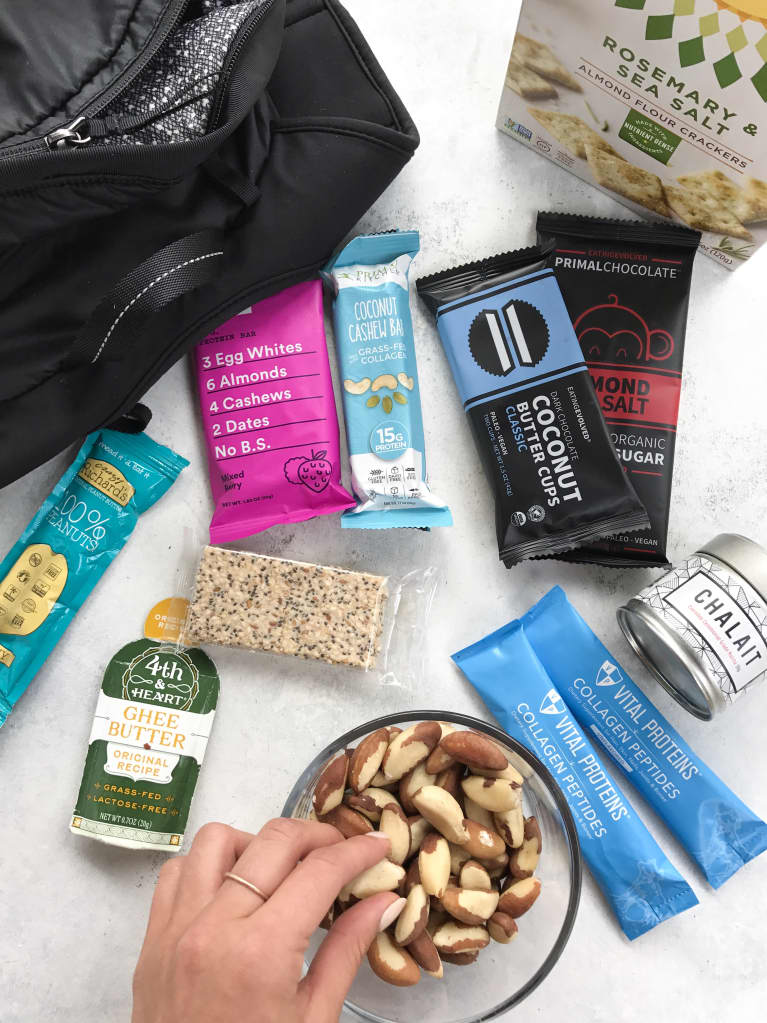 Rachael's Good Eats founder Rachael Devaux brings all the superfoods.
Having healthy options while traveling is a big deal to me, which is why I'll typically come prepared with several of my favorite snack items:
1. Vital Proteins Collagen Peptides packets.
These collagen peptides dissolve in any drink on the go (especially my favorite—matcha lattes) and support healthy hair/skin/nails and joints and also play a role in gut health.
2. Peanut butter packets.
These go great with fruit, chocolate, or better yet, alone!
I eat two every day for their selenium content.
I don't drink coffee, so this is nice to have as an emergency backup if matcha is nowhere to be found (oh, the horror).
5. Bulletproof Brain Octane.
I add to lattes, smoothies, salads, over veggies, etc., for its brain-boosting healthy fats.
I cook with it, add it to toast or to my Bulletproof matcha lattes.
7. Jilz crackers and Simple Mills crackers.
I love having crackers on hand if I'm in the mood for something crunchy. These brands are both gluten-free and made from minimal ingredients.
8. Primal Kitchen collagen bars and RxBars.
These are my two bars of choice. I'll generally have one or the other before a workout or as a substantial snack during the day.
9. Eating Evolved Coconut Butter Cups + Almond Sea Salt Chocolate Bar.
Best-selling cookbook author Jasmine Hemsley makes her own travel mix.
I love keeping it fresh with just a plain ol' apple or other fruit (loving nectarines at the moment) or an avocado with spelt crackers. If I can't have any perishables (say, on a longer trip), I pack some multigrain crackers and individual portions of coconut oil that help the crackers go down and add some good fats to the snack (I'll use the rest as lip balm or anywhere I need hydrating, particularly good in the heat as it's a cooling oil).
I also make a really easy millet flake travel mix (recipe in my new book East by West, coming November!)—it has ghee and some fruits and tons of spices to give me an easy ayurvedic meal or snack. All I have to do is add hot water to turn it into a hydrating bowl of porridge—or at the very least I'll enjoy it crunchy as sprinkles!
At this time of year, though, and in this heat, it might sound boring, but you can't beat a perfectly ripe nectarine. Having a little plastic tub in your bag lets your nectarine sit content until you're ready for it. I prefer corner shops for my fruit—supermarket berries, nectarines, and plums never seem to ripen (which makes me just want to give up and eat a chocolate bar)!
—Cookbook author Jasmine Hemsley
Want more inspo? These are the best healthy snacks of 2017 (so far!).