Move & Be Moved: This Is What It Was Like To Be At revitalize 2018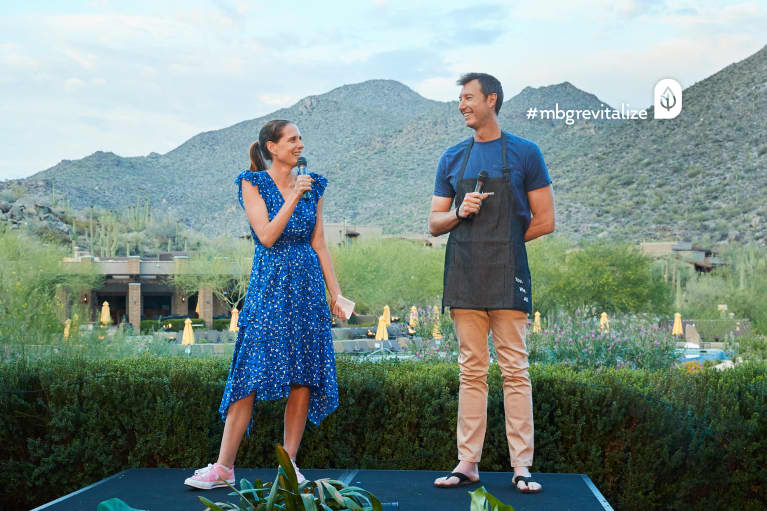 Our editors have independently chosen the products listed on this page. If you purchase something mentioned in this article, we may
earn a small commission
.
revitalize
2018 is over! Our fifth annual revitalize gathered the world's most knowledgeable experts and influential thought leaders for discussions on the biggest issues facing the world today—and how wellness is part of the solution. We're bringing you highlights all week long on mbg's
homepage
and on our
social channels
. Catch up on all the excitement
here,
and check out #mbgrevitalize on
Instagram
and
Twitter
! As of this week, tune in to watch coverage from revitalize—or even better,
sign up now
to receive FREE access to our video library!
Last weekend, June 15 to 17, 2018, was mindbodygreen's fifth annual invite-only revitalize—the year's biggest and longest-running wellness event that includes panel discussions and talks from game-changing voices in wellness and rejuvenating workshops, yoga classes, sound baths, Reiki sessions, and even our first off-the-record (read: no video footage) conversation about the impact of technology on mental health.
revitalize weekend started Friday morning, with guests arriving at The Ritz-Carlton, Dove Mountain. Folks come to revitalize to reconnect with themselves, to deepen their wellness practices, and to reunite with the mindbodygreen community they know and love. To prepare for the biggest wellness event of 2018, mbg class instructors Rich Roll and Julie Piatt, as well as thought leader in human potential and performance Peter Crone, hosted sessions on conscious connection as a new approach to networking. Co-founder and chief brand officer Colleen Wachob co-hosted a networking session with Katie Forrest, co-founder of EPIC Provisions for entrepreneurs here to learn about how to do good and do business. Travelers wishing to unwind could cozy up on the couch with Strala founder and yoga teacher Tara Stiles to unwind with mindful knitting; sign up for a foam-rolling session with expert Lo (Lauren) Roxburgh, presented by KeVita; relax with a facial massage self-care workshop with holistic esthetician Britta Plug, presented by Biossance; or participate in small Reiki healing circles with mbg class instructor and certified Reiki master Kelsey Patel.
Above: Meet & Greet: Conscious Connections with Julie Piatt and Rich Roll. From left: Jason Wachob (sporting an organic cotton apron from Loomstate which says "You. We. All." made especially for revitalize), Julie Piatt, Rich Roll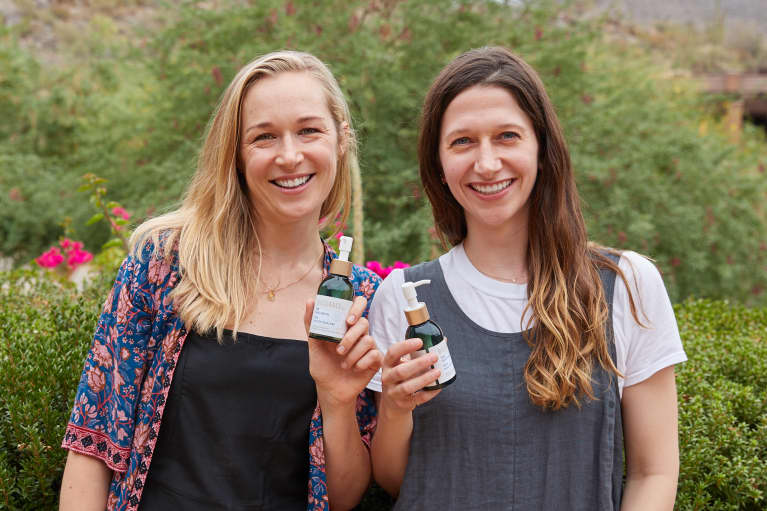 Above: Holistic esthetician Britta Plug and mbg's senior beauty and lifestyle editor Lindsay Kellner after the Self Care 101 workshop sponsored by Biossance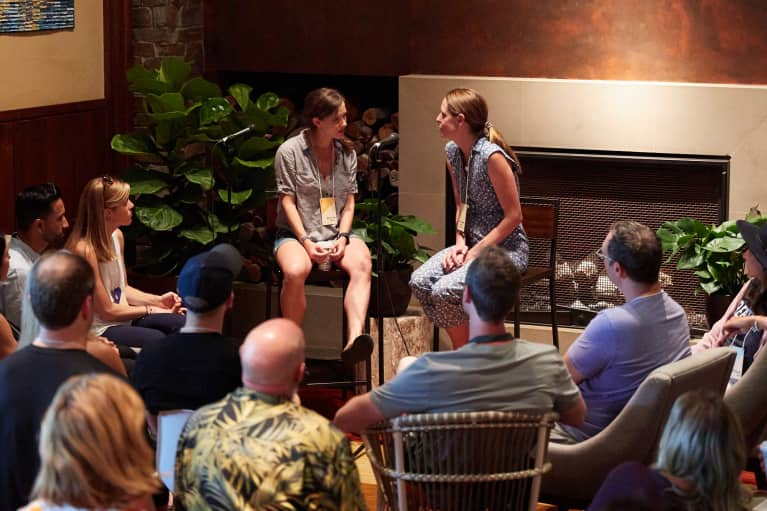 Above: Meet & Greet: Entrepreneurs Networking & Troubleshooting with Katie Forrest presented by EPIC Provisions. From left: EPIC Provisions co-founder Katie Forrest and mindbodygreen co-founder and chief brand officer Colleen Wachob
The sold-out event was full of folks interested in the sort of deep, purposeful wellness that has the power to heal the global problems that we face today. In between classes and discussions, revitalize guests could receive one-on-one nutrition consultations with Jessica Cording, M.S., R.D., CDN, and Brigid Titgemeier, M.S., RDN, L.D., thanks to Naked and Quaker respectively. Robin Berzin, M.D., and Amy Shah, M.D., offered one-on-one family wellness consultations thanks to Tropicana. Guests could stop by the gifting suite to pick up CALIA by Carrie Underwood leggings, delicious snacks, or to pot a plant for a local children's hospital thanks to Wedderspoon. If they were tired, they could chill out in the Wellness Lounge sponsored by Tropicana, Quaker, and Naked, a minimalist space outfitted with a MNDFL meditation station, or rest on a nontoxic and eco-friendly Avocado mattress. Through Instagram posts of MNDFL moments, we are supporting Tropicana kids' movement to bring meditation to children in under-served New York City schools.
They kept energy levels up between meals with snacks available in the gifting suite, including Navitas Organics' power snacks and superfoods; EPIC's jerky, pork rinds, and bone broth; UnReal chocolate almond and peanut butter cups; and Growing Roots snacks.
This year's main highlight—move and be moved.
After mbg founder and CEO Jason Wachob welcomed guests along with his wife, mbg's co-founder and chief brand officer, Colleen Wachob, the stage was set by SriMati, known also as Julie Piatt, alongside Shaman Durek with a moving speech about how the wellness collective needs to come together and needs to have faith. "Alignment over hustle," said Shaman Durek, who encouraged attendees to follow what moves them rather than seek out certain connections or experiences during the event. SriMati amped up the crowd, asking them to follow her chant, "Love! Love! Love! Love! Love!" The ceremony ended with a speech on perspective by NASA astronaut and entrepreneur Ron Garan, which was accompanied by violinist Tim Fain's unforgettable performance and an example of what's possible with focus and intention.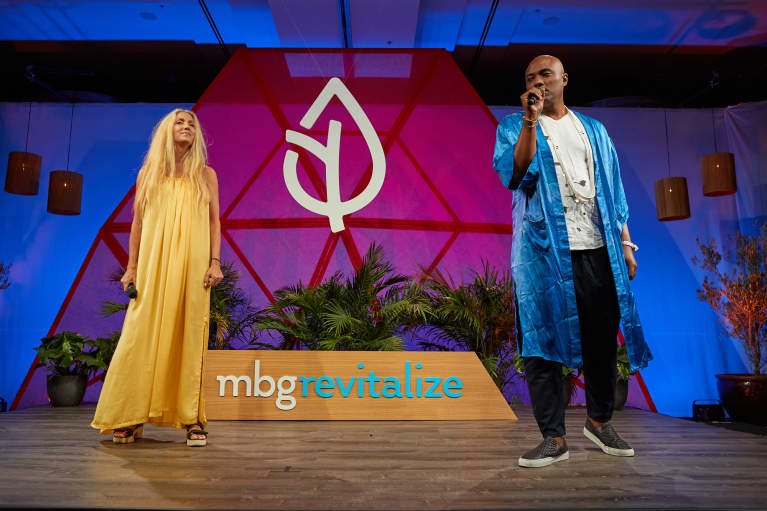 Above: SriMati, also known as Julie Piatt, and Shaman Durek giving revitalize goers a blessing at the opening ceremony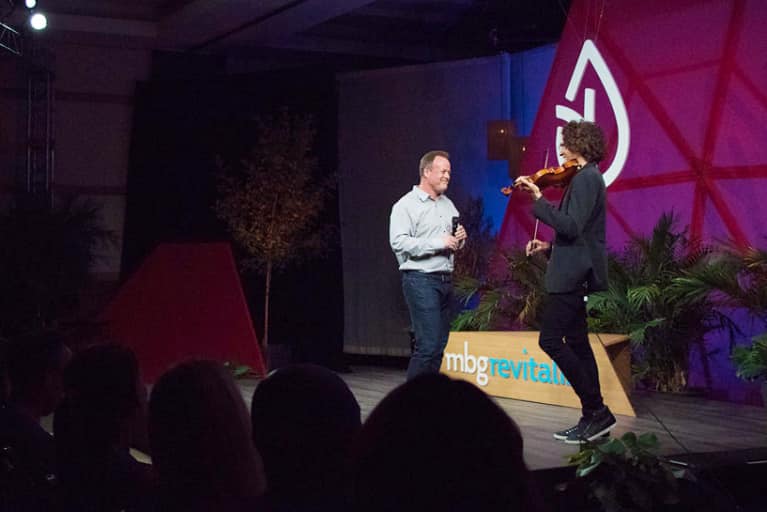 Above: Former NASA astronaut and entrepreneur Ron Garan with violinist Tim Fain at the opening ceremony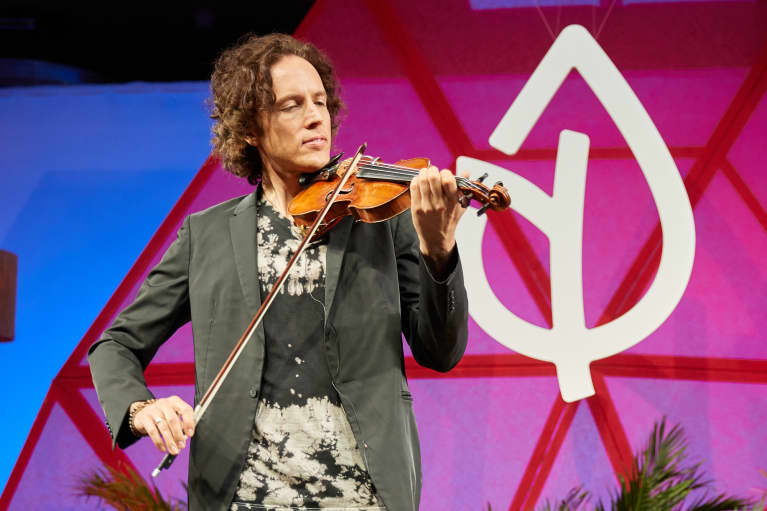 Above: Violinist Tim Fain at the opening ceremony
Examining movement of a more literal kind, this year's classes showcased the many levels of healing possible through fitness, like physical recovery, alignment, emotional cleansing, and mental grounding. During Saturday's content sessions, Drs. Dean and Ayesha Sherzai, affectionately known as "Team Sherzai," confirmed how movement can affect your brain. "We know there's a strong connection between leg strength and brain strength," said Dr. Dean Sherzai. Good to know going into the weekend!
Mike Taylor's tai chi and Tara Stiles' yoga class taught practitioners how to move in alignment and for better alignment. CJ Frogozo's rendition of The Class by Taryn Toomey, presented by THINX, built confidence and positive self-talk. Lauren Kleban taught cult-favorite class LEKfit, a low-impact, liberating, dance-based strengthening class presented by Naked. Zoe Welch inspired everyone to get up and experience the joy of yoga dance cardio, presented by CALIA by Carrie Underwood. Ben Greenfield and Ksenia Avdulova led grounding desert hikes presented by EPIC Provisions and NOW Foods, respectively.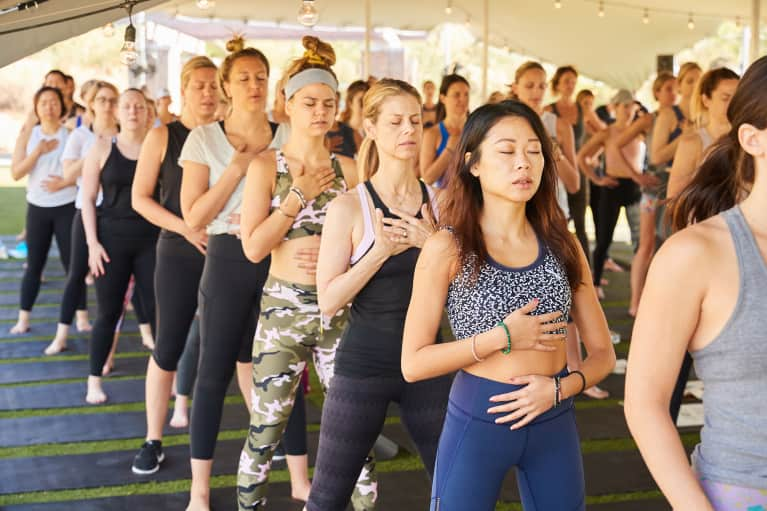 Above: The Class by Taryn Toomey presented by THINX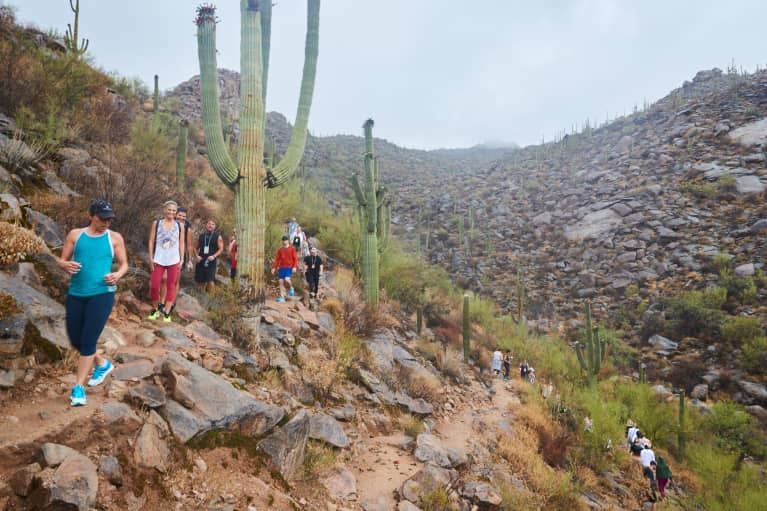 Above: Saturday morning desert hike with Ksenia Avdulova of @breakfastcriminals, presented byNOW Foods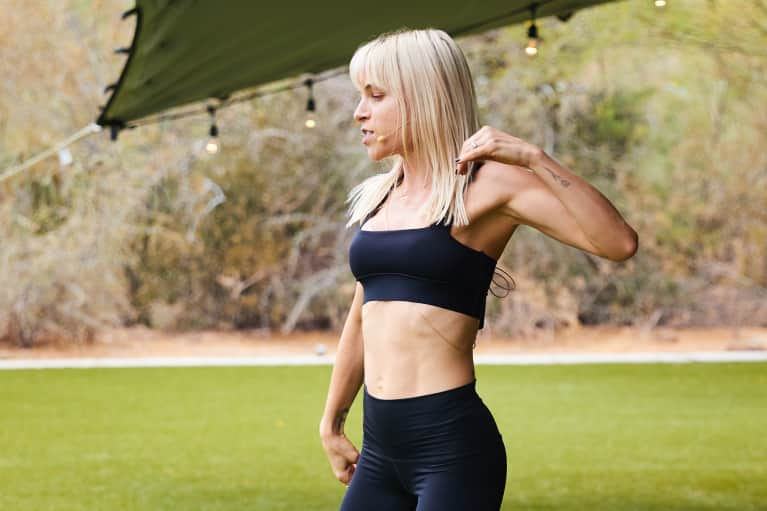 Above: LEKfit's Lauren Kleban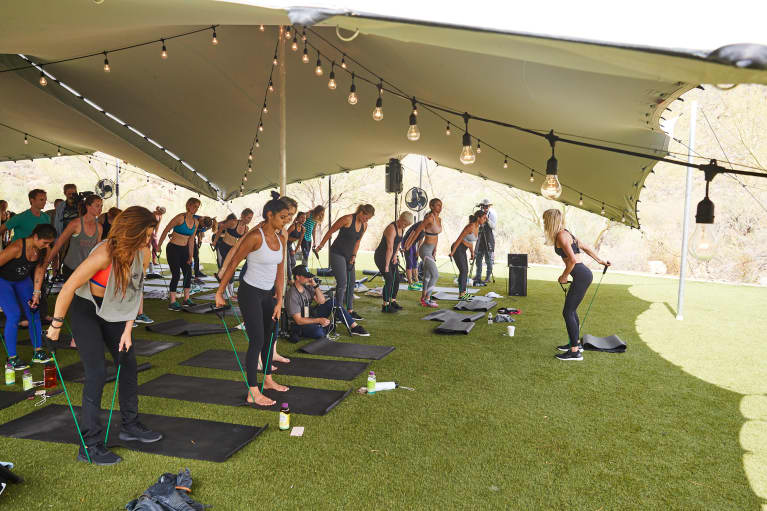 Above: LEKfit presented by Naked
This moment in history is pivotal—it's bigger than "wellness."
Every one of the content panels on Saturday drove home the importance of community and helping one another. "Of all of human history, this is the most amazing time to be alive. It's also the most dangerous. We are at the inflection point of humanity," said Garan. "The principles that got us to this point, which were appropriate at one time, are no longer appropriate: independence, power, growth, competition," he said. "Today we need collaboration, cooperation, decentralization. This was the clear answer I saw from space."
Perhaps not surprisingly, with recent celebrity deaths and increased awareness of rising suicide rates, mental health emerged as a key topic of discussion. "The fastest-growing disease in the world is mental illness," said environmentalist and best-selling author Paul Hawken, tying his talk on regenerative agriculture to human behavior. He said the way to address global warming isn't with corporate initiatives to be green by 2020—it's to meet human needs. When human needs are met with resources we have, and when people have a purpose, they are driven to help the greater good.
LaRayia Gaston, founder of Lunch on Me, an organization that brings organic food to people living on Skid Row, is a living, breathing example of how we can, in her words, "take stock of our privilege" and use it to do good. She shared personal stories of people whose lives have improved because of the nourishment they received from Lunch on Me, including Kevin Call. LaRayia fed Kevin on Skid Row for months, and she developed a friendship and connection with him. One day, he was gone—she worried, she prayed, and she kept showing up. A year later, Kevin appeared again, not to receive meals but as a volunteer for Lunch on Me because the program had turned his life around. As she was telling this story—there was a plot twist. Kevin came out onto the stage and shared, with heart and soul, how deeply he'd been moved by Lunch on Me and how grateful he was for another chance at life. "Mindfulness. Intent. Generosity. Graciousness and kindness. Her bottom line was love. Consistency can change someone's life," she said. "I empower the homeless to love themselves the way the world has not." There wasn't a dry eye in the room.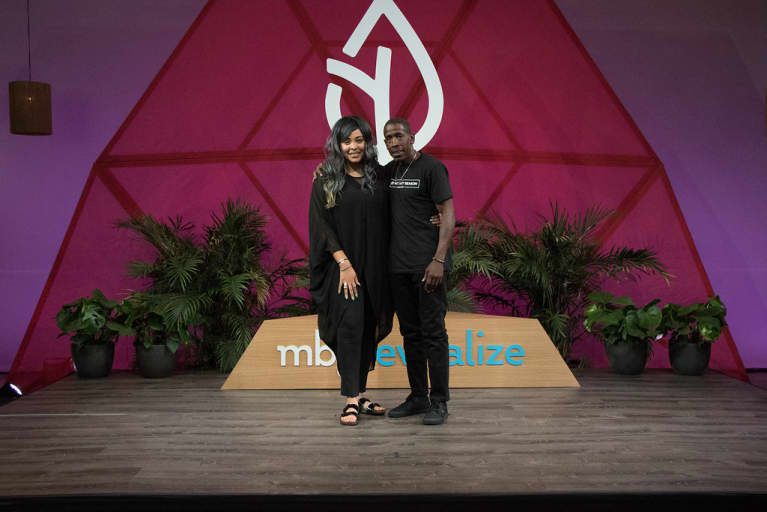 Above: LaRayia Gaston and Kevin of Lunch on Me
Breathwork continued to be a key accessible wellness tool.
"When you can attain your desired state with ease through specific patterns of breathing, you can eliminate a lot of suffering," said Andrew Huberman, Ph.D., neuroscientist and tenured professor at the Stanford University School of Medicine. Dr. Huberman shared new research out of his Stanford lab that sheds light on how we can work with the brain and nervous system to control our reactions to fear.
Guru Jagat, founder of RA MA Institute for Applied Yogic Science and Technology, a Kundalini yoga school, and best-selling author, taught an intense Kundalini yoga session Sunday morning that included movement, breathwork, and a visualization-style meditation. "You have the power of your mind, and it's the greatest computer ever created. And in these sessions, we start to learn how to really use it," she said.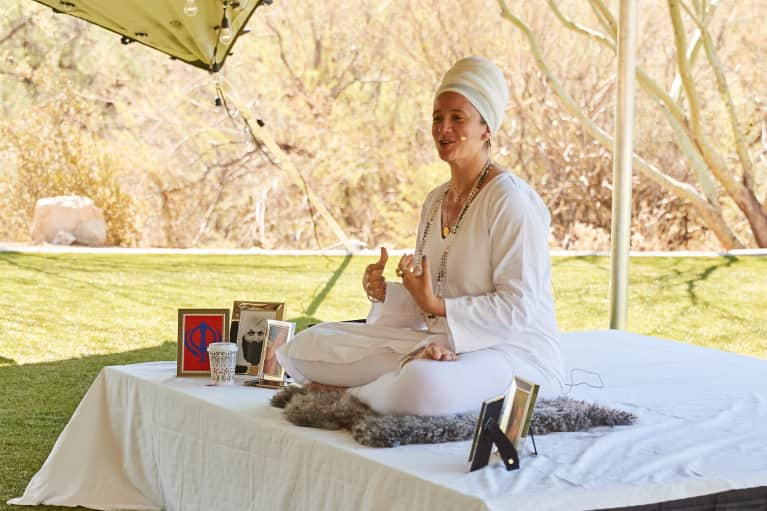 Above: Guru Jagat teaching Kundalini yoga on Sunday
Nothing else matters if you're not resting.
"Sleep is when your brain takes out the metabolic trash," said founder of Parsley Health Robin Berzin, M.D., alluding to its importance and role in our overall well-being in the Drinks With Doctors discussion, which included Dr. Steven Gundry and Dr. Joel Kahn.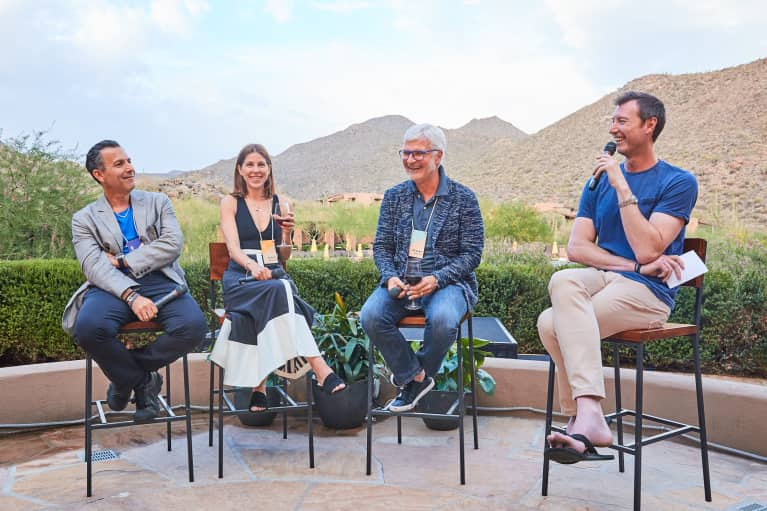 Above: Joel Kahn M.D., Robin Berzin, M.D., Steven Gundry, M.D., and mindbodygreen's founder and CEO, Jason Wachob
Dr. Robert Rountree, a family medicine physician; author; and expert in nutrition, medical herbology, and mind-body therapy, talked a great deal about the endocannabinoid system in the body and how human beings are designed to receive plant medicine like CBD, THC, and hemp, not only to treat medical conditions like epilepsy but to treat chronic anxiety, stress, and insomnia, preventing so many from getting good sleep. Another way to optimize your sleep? Identify your dosha—Jasmine Hemsley's talk on Ayurveda, presented by Pukka Herbs, gave revitalize-goers insight into how best to rest.
To pepper the weekend with different kinds of rest, Friday included a meditation experience with Biet Simkin that encouraged guests to release past hurt and anger and ended with eye-gazing. Saturday morning Miki Ash led a meditation presented by Garden of Life that utilized their essential oils; that afternoon, sound therapist and meditation teacher Sara Auster facilitated a sensory sound bath that was enriched by the calls of desert birds. That night guests were sent off to dreamland with a magical yoga nidra facilitated by yoga and mbg class instructor Caley Alyssa, who was accompanied by world-class violinist Tim Fain—all thanks to SmartyPants Vitamins. First thing on Sunday morning, Light Watkins taught a calming meditation.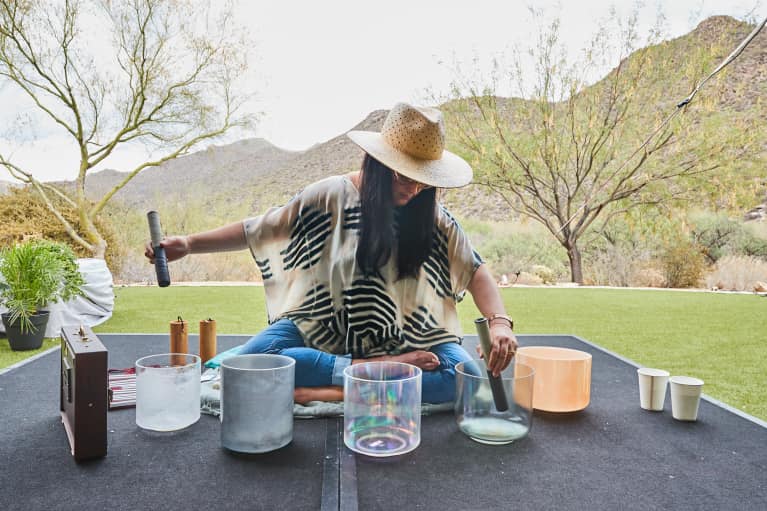 Above: Sara Auster facilitating a sound bath on Saturday afternoon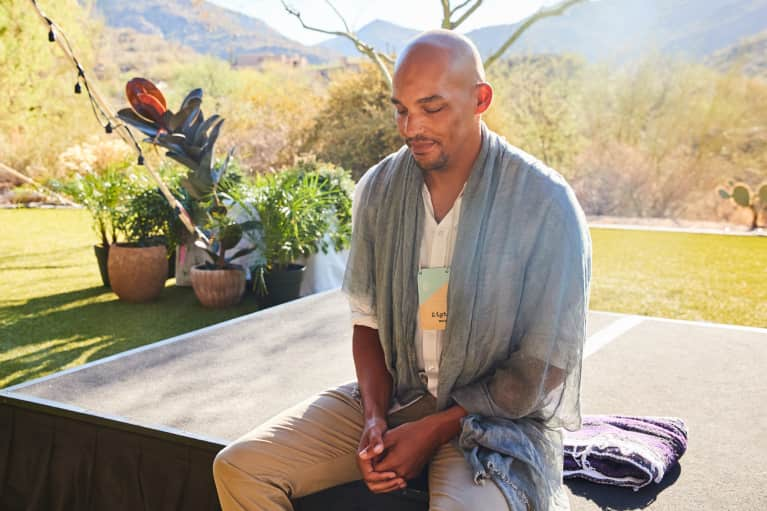 Above: Light Watkins leading a meditation Sunday morning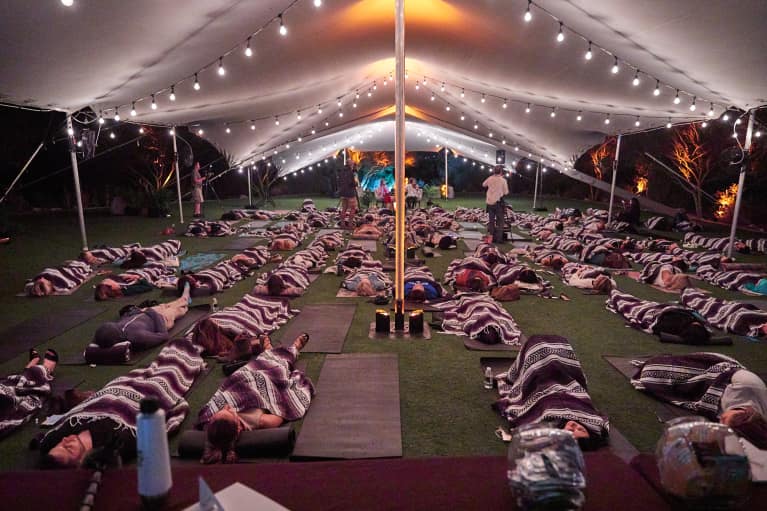 Above: Saturday night yoga nidra with Caley Alyssa and Tim Fain, presented by SmartyPants Vitamins
Connecting with one another is paramount.
"Intimacy practice is about discovering that we at our core are the same," said leadership and spiritual intimacy coach John Wineland on his panel with Guru Jagat on intimacy and love on Saturday night.
A cooking workshop with Vitamix encouraged guests to use food as a means of togetherness. Chef Danielle Shine taught how to make whipped tahini sauce, vegan roasted garlic aioli, and watermelon mojito mocktails—all ideal recipes for a gathering.
"Regeneration is the default mode in nature and in life," said Paul Hawken in his main stage revitalize talk with Jason. "Moving to a regenerative culture is actually easeful. Life creates conditions that are conducive to life."
Every talk, panel, and intimate moment echoed the idea that it's time to come together. You. We. All.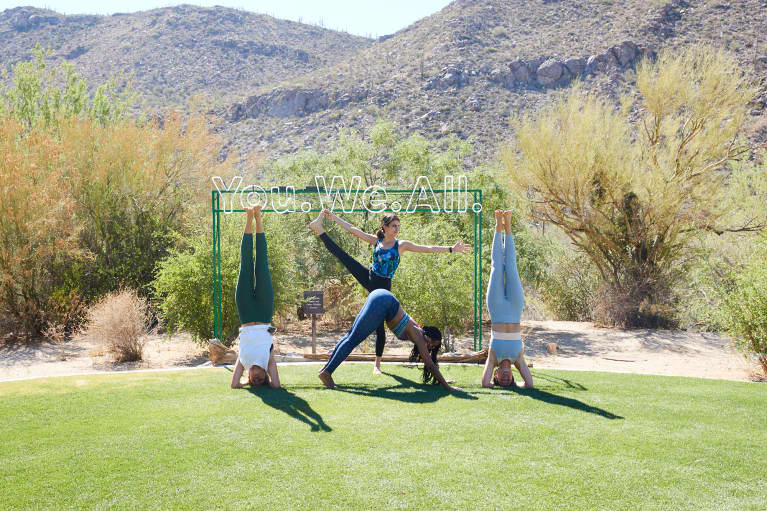 If you're feeling the fomo, don't worry—over the next two weeks, we'll be releasing a video each day from the best talks and discussions from revitalize 2018. Get them all now for FREE by signing up here!