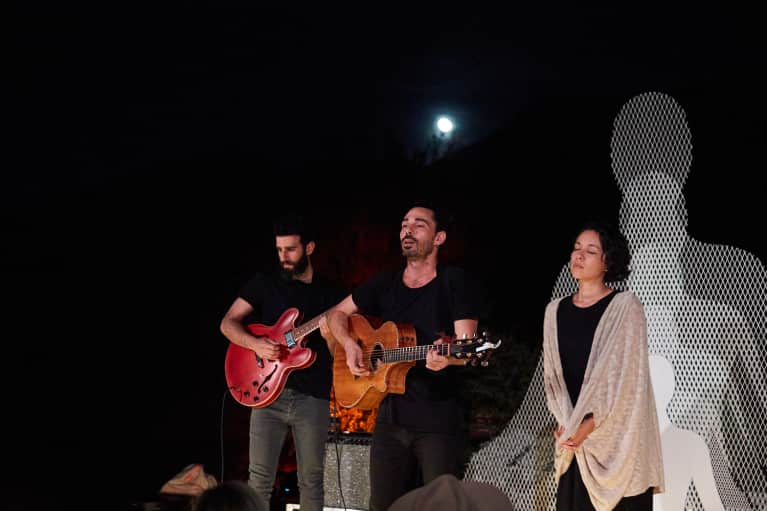 While on the surface, mbg's exclusive wellness event, revitalize, is all about the stellar agenda—from yoga with superstars like Kathryn Budig to Reiki from master Kelsey Patel to talks led by eco-warrior Paul Hawken; best-selling author Kate Fagan; renowned doctors Mark Hyman, Vincent Pedre, and Frank Lipman; and more—in truth, it's only a small part of the three-day event.
I didn't realize this at first, when I was filling my schedule and hitting up the gifting suite to stuff my tote bag with unlimited supplies of Vital Proteins collagen, Herbivore beauty products, and Purely Elizabeth granola. And that's OK—there's simply too much inspiring information to take in, too much delicious food to eat, and too much fun to be had.
It wasn't until the last night that I realized what revitalize was truly about. My head was swimming with thoughts of mitochondria and intermittent fasting, my belly full of avocado fries, my mind still and rested after a breathwork session with Brian Mackenzie, my legs aching slightly from an earlier workout with Philosophie Mama Sophie Jaffe, Jordan Younger of the Balanced Blonde, and stretching sensation Alicia Archer. My ears glinted gold with tiny studs Tiffany Lester, M.D., West Coast director of Parsley Health, had placed in there during an acupuncture session, and I could still feel Taz Bhatia, M.D.'s hands on my wrist as she read my pulse (which, in the language of Traditional Chinese Medicine, told Dr. Taz a lab's worth of information about my health).
We'd gathered on a small lawn in front of an installation by artist Benjamin Shine: a cross-legged human, identifiable neither as man nor woman, radiating outward. Behind the installation, a shaded outline of the Arizona mountains, the tip of the moon just beginning to slice its way upward; in front of it, musicians Kina Grannis, Taylor Rice of Local Natives, and Jesse Epstein of Imaginary Future. As they began to play their unplugged set, people settled in the grass, a glass of (organic) wine in hand.
In front of me, Lisa Hayim of the Well Necessities cozied up with yogi Caley Alyssa. McKel Hill of Nutrition Stripped and celebrity nutritionist Kelly LeVeque halted their conversation and settled back, their palms sinking into the ground beneath.
A chorus of "And if we don't care, then who cares? We've been dreaming of you, drinking from fountains of youth. And if we don't change, then who will change?" echoed into the Arizona air, made crisp and cool with night's arrival. The audience swayed their heads with each refrain, inspired by the message that our generation holds the power to truly change the world. The final song brought another message that in order to truly make a change, we all need to take a risk and pursue our dreams: "You could let it down, jump into the river baby. Easy as it sounds, it's never quite as easily done."
Everywhere I looked, people from all walks of the wellness world—actors, models, yogis, foodies, social media influencers, venture capitalists, fashion designers, entrepreneurs—were sitting together, taken by the melody. Yesterday, they'd been strangers. But tonight, after laughing and sweating and crying and contemplating and giving and receiving and truly, deeply revitalizing—not only themselves but one another and soon, hopefully, the world—tonight, they were a family.
Missed our live coverage of revitalize? No worries! We've got you covered with the top take-aways from the event; a sneak peek inside the gifting suite; and your personal guide to practicing desert wellness wherever you live.
This piece was co-written by mindbodygreen's associate green & home editor, Emma Loewe.