Researchers Say Taking Up Running Could Ultimately Save Your Life
mbg Associate Movement & Wellness Editor
By Ray Bass, NASM-CPT
mbg Associate Movement & Wellness Editor
Ray Bass is the associate movement and wellness editor at mindbodygreen and a NASM-Certified Personal Trainer. She holds a degree in creative writing from the University of Pennsylvania, with honors in nonfiction.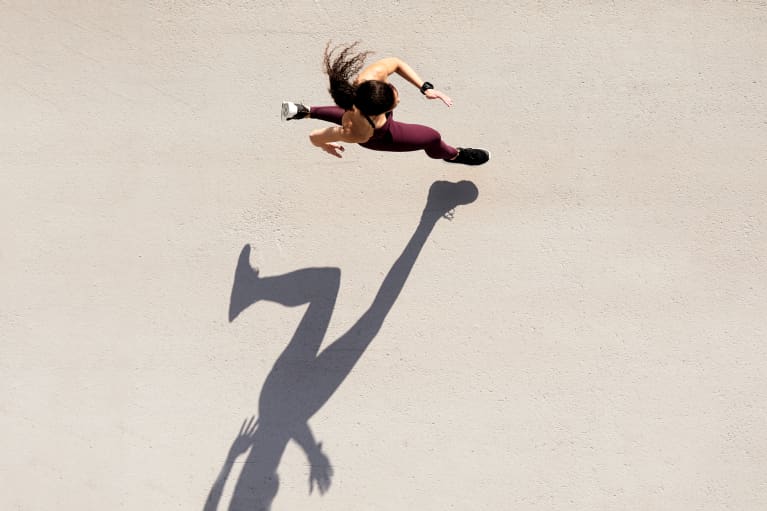 Saying that running is good for you isn't exactly a revelation—all physical activity is—but these latest findings prove how beneficial running actually is and how much you have to run for it to matter.
According to data analysis published by the British Journal of Sports Medicine, running may lower your risk of death from any cause. It's worth saying again: Your risk from any cause. Pretty remarkable, no?
What did the researchers find?
This conclusion came from a pooled analysis of existing data on running, which underscored its health benefits but didn't provide a clear answer on whether or not running could ward off risk of death from any cause, especially heart disease and cancer. Researchers also noted that prevalent studies haven't produced evidence around how much a person needs to run to gain benefits. This gap led researchers to scavenge published research, doctoral theses, and any credible work they could locate related to running and death. Here's what they found.
According to the 14 relevant studies that included nearly a quarter of a million people, any amount of running was linked to a 27% lower risk of death from all causes when compared to no running. This was the case for both men and women.
Running was also associated with a 30% lower risk of death by cardiovascular disease, and a 23% lower risk of cancer-related death.
You may be thinking, "OK, how much running are we talking here?" Less than you might assume.
Data showed that small bouts running (like once a week for less than 50 minutes at a 10-minute-per-mile pace) was enough to reduce one's risk of death. You could run more than that if you wanted, but the findings showed that "upping the dose wasn't associated with a further lowering of the risk of death from any cause."
If the death-repelling benefits aren't swaying you, there's an ever-growing list of reasons to take up running that surely outnumber any list of excuses. From improved sleep and better bone health to reduced stress and decreased symptoms of depression, running can benefit anyone. You just have to open your mind to it (and put aside whatever fear, angst, or preconceived notions you have about it).
While this analysis doesn't establish cause, just association, the findings are enough to make us hit the streets, pound the pavement, and take the phrase "run for your life" more seriously.