Scientists Just Sequenced The Avocado Genome — But Will They Get Cheaper?
mbg Health Contributor
By Gretchen Lidicker, M.S.
mbg Health Contributor
Gretchen Lidicker earned her master's degree in physiology with a focus on alternative medicine from Georgetown University. She is the author of "CBD Oil Everyday Secrets" and "Magnesium Everyday Secrets."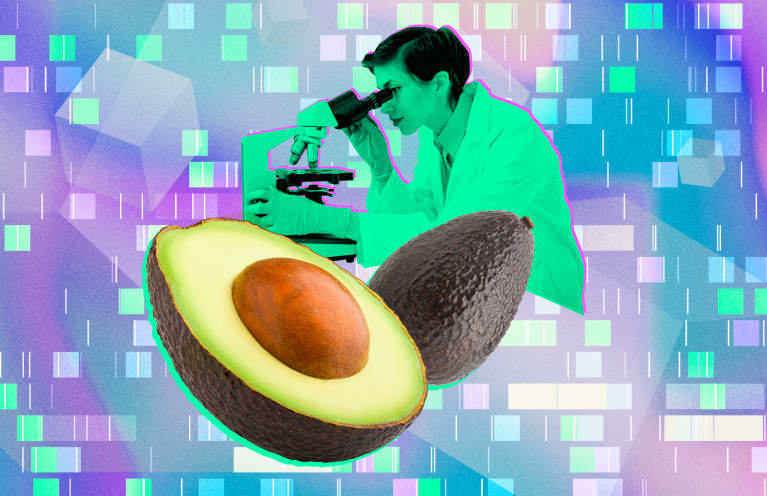 August 7, 2019 — 23:04 PM
Avo toast, guacamole, avocado tea—heck, there's even an avocado cafe in Brooklyn, New York. Everyone's favorite, low-sugar fruit can be put in almost any recipe to add flavor, texture, and, of course, a solid dose of healthy anti-inflammatory fatty acids.
Knowing this, there's no doubt that the popularity of avocados will continue to rise. But avocado shortages, which have driven up prices in a major way, have people understandably worried. Will we be able to support the growing demand?
Well, a new study published in Proceedings of the National Academy of Sciences—that sequenced the Hass avocado genome—is a step in the right direction.
Sequencing the avocado genome.
If you think sequencing the genome of an avocado sounds strange, you're not alone. But did you know that there are hundreds of types of avocados? There are dozens of varieties from Guatemala, Mexico, and the West Indies, which each have different appearances, tastes, and textures.
So why sequence the avocado genome? "The long life cycle of avocados makes breeding programs difficult, so genomic tools will make it possible to create faster and more effective breeding programs for the improvement of this increasingly popular fruit," explained Luis Herrera-Estrella, Ph.D., a professor of plant genomics at Texas Tech University.
In other words, by understanding the avocado's origins, scientists and farmers can adapt growing practices to guarantee more success. The genetic information could also be used to create new varieties of avocados with different tastes and textures.
Supporting the avocado economy.
The results of the study—which was a collaboration between the National Laboratory of Genomics for Biodiversity in Mexico, Texas Tech University, and the University at Buffalo—showed that Hass avocados, which are the most popular avocados in the U.S., inherit 61% of their DNA from Mexican avocado varieties and 39% of their DNA from Guatemalan avocados. "Our study sets the stage for understanding disease resistance for all avocados," says Victor Albert, Ph.D., Empire professor of biological sciences in the U.B. College of Arts and Sciences.
And seeing as the global avocado market was already worth $13 billion in 2017, this is a pretty big deal. In fact, the avocado market is such a big deal that entirely countries rely on it. As Herrera-Estrella explained, "Avocado is a crop of enormous importance globally, but particularly to Mexico."
The knowledge gained in this study may help protect the avocado economy and prevent shortages and the price increases that come with them. Hopefully in the future, our only avocado worry will be how to pick the perfect one.