Scientists Unearth What Makes Bread Taste So Good & Now We're Hungry
mbg Editorial Assistant
By Eliza Sullivan
mbg Editorial Assistant
Eliza Sullivan is an editorial assistant at mindbodygreen. She received a B.S. journalism and a B.A. in english literature from Boston University.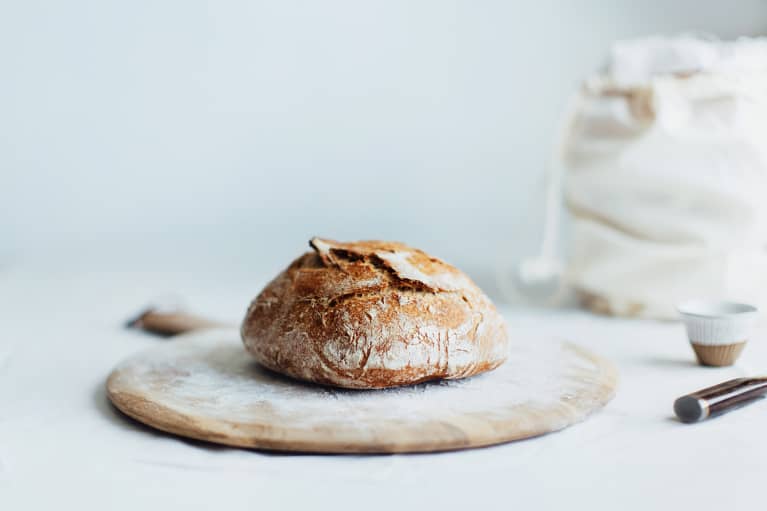 December 13, 2019 — 16:15 PM
Every region has its own particular specialty when it comes to bread, but new evidence is suggesting that where wheat is grown can affect the flavor of bread as much as how and where it's baked.
What did the researchers find?
Scientists at Heinrich Heine University Düsseldorf (HHU) conducted a study designed to help improve the quality of bread, considering both how the types of wheat used and where the crops were grown affected the final product.
The scientists found that differences in aroma are influenced by both wheat variety and origin.
"Some of both the old and the modern varieties produced very tasty breads," said Friedrich Longin, Ph.D., who worked on the project with the University of Hohenheim. "It is fascinating how the breads differ in taste and aroma depending on the wheat variety we used."
The scientists had a master baker, Heiner Beck, make 80 loaves of bread to test 40 varieties of wheat. Two loaves were made from each variety so that the study could also consider how the wheat's origin would affect flavor and aroma across the tests.
The data accumulated by these tests allowed the researchers to develop a process by which they can predict the quality of bread that will come from a particular crop.
"A key aspect of our study is that we have found methods based on molecular markers and the metabolite profiles of the flours which can be used to predict the quality of bread," said Benjamin Stich, Ph.D., a professor at the Institute of quantitative genetics and genomics of plants at HHU.
As the climate continues to change, new varieties of wheat are being cultivated by food scientists to develop higher-yielding, stronger crops. With a majority of wheat being processed into bread, the newer crop varieties also have improved baking characteristics.
This study provides a more efficient way for scientists, producers, and bakers to evaluate the best grains to start from to make amazing bread—something we can definitely get behind. The new process uncovered by this research for predicting quality will save time, money, and resources.
It also showed that newer grains can still make quality product, showing that the innovations in the industry to adjust to changing climates shouldn't change consumer experiences.
The researchers highlight how the results of this study help improve consumer products, as well as how it will help with future innovations in the crop industry. The findings about soil and growing locations' impact on the bread's flavor show that bread, like wine, can have specific characteristics related to its terroir.
Recent years have seen the innovation of single-origin heirloom grains, and small specialty growers have launched some "terroir-labeled" products, but this study's direct comparisons show that the influence of crop origin can be as important as what type of grain is used on influencing flavor.
Are you gluten-free and feeling left out of the new wheat-y excitement? Gluten-free breads have come a long way, and there's such a variety of grains to experiment with, we're feeling like hitting the kitchen right away—gluten or not.