The New Food Label You're Going To Want On Your Radar
mbg Sustainability Editor
By Emma Loewe
mbg Sustainability Editor
Emma Loewe is the Sustainability Editor at mindbodygreen and the author of "The Spirit Almanac: A Modern Guide To Ancient Self Care."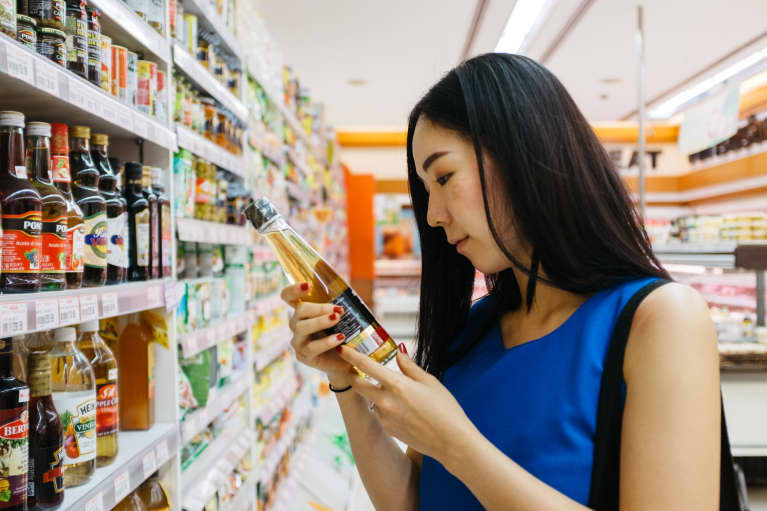 Our editors have independently chosen the products listed on this page. If you purchase something mentioned in this article, we may
earn a small commission
.
The USDA organic label has changed the way Americans eat, serving as a trusted seal for shoppers looking to avoid chemicals and synthetics. As of 2016, nearly 15,000 U.S. farms across 5 million acres had been certified organic. But as the market continues to grow, we're realizing that it isn't doing enough to protect the health of farmland. Regenerative agriculture takes the philosophy one step further, and it's about to be the next label to look out for in stores.
Why is regenerative agriculture important?
It's no surprise that the agriculture industry is a major source of greenhouse gas emissions, pumping out massive amounts of carbon dioxide. The United Nations has boldly claimed that we have only 60 harvests left before traditional farming practices will no longer be viable. However, a growing body of research has found that our soil can actually take back the CO2 it emits and then some.
Farming practices like planting special crops to prevent erosion and infusing the soil with key nutrients have the potential to boost farm health, deliver more nutritious food, and suck up some major carbon emissions. In fact, some experts, like Josh Tickell, who wrote the new book Kiss the Ground: How the Food You Eat Can Reduce Climate Change, are saying that our soil has the potential to sequester most of the CO2 that has been emitted by humanity to date.
"We're in a carbon crisis. We've been walking on the answer the whole time, and we just didn't know," Sara Newmark, the VP of social impact at MegaFood—an early adopter of regenerative practices—tells mindbodygreen.
So why isn't everyone farming this way? MegaFood, along with other major companies like Ben & Jerry's, Danone, and Annie's, are betting it's because there isn't enough credible information out there to help farmers change their ways. They're joining together with advocacy groups Carbon Underground and Green America to put a data-backed, industry-wide standard in place to help growers measure their impact, set new goals, and achieve real results quickly.
"We're really thinking about all different types of ways to make what we know is a solution to climate change—if not the solution—happen fast," Newmark says. "A standard is a key technique to create change. Hopefully this will give farmers tools so they can change or enhance their practices and give brands a way to evaluate a farm or talk to consumers."
Though it's still a work in progress, this standard could eventually feed into a labeling scheme like the upcoming Regenerative Organic Certification (ROC) seal.
Jessica Evans, the director of standards at NSF International, the organization behind the seal, says that shoppers can expect to see it in stores as early as mid-2019. In many ways, it will serve as the next step beyond organic, and farms will need to carry the USDA-certified organic label before they can become certified regenerative. Twenty companies—including Justin's, Thrive Market, Patagonia, and Dr. Bronner—are already piloting the certification.
Evans tells mbg that she expects the label's impact on consumers "will be huge." "Consumers are requesting change and looking for products that are addressing these concerns," she says of climate-friendly growing practices. "Our role is to give consumers that confidence that these products are in line with their values."
How the wellness industry is leading the regenerative movement.
You'll notice that many of the early adopters of these standards and certification schemes are names we cover on mbg often. As we outlined in our 2018 food trends report, wellness-focused brands are embracing regenerative growing practices with open arms. "The natural products industry is really looking to drive change and drive improvement. That's kind of the role the natural products industry has played in the last 50 years. I think it makes sense that we're connecting this science to consumers," says Evans.
In many cases, these brands are also using their platform to educate consumers on why regenerative is the way of the future. Dr. Bronner's new limited edition bottle carries a "Heal Earth!" message and lists reasons we need this agriculture resurgence right on the label. Thrive Market—another brand championing these growing techniques—is super transparent about the regenerative farms that they source from. Their new line of frozen meat—beef from free-roaming cows in Chile, pork grown on a family farm in Georgia—is a great example.
"Ten years ago, these stories would have fallen on deaf ears, but now customers are encouraging us to do even more, which is super exciting," said Nick Green, Thrive's co-founder and CEO, when he recently sat down to tell mbg of the company's sourcing practices. "It puts us in a place where holding ourselves to as high a standard as possible is the best way to do business."
Learn more about regenerative agriculture's potential to reverse climate change here.