The Simple Mindset Shift That Could Help Reduce Physical Pain
Written by
Georgina Berbari
Georgina Berbari is a Brooklyn-based health and wellness writer who reports for mindbodygreen, Elite Daily, Bustle, and elsewhere. She's also a certified yoga teacher through the Yoga Alliance and teaches both yoga and meditation.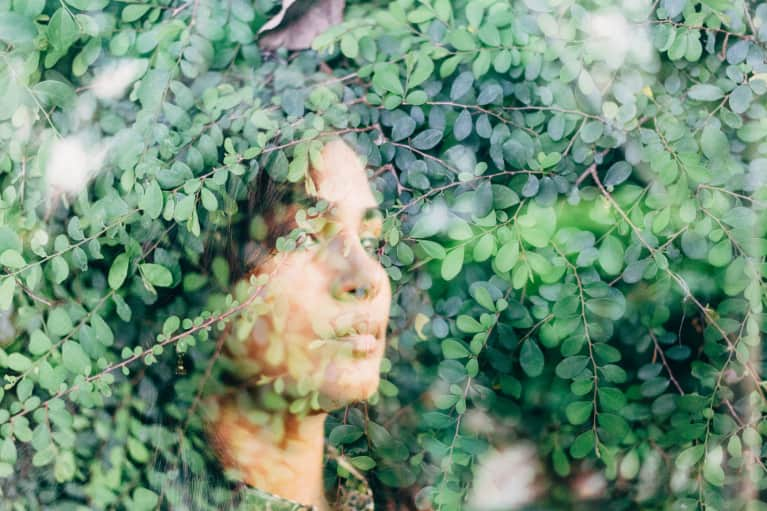 November 16, 2018 — 17:00 PM
Ever since I was a kid, I've been intensely afraid of getting shots: Picture a 6-year-old me screaming so loudly at my annual well visit that the doctor turned around and said, "All right, we'll just do it next time." As it turns out, I wasn't just being a total drama queen (well, OK, maybe a little). According to a new study published in the journal Nature Human Behavior, when people anticipate intense pain, they'll likely feel it—even if the intensity of the pain stimulus itself isn't actually that bad.
Researchers recruited 34 subjects, who they taught two different cues: one symbol that would be associated with high, painful heat and the other with low heat. The participants were then put in a functional magnetic resonance imaging (fMRI) machine for 60 minutes to measure their neural activity while they were shown the low- and high-pain cues and asked to rate how much pain they expected. Then, varying degrees of non-damaging but painful heat were actually applied to either the participants' legs or forearms, though they weren't aware that the heat intensity wasn't actually related to the preceding cue. When the participants were asked to rate their pain, the researchers found that if a person expected the heat to hurt, it did—despite the actual temperature.
When they looked at the MRI images, researchers found that the brain regions involved in both fear and threat were activated as the subjects waited for the stimulus. They felt more pain with high-pain cues, despite how much heat was actually applied.
This goes to show how powerful our brains truly are.
"Pain is an output of your brain, not an input from the body," Dr. Joe Tatta, a doctor of physical therapy and functional medicine practitioner, told mbg. "Many parts of the brain contribute, such as those responsible for movement, emotions, memories, language, sight, sound, smell, hearing, and touch. Your whole brain gets involved with pain. Within a millisecond, millions of brain cells contribute to that decision to produce or not produce pain."
In fact, there are a lot of contributing factors that go into shaping your brain's perception of pain, including "cultural influences, upbringing, beliefs, as well as lifestyle factors like being in shape and eating well," Dr. Tatta explained. That suggests that, in a sense, you may have the ability to control pain. The findings from this study provide considerable evidence of this mind-body connection.
"Our results suggest that negative expectations about pain or treatment outcomes may in some situations interfere with optimal recovery, both by enhancing perceived pain and by preventing people from noticing that they are getting better," said Marieke Jepma, Ph.D., a researcher at the University of Amsterdam and the study's lead author, confirmed in a news release. "Positive expectations, on the other hand, could have the opposite effects."
That's some pretty good news: It suggests we have the power to offset our own physical pain and contribute to our own healing simply by changing our thoughts.
"Just realizing that things may not be as bad as you think may help you to revise your expectation and, in doing so, alter your experience," Dr. Jepma said.
That's brain power.