The Last Thing We Ever Do Is Unsustainable. This Woman Wants To Change That
Our editors have independently chosen the products listed on this page. If you purchase something mentioned in this article, we may
earn a small commission
.
For someone who thinks about death for a living, Katrina Spade is far from morbid. Her company, Recompose, seeks to impart life back into the death care industry by developing a process that converts human remains into fertile soil for growing.
"We're really letting nature do its own job," Spade tells mbg from her home in Seattle. "We create the environment that allows naturally occurring microbes to break a body down using high-carbon materials like wood chips, carbon, and moisture." While this process is a lot like the decay that would naturally occur in an environment like the forest floor, Recompose wants to make it possible in crowded cities and trickier terrains. "We're taking what I think is beautiful about natural burial—which is returning to the earth quite directly—and making it scalable."
The first Recompose facility—part public park, part memorial—will be arriving in Seattle over the next few years. From there, Spade hopes to give those across the country access to a natural return to the earth. While families will still have the opportunity to participate in a traditional burial ceremony, with Recompose they will return to a lush, growing tree or flower plot instead of a tombstone.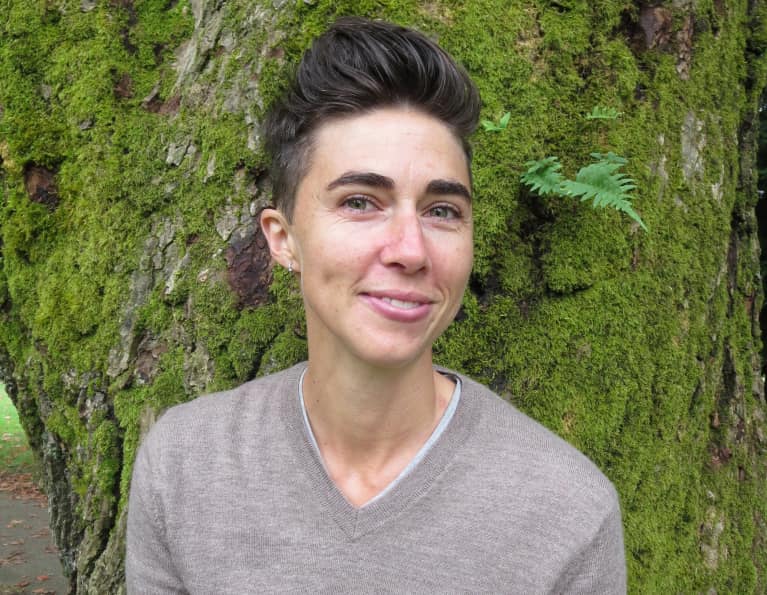 An architect by trade, Spade designed this system to ease the environmental toll of traditional burial. "Right now we rely almost exclusively on cremation and conventional burial, and both of those processes have a significant carbon footprint." She dove into the numbers in her Ted Talk that has garnered over a million views: In U.S. cemeteries, we bury enough metal each year to build the Golden Gate Bridge all over again, enough wood to build 1,800 single-family homes. Cremation takes its toll too, emitting 600 million pounds of carbon dioxide into the atmosphere annually in the United States. Considering that 10,000 people are turning 65 every day in this country, these figures aren't likely to go down anytime soon. As Spade puts it, "The awful truth is that the very last thing that most of us will do on this earth is poison it. I want to push back against these defaults that aren't aligned with our ideals and interests as people."
In an increasingly eco-minded age, Recompose is just one part of the burgeoning conservation burial movement. Other new companies like Bios Urn seek to turn human remains into the soil for a tree, while "progressive mortician" Caitlin Doughty has penned entire books on how more natural forms of burial inspired by other cultures can become the norm in the United States.
Spade only sees this momentum continuing. "There's something really profound about thinking about the last gesture, the last thing we'll do on the planet, and whether that will be something that furthers the next generation or detracts from it."
Psst...here are a few other environmental thought leaders inspiring us right now.