This Thanksgiving Mistake Wastes Major $$$ — Here's How To Fix It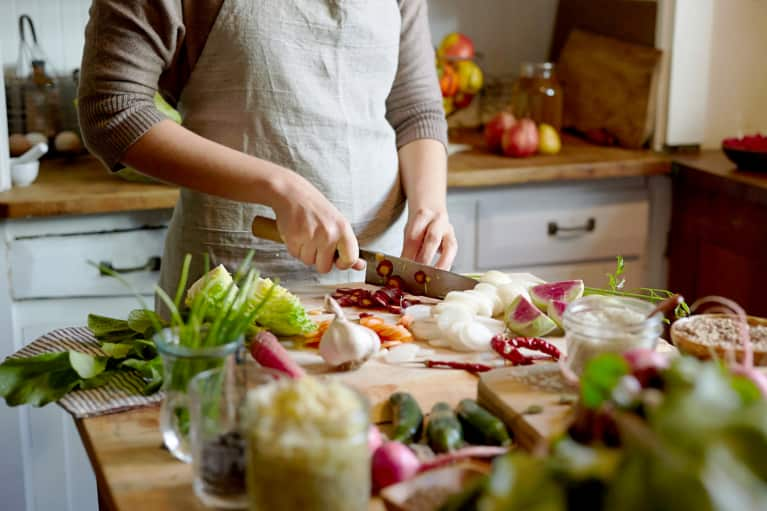 Our editors have independently chosen the products listed on this page. If you purchase something mentioned in this article, we may
earn a small commission
.
This Thanksgiving, let's vow to be grateful for the food on our table—every last bit of it. In an age when a third of the food produced never gets eaten, holidays that call for communal meals are a great opportunity to show off your no-waste cooking skills and set an example for friends and family. Here are a few fun ways to use up common Thanksgiving ingredients that you might have otherwise thrown away. Keep in mind as you're prepping your feast.
Cauliflower leaves and stems
These greens are super delicious. Wen-Jay Ying, the founder of Local Roots, a farm-share subscription company in NYC, recommends mixing them in a bowl with coconut oil, curry powder, and garlic powder and roasting them at 400 degrees for about 10 to 15 minutes, or until they're crispy, for a healthy snack to whip up the day after Thanksgiving.
Cauliflower stems can be saved too. Just grind 'em up into a cauliflower rice to stick in your freezer and have on hand for the next time you're craving a healthy bowl (here's how mbg's food director, Liz Moody, likes to dress hers).
Broccoli stem pesto is a breeze to put together, and you can make a batch to freeze next time you need a quick dinner topper. Scraps, Wilts + Leaves, a cookbook dedicated to using up food waste by Danish chef Mads Refslund, has another genius idea for these fibrous stems in its pages: Cut them into florets and add them to your stir fry for some extra crunch.
Chef, food personality, and author of the new book Cooking Scrappy, Joel Gameron knows his way around a Thanksgiving prep station. One of his top tips? Save the Brussels sprout leaves to fry and used as a garnish on top of soups and salads. Genius.
"The stems have even more flavor than the leaves, so use them as garnish," Ying recommends. "The best way to keep parsley fresh after Thanksgiving is to store them in a glass of water (about halfway full) and keep in the fridge. Change water like you would for a bouquet of flowers." When it comes to any other leftover herbs you have lying around after your feast, you can also salvage those by using them to infuse olive oil.
Didn't use up the whole loaf? Chop the leftovers into cubes and combine them with kale stems and veggie scraps for the ultimate zero-waste stuffing. Ying shows us how it's done here. (Speaking of kale stems, those taste amazing sautéed or grilled, and they're packed with gut-healthy prebiotics.)
Potato peels and squash seeds
According to Gameron, these can be turned into the underrated Thanksgiving appetizer you need in your life. "Potato peels and autumn squash seeds can be tossed with oil and roasted in the oven until crisp (don't burn; otherwise, they will become bitter. These can be served as the perfect little snacks as people arrive," he says. Check out the technique here.
Another tip from Scraps, Wilt + Leaves: Use the peels that didn't make it into your pie to flavor a tea that you can drink after the festivities have died down. Add some gut-healthy spices like cinnamon and nutmeg to help with digestion.
Ying and Gamoran both have unique ideas for everything-but-the-kitchen-sink dishes to make with any miscellaneous scraps you have lying around. Gameron likes to throw it all into a gratin that incorporates veggie scraps sauteed with garlic and leftover herbs, a béchamel sauce, and some milk topped with cheese and breadcrumbs and baked.
Ying says that ramen is another unexpected crowd pleaser: Use your turkey bones for the stock and veggie scraps and leftover eggs as add-ins.