What's In My Freezer With Rachel Mansfield, Healthy Recipe Developer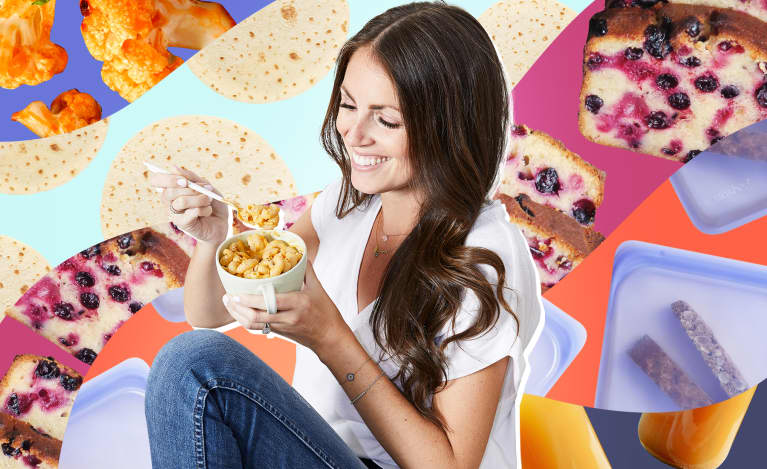 Our editors have independently chosen the products listed on this page. If you purchase something mentioned in this article, we may
earn a small commission
.
It used to be that the fridge got all the glory when it came to stocking it high with healthy eats. But in our new normal, where grocery trips are few and far between and there's never a guarantee of what's on the shelves, the workhouse of our kitchens is getting its due. In our new series "What's In My Freezer," we're taking a look at the freezers of some of the biggest names in well-being to see what they're stocking up on—and how they're making dinner of it.
Rachel Mansfield is no stranger to a packed fridge. In fact, it's been a key tool as she was developing a lot of food at once for her new cookbook, Just the Good Stuff. But things have changed lately. "I'm used to going to the store almost every day, so now that we're limiting trips to get groceries, I'm planning and thinking ahead to get food for about 10 days," she says. "I want to make sure I have enough to feed my husband Jordan, my son Ezra, and my brother, who lives right next door."
"My freezer before was primarily made up of baked goods," Rachel jokes. Now she's stocking it with frozen veggies, fruit, meats, and prepared foods like burritos and, yes,—even frozen pizza.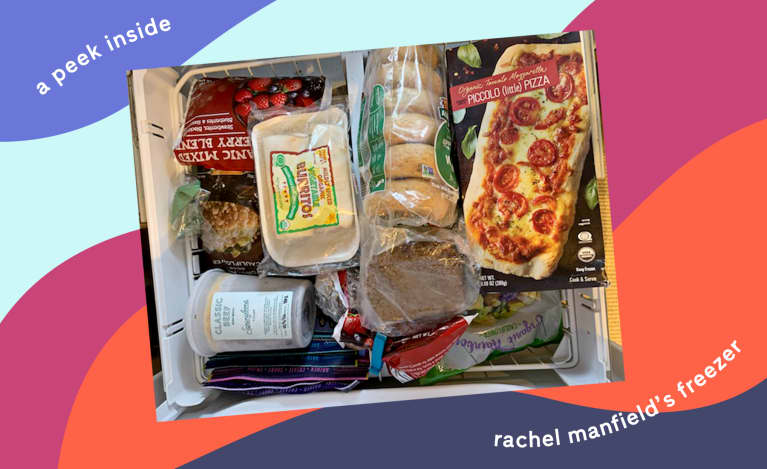 Veggies: I have all types, but right now I'm into rainbow cauliflower. I like to make buffalo cauliflower and maple sesame cauliflower with it.
Meat: I'm really particular about the meat I bring into our house and like to order from Butcher Box. I do grass-fed and finished beef, wild fish, antibiotic and hormone-free chicken, organic chicken sausage, and organic turkey.
Berries: I'm not a big fruit person—I like mangos, apples, and bananas, but my husband is a big smoothie fan, so he likes having organic berries on hand. I also like keeping organic blueberries around to bake into banana bread. I make sure there are no added sugars in whatever I'm buying.
Baked goods: I store all my baked goods in Stasher bags—banana breads, muffins, anything from the oven.
Homemade meals: Because I thought I was going away on book tour, I had been filling the freezer with meals for Jordan and Ezra for while I was away. I'll cook big batches and freeze what's left over.
Tortillas: Specifically Siete tortillas. Every time we stock up, I store them in the freezer so I can pull out two packages at a time; we go through them so fast!
Pizza: I found these frozen organic ones from Trader Joe's. and the ingredients were great. Every time I see a prepared food, I look at the ingredients and think "If I were to make this from scratch, would I use these ingredients?"
Stock: I love bone broth. My friend Sam owns Springbone, and he sent over a batch recently.
Frozen bread and bagels: I love bagels; I eat them almost every day for at least one meal. We go to the local bagel place and stock up. I also always have sourdough bread and the Erewhon paleo bread.
How she makes meals from it:
Breakfast baked goods: Pretty much every morning, Jordan, Ezra, and I have some kind of baked good from the freezer, with coconut yogurt and a nut butter.
Quesadillas and burritos: We make a lot of quesadillas, with the tortillas, meats, and vegetables from the freezer. I also freeze smoked salmon, and I'll put that in a tortilla with eggs and avocados.
Leftovers: I'll freeze and defrost anything—meatloaf, chili, chicken tenders, pesto, even leftover rice. You can honestly freeze anything that's not carbonated.
Chicken for two nights: Every Sunday we pull things out of the freezer and do food prep, then eat from that. I like to make a bone-broth-poached chicken on Sunday, and then the next day I use the shredded chicken and put it into quesadillas. I like to use up what we have first before I spend money on more food.
Sandwiches: I use the bacon from the freezer and the sourdough bread and fry up some eggs to go with it. We're a big breakfast-for-any-meal-type family. I'll also make tuna melts or grilled cheese with the frozen bread using avocado and grass-fed cheddar. I'll even take the almond flour tortillas and eat those with peanut butter or almond butter and banana.
No boil pasta bake: I take defrosted ground meat and fry it in a skillet, then pour dried pasta, a can of sauce, dairy or nondairy cheese and bake it. It's the easiest dinner ever.