Instagram vs. Reality: How To Separate Trends From Personal Style At Home
mbg Sustainability Editor
By Emma Loewe
mbg Sustainability Editor
Emma Loewe is the Sustainability Editor at mindbodygreen and the author of "The Spirit Almanac: A Modern Guide To Ancient Self Care."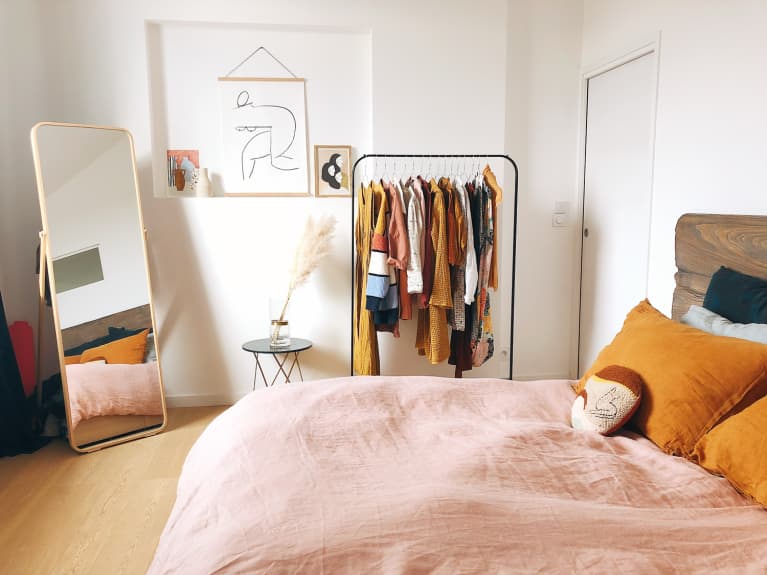 I recently moved into a new apartment and promptly filled it with the classic millennial milieu of candles, plants, and nature prints. It has dark woods and light walls, midcentury furniture topped with clay ceramics. I love my home—don't get me wrong—but I can't help but wonder how different it would look if it weren't for Instagram.
I follow a lot of designers, artists, and everyday people who happen to have pretty homes, so my feed has become a deluge of gallery walls and kitchen reveals. And while no two rooms are ever the same, a lot of them are similar. In what is probably a rebuttal to an overstimulating, increasingly chaotic news cycle, the typical home I see is more minimalist and subdued, filled with cozy, inviting fabrics—with a pop of personality and humor here and there (this pillow, for example, is everywhere).
And, of course, there's nothing wrong with emulating this aesthetic or following design trends in general (except when they promote a wasteful consumerist mindset, but that's a different story). But one of the most beautiful things about inhabiting a space is making it all your own. While we may not have a say in where our office is or what our commute looks like, we can exert almost complete control over the look and feel of our home. It's a deeply personal arena, so why don't we take it more personally?
An exercise in homing in on your home style.
Alessandra Wood, Ph.D., a design historian and VP of style at online interior service Modsy, has spent years studying and considering great design. She agrees that all the inspo we have on tap these days may be watering down some of our innate instincts. "One thing I've learned is that sometimes it's hard to tell the difference between what you love because it's a trend and what you love because it really resonates with you," she says.
Part of it is the sheer number of images we see on a daily basis and the fact that they keep getting better. "It's easy to recognize a beautiful image, even if that image is not your style," Wood explains. "As you're looking through Instagram and Pinterest, it's not uncommon for you to like and collect these images that are in and of themselves beautiful—but may or may not be how you would want to decorate your home."
To get to the root of your personal style, she recommends looking at these photos more critically. Use your next night or weekend in as a time to gather some of your favorite inspirational imagery—be it on a Pinterest board, Instagram saved grid, or collection of screenshots on your phone—and start to identify what Wood calls their "top qualities." Look over each photo and consider why you were drawn to it. Is it the color palette? The artwork? The furniture style? Or just the image itself? Either way, write it down. "After you go through a number of images," Wood says, "you'll start to recognize patterns or shared qualities in the images you like... Once you know those key words and qualities, you can pursue them deeper."
The insights you pick up through this exercise can then guide your next big home redesign or smaller seasonal touch-up. As we head into winter, for example, it's a great time to stock up on cozy pillows, rugs, and towels.
The nice thing about this technique is you can do it as often as you like. While we may be lifelong lovers of certain styles, other home preferences will change with time. "I believe that the more you expose yourself to other styles and the more that you read about design, follow designers, or travel, the more influence that has on your space," Wood says.
To make room for evolving tastes, she recommends buying high-quality pieces that can be easily resold once you find yourself drawn to another style. Putting your money toward things that are made to last leave will you some wiggle room and help the planet out too. "As long as you're buying and investing in pieces that are high-quality, they'll always have a secondhand value to them," Wood emphasizes. "That's something we don't often think about when we're buying our furniture up front."
At the end of the day, your style—like your personality, relationships, and outlook on life—is always evolving. Your home should be able to keep up. Now if you'll excuse me, I'm going to go buy a dolphin portrait that is hideous to everyone but awesome to me.