Moving To Paradise Isn't All Fun & Games. Here Are 6 Things Nobody Tells You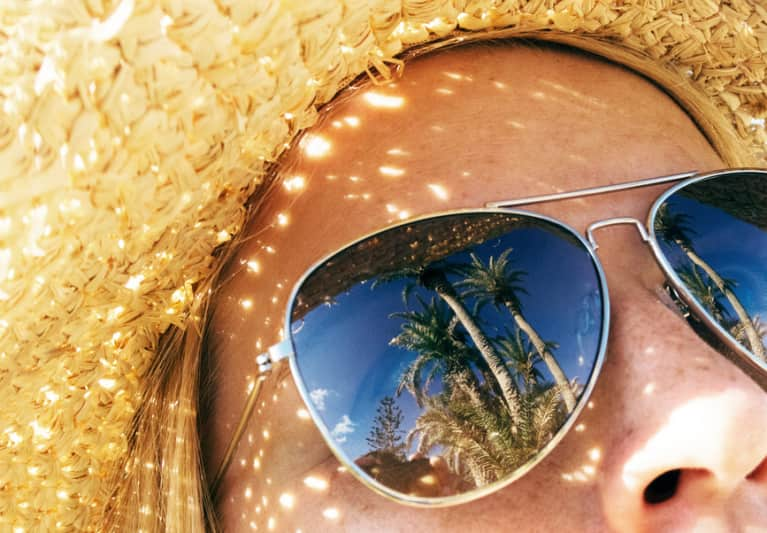 You wake with the sun, your alarm clock long forgotten. Donning your swimsuit and a brightly patterned muumuu, you mosey out to the pool. You settle into a comfortable chair, leisurely crack open your laptop, and prepare for a day's work, punctuated by cooling dips and fresh fruit platters.
Social media would have you believe that being a digital nomad in paradise is, well, paradise. However, the dream doesn't always sync with reality, as I learned when I picked up and moved to Costa Rica in 2012. Before you pack up your sandals and floppy hat, ask yourself these key questions—and be honest about the answers:
1. Am I willing and able to learn a language while immersing myself in a new culture?
You learned French or Spanish in school—how hard could it be? In my experience, it's easier said than done, but putting in the effort to learn the language means that you really care about joining a community.
Being unable to speak the local language can be really isolating. Even if you're not fluent, though, the mere fact that you try can have a positive impact on your relationships. My Spanish is passable but not perfect, and I once apologized to a new doctor, who told me, "Oh no, you speak great. The last person who was in here has lived here 10 years and still can't speak any!" So throw your anxiety and embarrassment about the funny way you roll your r's out the window and just try. I promise, you'll feel much more at home.
2. Do I know what life I really want, and am I willing to make sacrifices for it?
When I moved to Costa Rica, it was in pursuit of a healthier, more peaceful, more sanguine existence. However, upon arrival, I found it really easy to fall into the "spring break" lifestyle. It didn't last long—it wasn't sustainable, nor was it in alignment with my values. I had no desire to waste my days drinking, smoking, and helping my friends score a bag of weed. It felt like they were on a perpetual holiday where the party never ends. While that may be paradise for some, it forced me to take a long look at my choices and start drawing up the blueprints for my own version of paradise.
To live my one happy, healthy, and harmonious life, I had to make some major shifts and let go of some friendships along the way. While I believe in being open-minded, I needed to set some boundaries for myself. What does harmony look like to you? Do you need to let go of the things—or people—keeping you from it?
3. Who will I turn to for support when things get tough?
It's worthwhile to connect with your innate wisdom and the ability to tap into it, but it's essential to know who else you can ask for help when you need it, too. No one is an island (even when you're on an island), so who are your closest friends and confidantes? Is your family in support of your big move? How will you stay in touch with the ones you love?
Then there are the institutions and services you rely on: your bank, your lawyer, your doctor or therapist. How can you maintain connections you may need to call on while abroad?
Life is unpredictable even in a familiar environment, but throw in a new language, customs, and emotional stumbling blocks, and you're bound to encounter challenges. You're leaving your comfort zone, so make a list of everyone in your corner before you board that plane.
4. Am I moving, or am I running away?
I've met a lot of people here who were running from something back home. And so they dove into what seemed like the perfect solution: Costa Rica, the pura vida, a glowing oasis where problems fade into a picture-perfect sunset. But your problems will follow you no matter how idyllic the paradise—and most of the time, they multiply. Take some time to think about your reasons for wanting to live and work abroad. Are you running toward something? Or away from something else?
5. Am I prepared to experience a brand-new set of issues—even things I would never encounter in my home country?
Not all challenges in paradise are easy to handle. As a white woman in the United States, I was fortunate to not experience overt racism or sexism. Being a white woman in my current male-dominated, machismo-driven society, it's a daily double whammy of both. It's been a major adjustment to feel seen as an object and perceived as "less than," both in my personal life and as an entrepreneur.
While people often think of Costa Rica as the "Switzerland of the Americas," safety and security have been a concern of mine here. I've been robbed three times since moving. The cop who took the first burglary report started stalking me. I've had friends held up at gunpoint. I've known people who have been murdered. Read up on the safety of the area you're entering. Is it OK for you to walk around alone at night, or should you take taxis after dark? Do you need extra security? Where will you put your valuables? These harrowing experiences have taught me to accept that life is imperfect and nothing lasts forever—but I'd rather not have learned those lessons the hard way.
Income generation is another key piece of your life abroad. How will you make enough money to thrive? In your home country, where you speak the language fluently, you can probably find easy ways to network. Moving and shaking in a new country is a horse of a different color. When you do find clients or sources of income, how will payments and banking work? Are there restrictions to working in your new country or extra taxes or fees to consider?
Staying in your own 'hood for the foreseeable future? Here's how to make your day-to-day routine feel like a vacation.