The World's First 'Zero-Waste Flight' Just Landed In Australia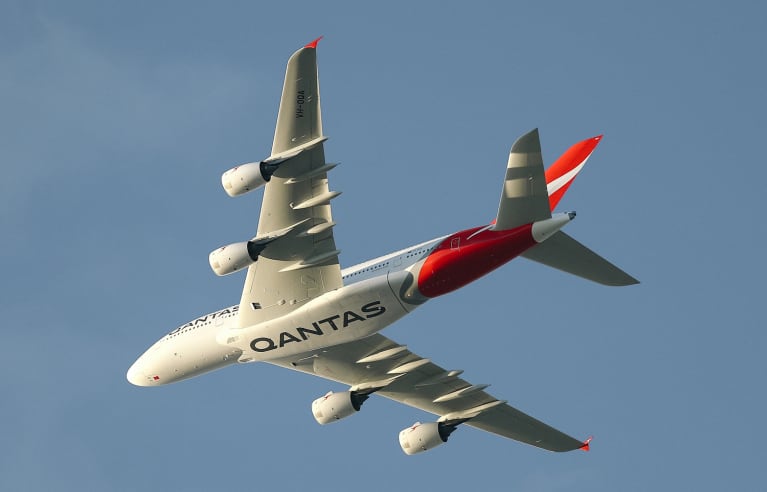 Think back to your last flight: In addition to dehydration and jet lag, you probably exited the aircraft with a pile of trash in your wake.
In our annual travel trends, mbg predicted that 2019 would be the year airlines finally start cutting back on single-use waste, and Qantas just took a major leap in that direction. Today, the Aussie carrier landed the first flight to send zero garbage to landfill.
Passengers on the journey from Sydney to Adelaide were served their breakfasts in compostable packaging made out of sugar cane, alongside cutlery made of crop starch. "These products will be turned into compost and used in gardens and farms across the country," Andrew David, CEO of Qantas' domestic division, told the Sydney Morning Herald. All beverages were served in recyclable paper cups, and individually wrapped packages of milk and Vegemite (this is in Australia, don't forget) were not offered.
While today's journey was only two hours long, the airline hopes to soon give all its planes the same zero-waste makeover. It's all in an effort to cut down on the estimated 80 Boeing 747 planes per year Qantas and partner carrier Jetstar could fill with the waste they create onboard.
"We see how much waste there is physically every day, and it is kind of sickening," Maddie Rowcliff, a Qantas flight attendant, told the Herald, voicing her support for the change. "And we are already in an industry that is not very environmentally friendly."
If all goes to plan, these tweaks will save Qantas 100 million single-use plastic items by the end of 2020. "We want to give customers the same level of service they currently enjoy but without the amount of waste that comes with it," David said in a news release. Cheers to cleaning up an unnecessarily trashy industry. Now if we could only speed up the timeline on biofuels...