Close Banner
Advertisement
This ad is displayed using third party content and we do not control its accessibility features.
Is Purple Blush The Secret To An Effortless, Wind-Swept Glow? Makeup Artists Explain

Beauty & Health Editor
By Jamie Schneider
Beauty & Health Editor
Jamie Schneider is the Beauty Editor at mindbodygreen. She has a B.A. in Organizational Studies and English from the University of Michigan, and her work has appeared in Coveteur, The Chill Times, and Wyld Skincare.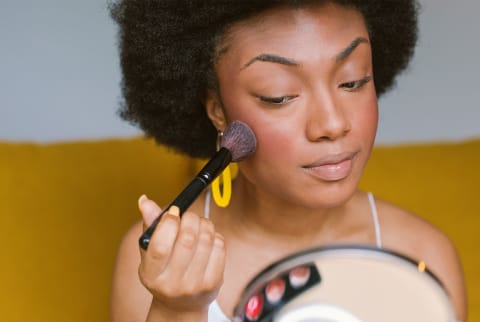 Image by Ani Dimi / Stocksy
We carefully vet all products and services featured on mindbodygreen using our
commerce guidelines.
Our selections are never influenced by the commissions earned from our links.
Imagine: You burst into a holiday gathering, your complexion exuding a rosy flush half from the brutal winds and half from rushing on to the scene (fashionably) late. It's a special sort of glow, one that makeup lovers attempt to emulate just right with blush. With a concentrated pot of pigment, you can hold on to your rosy tint no matter the season—and without the windburn.
As for the best blush to top your cheekbones, well, that's up to you to discover The One. But this year, a slew of beauty fans have uncovered the secret to that effortless, wind-swept glow: a majestic purple. Plum, lilac, violet, berry—the people are turning toward the color family for a cool, wintertime beat. Dare we call it a royal flush?
Why beauty fans are flocking to purple blush.
Like most beauty trends of late, purple blush recently swelled on TikTok—particularly this viral video of makeup artist Alessandro reviewing Rare Beauty's Soft Pinch Liquid Blush (it's racked up 4 million views and counting). "This is looking way more natural than I expected," he notes, blending the violet hue until his cheekbones appear rosy.
He's not the only one to find the color family intimidating at first glance. "People don't 'blush' and turn purple when their crush walks by," says makeup artist Alexandra Compton, product development manager at Credo. "It's usually a soft pink or red tone, which are tones we gravitate toward in makeup." So you might brush off a pan of royal purple, leaving it to the more avant-garde consumers to create intricate, editorial works of art.
But make no mistake: Purple blush is very wearable—even more so than a pink hue, some go as far to declare. Particularly for darker skin tones, a warm purple hue fuses to the skin and leaves a rosy finish, whereas a soft pink can often fall short. On that note: Makeup lovers have been swearing by berry tones for years; it's not a "new" trend in the slightest, but you can play around with different purple shades to give it a cool, wintertime spin.
For example: "Some [purple blushes] have a lot of pink or red tones, giving them a pink blush-like appearance," says makeup artist Naseeha Khan, co-founder of CTZN Cosmetics. These are your magentas and violets, and they work best on those with warm and olive undertones. For those with fair skin with cooler undertones, a lilac or lavender is your best blusher—a warmer shade can make your complexion appear a bit ruddy. Cooler purples can also flatter deeper skin tones with yellow or olive undertones, says Compton, but there's a fine line here; if your purple leans way too cool, you might wind up with a gray-looking finish. Not all purples are created equal—know and love your undertones, folks.
How to nail the look. 
It might take a few rounds of color theory testing to find your go-to hue (allow me to emphasize the shade matches above), so celebrity makeup artist Dillon Peña advises taking it slow. "I would opt for a sheer blush and build," he says. Khan concurs, especially if you're working with liquid blush stains: "Apply a small amount at a time, because it's difficult to blend out once it sets into the skin," she explains.
As for the actual application, apply the blush as you would any other pigment: A C-shape from the temples inward for lift, a dab on the apples (directly under the pupils) to create a youthful fullness, on the eyelids for a monochromatic moment…blush techniques run the gamut. To blend, Compton recommends opting for a flatter buffing brush to soften the concentration of color and slowly build, especially if your purple is much more pigmented than blushes you're used to. She then suggests topping your blush with a sheer purple highlighter, like Olio E Osso's Tinted Balm in No. 7, to give the look an icy, holographic glow—it practically sings winter glam, in my humble opinion.
A final caveat: If you have cool undertones and are dealing with dark circles, Peña actually recommends staying away from a cool purple blush. "If you're putting a blue or purple tint next to a [dark] under-eye, then it's going to enhance that a little bit," he says. A hit of concealer can quickly make this a nonissue, but just something to note in case your makeup look is more of a blush-and-go (as someone who considers blush her desert island makeup grab, I appreciate the flag).
Regardless, purple is arguably the most versatile blush product out there: Name another pigment that can nail a natural-looking flush, a vampy, moody vibe, and a cool, jewel-toned beat. All are divine for the wintertime; these picks below will surely make an impact at your holiday soiree.
Tata Harper Vitamin-Infused Cream Blush in Flirty
We at mbg beauty just adore Tata Harper's cream blush set, and this deep berry number is especially dreamy. For this formula in particular, I'd use your fingertips over a buffing brush—the pigment glides so effortlessly and immediately sinks into your complexion. It also appears quite sheer, so it's perfect for purple blush newbies testing the waters. Tap and build how you see fit.
Vitamin-Infused Cream Blush in Flirty, Tata Harper ($42)
Tata Harper
Rare Beauty Soft Pinch Liquid Blush
This beautiful liquid blush has a matte finish (no shimmer whatsoever), which helps it look incredibly natural on the skin. The violet shade looks divine on warm and olive undertones, and all you need is a couple of dots to land a rich impact. With its stainlike finish, a little goes a long way.
Soft Pinch Liquid Blush, Rare Beauty ($20)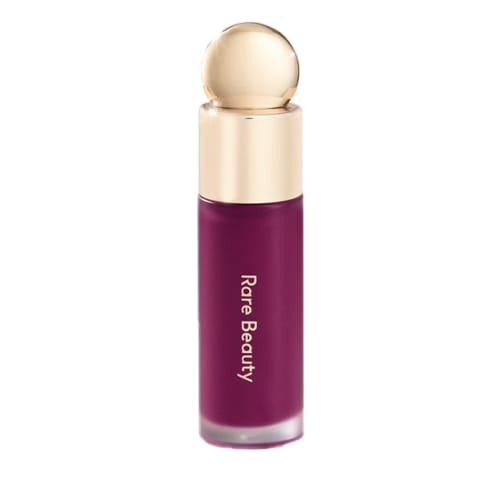 Rare Beauty
EM Cosmetics Color Drops Serum Blush
Infused with sacha inchi oil, squalane, vitamin E and hyaluronic acid, these lilac color drops create the dewiest glow—and without any shimmer or glitter, it looks oh-so-natural. Dubbed a "serum blush," it has a very thin, spreadable texture that's easy to build. Apply one or two drops onto your cheeks, then tap with your fingertips or bounce with a beauty sponge to blend.
Color Drops Serum Blush, EM Cosmetics ($25)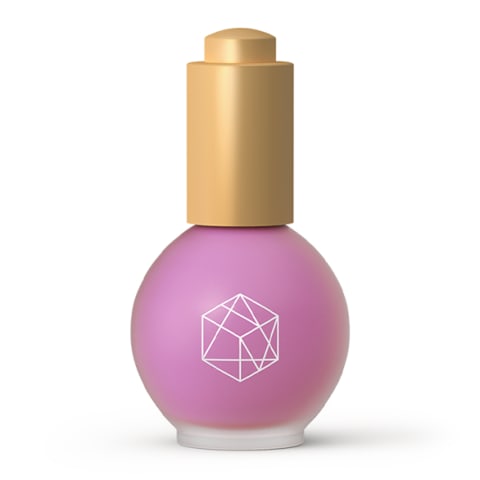 EM Cosmetics
Beauty Pie Supercheek Cream Blush
This pillowy texture can't be beat: It feels just as plush in the pan, under your fingertips, as it does gliding across your cheekbones. It also features a mattifying powder to keep the look completely shine-free—feel free to top the blush with highlighter to add in some dew, if you so choose.
Supercheek Cream Blush, Beauty Pie ($30)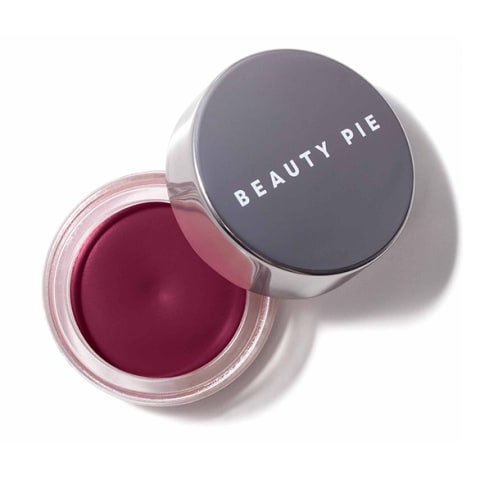 Beauty Pie
Milk Makeup Lip + Cheek Cream Blush Stick
For an effortless swipe and go, this berry blush stick is your go-to. Either stamp the pigment directly onto your cheeks (and lips and eyelids for a monochromatic look) or use your fingertips to transfer the color for a subtler payoff. The mango butter, avocado oil, and apricot oil quench thirsty skin, too, which only adds up to a brighter glow.
Lip + Cheek Cream Blush Stick, Milk Makeup ($20)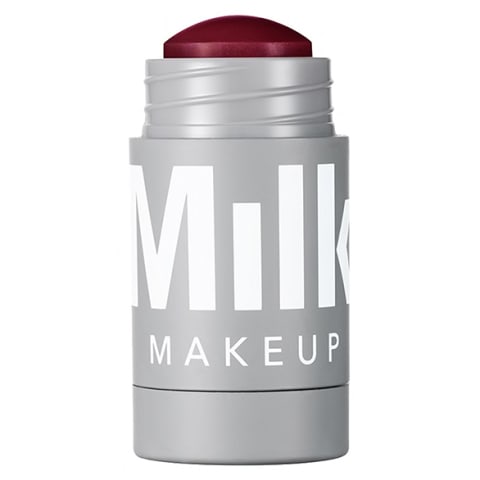 Milk Makeup

Jamie Schneider
Beauty & Health Editor
Jamie Schneider is the Beauty Editor at mindbodygreen. She has a B.A. in Organizational Studies and English from the University of Michigan, and her work has appeared in Coveteur, The Chill Times, and more. In her role at mbg, she reports on everything from the top beauty industry trends, to the gut-skin connection and the microbiome, to the latest expert makeup hacks. She currently lives in Brooklyn, New York.