Want To Help Reverse Global Warming? Add This Food Group To Your Diet
mbg Associate Movement & Wellness Editor
By Ray Bass, NASM-CPT
mbg Associate Movement & Wellness Editor
Ray Bass is the associate movement and wellness editor at mindbodygreen and a NASM-Certified Personal Trainer. She holds a degree in creative writing from the University of Pennsylvania, with honors in nonfiction.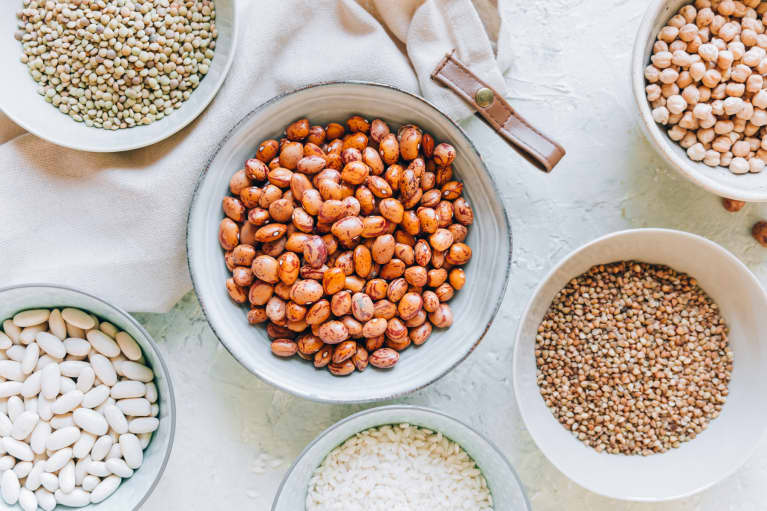 While there's still some debate over whether meat is good for our health, its impact on our environment is undeniable: Studies show that meat production has led to a stark increase in greenhouse gas emissions and that producing 1 pound of beef requires 1,857 gallons of water. Plants, on the other hand, require 0.1 percent of that and have virtually no carbon footprint.
But not all plants are created equal, and there's one category whose sustainable accolades fall a cut above the rest: pulses. Yes, pulses.
If you're scratching your head, pulses are a superfood category that includes chickpeas, lentils, dry peas, and beans. Not all legumes are pulses. (Peanuts, fresh peas, fresh beans like green beans, and soybeans don't fall within the category.)
Beyond containing tons of plant protein and fiber at a low price point, pulses are one of the most environmentally beneficial foods out there. You see, when typical crops like wheat and corn (cereal crops, as they're colloquially called) are harvested, they tend to rob the soil of nutrients. So if farmers keep planting cereal crops in the same place over and over again (an agricultural practice that's known as monoculturing), the soil becomes depleted, and over time that soil will produce less nutritious food.
Pulses, on the other hand, don't require nitrogen fertilizers to grow. As Food Tank, a nonprofit focused on promoting an environmentally, socially, and economically responsible food system, wrote on mindbodygreen, "Pulses reduce the use of fossil fuels since they don't require nitrogen fertilizers. (A main component of nitrogen fertilizer is natural gas—a fossil fuel.) Growing pulses also makes soils more fertile, reducing the need for fertilizer."
Yep, pulses actually help the soil that they're planted in. According to Tim McGreevy, CEO of the US Dry Pea and Lentil Council, pulses support a healthy and diverse farm system. Instead of calling on nitrogen fertilizers to fuel their growth, pulses capture nitrogen from the air and the ground and bring it back into the soil. "Pulses bring a whole different set of bacteria to the soil and microbes," McGreevy explains. "Every other plant in the kingdom draws nutrients from the soil, and if there are no nutrients, they do terribly. [Pulses] pull nitrogen from the air into the soil and store it like fat cells."
Not to mention, pulses are super water efficient because they're dry harvested.
To McGreevy, the potential impact of pulses is limitless and long-term, from stalling climate change to curbing world hunger. "Pulse crops will play an absolutely critical role in health and nutrition in developed countries as well as around the world. They'll play a huge role in food security around the world, especially since they can be grown in so many different climates."
So in terms of what we can do as consumers to support this type of agriculture, it's as simple as buying and eating more pulses. There are tons to choose from, all with different flavor profiles (think chickpea curry, lentil soup, and black bean tacos), and we bet they'll only become more popular as plant-based alternatives made with pulses, such as Ripple Pea Protein milk and Beyond Meat burgers, continue to appeal to the 44 percent of the population trying to eat less meat and 57 percent trying to eat more plant protein. McGreevy also predicts that as the demand for pulses rises, pulse blends will start to pop up, including breads made of both wheat and pulses, and even meat/pulses combinations.
Considering the global population is rising rapidly, sustainable food sources like these will only become more important, so watch (and eat!) this space.