Babies In New Study Cried 50% Less After Taking This
mindbodygreen Editorial Assistant
By Sarah Regan
mindbodygreen Editorial Assistant
Sarah Regan is a writer, registered yoga instructor, and Editorial Assistant at mindbodygreen. She received her bachelor's in broadcasting and mass communication from SUNY Oswego, and lives in Brooklyn, New York.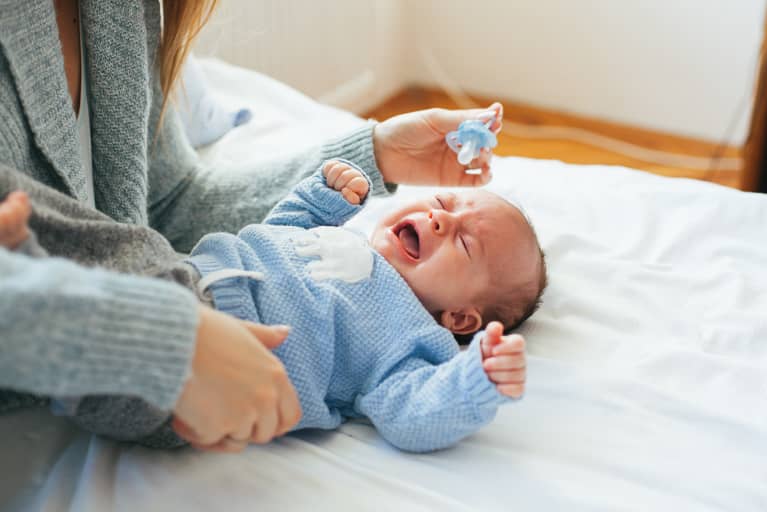 Our editors have independently chosen the products listed on this page. If you purchase something mentioned in this article, we may
earn a small commission
.
December 5, 2019 — 1:04 AM
The effects of probiotics on infant colic.
Researchers at the University of Naples Federico II, in Italy, originally hypothesized that gut bacteria played a role in infant colic and set out to determine whether administering probiotics would help.
The study was made up of 80 infants, and over the course of four weeks, one group of 40 received a specific probiotic strain, while the other 40 received a placebo. And the results would indicate researchers were on to something when they considered gut health.
Of the 40 infants who took the probiotic, 80% of them saw at least a 50% decrease in crying episodes after the four weeks were up. And what's more, none of them "relapsed," or regressed to excessive crying after that.
Additionally, researchers found the infants who'd taken the probiotics were sleeping longer (a win-win for baby and parents!), and they were pooping more frequently and consistently (another win, because, of course, constipation is going to upset a baby).
The placebo group, on the other hand, did not experience the same degree of reduced crying, with an average reduction of just 32.5%.
To be clear, colic doesn't really do any physical harm (except maybe to our ears). But it goes without saying that if a baby won't stop crying, parents are going to want relief. Especially considering, as the study notes, infant colic is associated with a ton of undesirable stuff like parental guilt or postpartum depression.
Roberto Berni Canani, M.D., Ph.D., the study's senior author, says, "Our study provides evidence on the important role of gut microbiota as a target of intervention against infant colic."
As we learn more and more about gut health as it relates to overall well-being, these findings support the importance of good bacteria and healing your gut, no matter how old.
Choosing probiotics for your baby.