Here's Why Babies Might Need A Morning Coffee, Too
Written by
Caroline Muggia
Leigh Weingus is a New York City based freelance journalist writing about health, wellness, feminism, entertainment, personal finance, and more. She received her bachelor's in English and Communication from the University of California, Davis.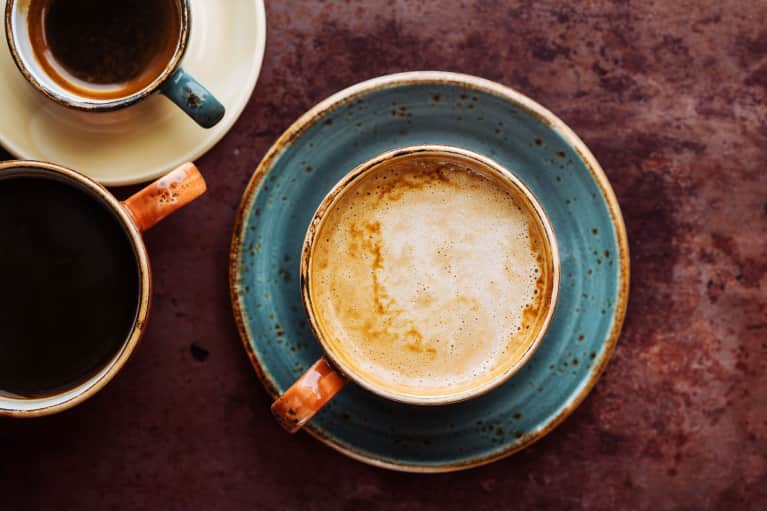 You may know that person (or be that person!) who thinks they cannot live without their morning coffee. Sure, we really love our coffee and tea over here at mbg, but it's not life or death. But it turns out, our littlest humans really do depend on caffeine—and they need it first thing.
A new study published in Pediatrics found that premature babies who were given caffeine as soon as possible after they were born, even a few hours after, had lower neurodevelopmental impairment and no long-term side effects compared to those given caffeine a few days after.
Around 2,000 neonates born before 29 weeks were divided into an early caffeine group (given caffeine within two days) and a late caffeine group (given caffeine after two days) and tested for heart defects, chronic lung disease from artificial respirators, and neurologic issues. The babies in the early caffeine group had lower rates of neurodevelopment issues than those in the late caffeine group.
Believe it or not, "Caffeine is the most commonly used drug in the neonatal intensive care unit after antibiotics," said the lead researcher of the new study, Abhay Lodha, M.D.
Lodha is supported by her previous study in 2014, which found that babies who were given caffeine within two days of birth had a shortened amount of time spent on breathing ventilators. Premature babies are often susceptible to lung issues and require breathing support due to underdeveloped lungs. Unfortunately, these ventilators can cause damage to fragile lung tissue, so if a little caffeine could be the fix, why not?
The recent study out of the University of Calgary accounted for concerns about long-term effects by surveying data from thousands of toddlers who had been given caffeine as babies and found no adverse effects on language or cognitive skills and motor development.
We're sitting here wondering if there are long-term effects on our one cup a day and if we have some miraculous health benefits coming our way? Well, actually, research has found caffeine to be linked to a longer life, a faster metabolism, a reduced risk of Parkinson's and cancer, and more stable insulin levels.
While we are excited to hear there are even more reasons to love caffeine, the researchers point out that caffeine should not be given to non-premature babies, as it could have unwanted side effects.