I Gave Birth In A Pandemic: Here's What I Learned During My Pregnancy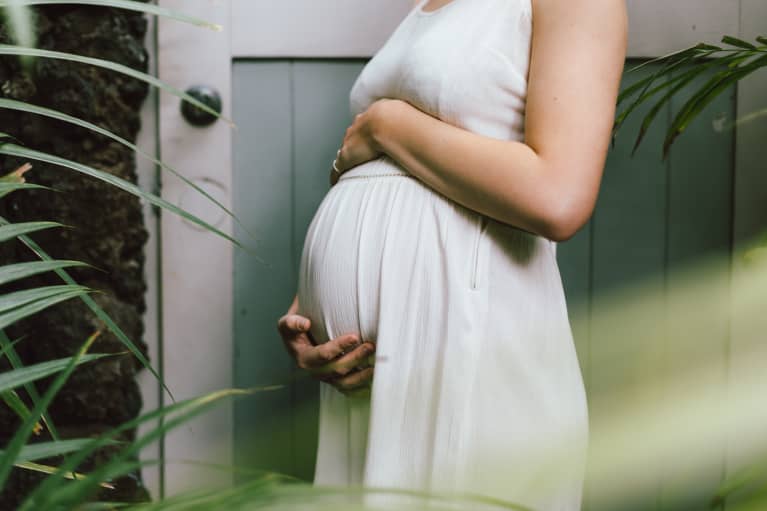 "Every pregnancy is different." This is something women often hear when trying to get pregnant, getting pregnant, and during delivery.
So, what does that mean exactly? For everyone, the answer is something you can't foresee until it's actually happening to you. Little did I know I'd be discovering the mystery of my pregnancy right in the middle of a pandemic, while living in the U.S. COVID-19 epicenter, New York City.
Despite this situation, one thing I knew I could have control over was the way I approached my pregnancy and managed my stress. In each trimester, I leaned on different techniques to reduce any anxiety that came up, including dealing with a pandemic.
First trimester: Breathe through it.
My first trimester was a start and restart situation. I found out I was pregnant and the next day was taken to the hospital in an ambulance only to find out I had lost my pregnancy. Then, a couple of weeks later, I was pregnant again. It felt like being on one of those theme park rides where you get lifted up and dropped straight down.
Early pregnancy losses are common but no less emotional. At the hospital, my breathwork came into play. There was nothing I could do to stop what was happening, so I closed my eyes and focused on my breathing. I counted each inhale and exhale and listened to the sound of my breath.
This was my first lesson in preparation for being a mom—the realization that not many things are in my control.
In order to get through what felt like one of the worst moments of my life, I took it one breath at a time. When I was pregnant again and too nervous to get excited I turned to the same practice. This allowed me to be in the moment, slow down, and experience gratitude for my second pregnancy.
Second trimester: Find your mantra.
After breathing a literal sigh of relief in getting through my first trimester of pregnancy, I was looking forward to the "burst of energy" I was told I would get, which didn't come until midway through the second trimester.
Before that, morning sickness was nearly a daily occurrence—and I felt pretty ill from weeks six to 14. This meant I had to maintain motivation to get anything done. I was still working, determined to exercise for my health, and I was traveling a lot due to preplanned engagements. Some days it took a lot of "self-talk" to get me going. My favorite mantras were:
"This, too, shall pass."
"Just keep moving."
"Step by step—ooh, baby!"
These mantras are not original and sometimes took song form. Anything I could sing or chant to get me going helped me to get through my most challenging days, as well as days I felt like I was on fire with energy.
Third trimester: Sometimes you just need to cry.
My third trimester started off like most. I was slowing way down in all ways, and beginning to nest. And then another thing happened that was out of my control: a pandemic. News began to appear that COVID-19 was spreading.
The last month of my pregnancy, NYC started to get really affected by the coronavirus and the world was changing rapidly. Businesses were shutting down, including the fitness studio where I was teaching, and wearing a mask was becoming the new normal. Social distancing happened in what seemed like overnight, and shelter-in-place was in full swing. (These are words and phrases I would come to resent during my pregnancy and later had to make peace with.)
At this point in NYC, postpartum visitors were banned from the hospital, in addition to support people for labor and delivery (spouses, doulas, etc.). The changes were happening so fast, and my due date was set for the predicted peak week of the virus.
My doctor prepared me for the worst, and we even contemplated inducing me early so my husband could be in the room. It already felt unfair that my family wouldn't get to meet my baby, but potentially not having my husband with me and our child was unthinkable.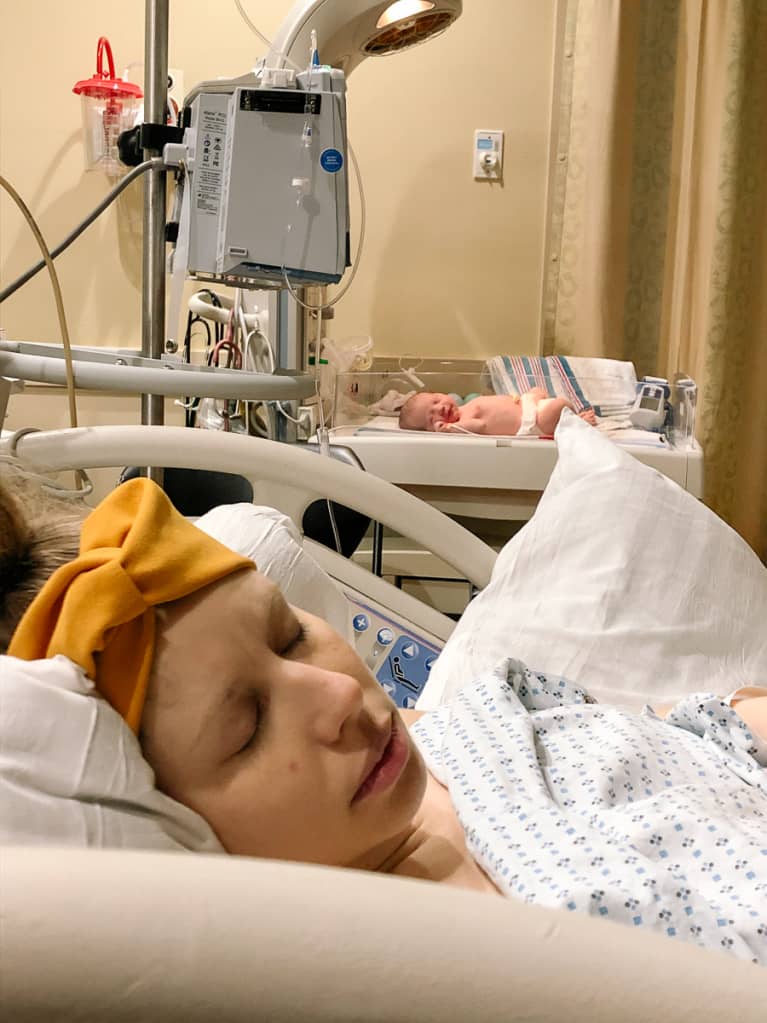 I gave birth to my son Andreas on March 26, 2020. Thankfully, I ended up delivering with my husband by my side (holding a leg even), but I know others who were not so fortunate.
We spent just over 24 hours in the hospital and then were sent home to quarantine. We were told to stay home and wait to let others meet our baby. No amount of breathing or mantras could help me through the initial shock of any of the events during and after delivery in this climate.
So, I cried. I allowed the tears to flow, and often. I still have days when I need to let it out because we're still not in the clear yet. I allow myself to mourn what I lost and what I felt I was losing out on. I cry when I feel things "aren't fair" or too overwhelming to handle.
During one of these cries, my first two pregnancy stress-reducers kicked in. I began to focus more on my breath and repeat my favorite mantras. I even added a few like "pain with purpose" and "crying is movement, too," both borrowed from dear friends.
Nothing prepares you for motherhood like motherhood, and nothing prepares you for a pandemic other than being in one. However, breathwork and mantras were two tools I used in a time of need. Allowing myself to feel all my feelings continues to give me permission to be exactly where I am in that moment, without judgment.
It's not easy, and these tips will not be an instant fix. What will happen is that you will make it through the situations you thought you couldn't endure and come out even stronger. The tools are there to make it more manageable and to bring some peace.
Pandemic or not, becoming a mom is an enormous life event that is hard to describe. I feel like a champion and also like I have no clue what I'm doing. And although every pregnancy is different, the tricks that help us mamas thrive and survive are something we can share. Breathe, repeat your favorite mantra, and cry it out, baby!