4 Family Dynamics That May Have A Lasting Impact On Your Mental Health
Contributing Sex & Relationships Editor
By Kelly Gonsalves
Contributing Sex & Relationships Editor
Kelly Gonsalves is a sex educator and journalist. She received her journalism degree from Northwestern University, and her writings on sex, relationships, identity, and wellness have appeared at The Washington Post, Vice, Teen Vogue, Cosmopolitan, and elsewhere.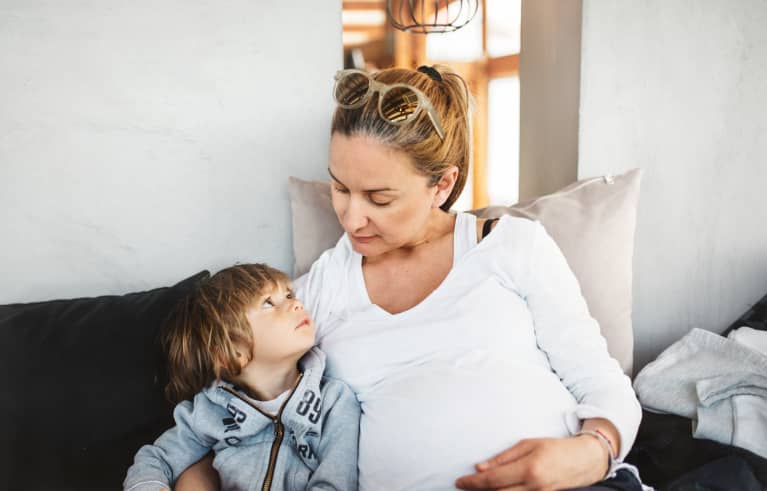 October 7, 2019 — 20:49 PM
What was your childhood like?
It's a classic question explored in therapy for a reason: Our earliest life experiences contribute to so much of our personalities, behaviors, personal beliefs, what we're like in relationships, and more. Take, for example, a new study published today in the JAMA Pediatrics journal, which found that the nature of our family relationships growing up might affect our mental health later in life as adults.
Social scientists Ping Chen, Ph.D., and Kathleen Mullan Harris, Ph.D., studied data on over 18,000 people collected through the National Longitudinal Study of Adolescent to Adult Health, a multiyear study tracking thousands of young people's well-being between 1994 and 2017. The participants were between ages 12 and 21 when the study first began and were between ages 32 and 42 at the last check-in. The researchers found having positive family relationships during adolescence were associated with a lower risk of depression later in their 20s, 30s, and 40s.
What qualifies as a positive family relationship? There were four specific factors:
Feeling understood by your family
Having fun together as a family
Feeling like your family pays attention to you
Lack of serious parent-child arguments
People with these more cohesive, conflict-free family dynamics during their adolescent years had improved mental health not only in those adolescent years but also throughout adulthood.
In their paper on their findings, Chen and Harris suggest these long-lasting effects may stem from having that "social support, help in working out problems, coping skills, and knowing there is someone to rely on in times of emotional need."
They add:
Although high-quality family relationships in adolescence buffer the stresses of teenage life, our findings suggest that positive adolescent family relationships continue to be associated with benefits for mental health throughout the transition to adulthood and into midlife as individuals face various challenges that involve peer networking, continuing education, managing romantic relationships, building careers, climbing the social ladder, and starting new families. These sources of social and emotional support in early family life likely encourage the development of skills for coping with changing and cumulative stressors. … The skills and coping strategies that youth learn to cope with emotional problems may last across the life course and continue to promote mental health well into adulthood.
If you're someone who struggles with mental health or more specifically with depression, it may be worth reflecting on how childhood experiences may have contributed to the ways you deal with stress, change, and conflict. If you did have less-than-ideal family relationships growing up, the good news is that there are always ways to heal from those conflicts, develop the emotional skills you may have missed out on learning as a kid, and find new support systems that can better support your needs as your life moves on. Not all unhealthy patterns need to keep repeating themselves; we always have the power to change them for the better.